Abstract
Background
Anterior temporal lobectomy is the most established neurosurgical procedure for temporal lobe epilepsy. Here we describe this technique.
Method
A temporal craniotomy is performed flush with the middle fossa and exposing the Sylvian fissure. The posterior extent of resection is determined as 4.5 cm in the dominant temporal lobe and 5.5 cm in the nondominant one. The first stage consists of removing the lateral neocortex and part of the fusiform gyrus, parallel to the Sylvian fissure, while keeping the temporal horn as the medial limit in the coronal plane. Then, the amygdala, uncus, fimbriae, hippocampus and collateral eminence are identified, transected and resected with the parahippocampal gyrus to complete the procedure.
Conclusion
Knowledge of the temporomesial anatomy, including neurovascular structures around the brainstem, is essential to keep this procedure safe and effective.
This is a preview of subscription content, log in to check access.
Access options
Buy single article
Instant unlimited access to the full article PDF.
US$ 39.95
Price includes VAT for USA
Subscribe to journal
Immediate online access to all issues from 2019. Subscription will auto renew annually.
US$ 199
This is the net price. Taxes to be calculated in checkout.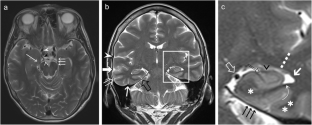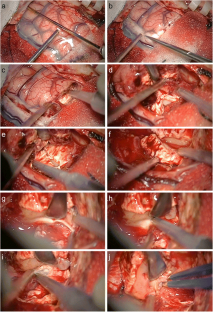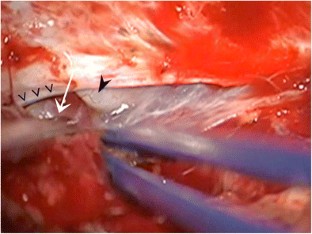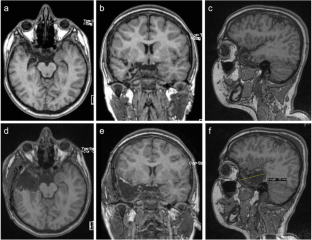 References
1.

Chang EF, Englot DJ, Vadera S (2015) Minimally invasive surgical approaches for temporal lobe epilepsy. Epilepsy Behav 47:24–33

2.

Clusmann H, Schramm J (2012) Surgery in adults: temporal resections. Handb Clin Neurol 108:897–913

3.

Destrieux C, Bourry D, Velut S (2013) Surgical anatomy of the hippocampus. Neurochirurgie 59:149–158

4.

Engel J Jr, McDermott MP, Wiebe S, Langfitt JT, Stern JM, Dewar S, Sperling MR, Gardiner I, Erba G, Fried I, Jacobs M, Vinters HV, Mintzer S, Kieburtz K, Early Randomized Surgical Epilepsy Trial Study G (2012) Early surgical therapy for drug-resistant temporal lobe epilepsy: a randomized trial. JAMA 307:922–930

5.

Engel J Jr, Wiebe S, French J, Sperling M, Williamson P, Spencer D, Gumnit R, Zahn C, Westbrook E, Enos B, Quality Standards Subcommittee of the American Academy of N, American Epilepsy S, American Association of Neurological S (2003) Practice parameter: temporal lobe and localized neocortical resections for epilepsy: report of the quality standards subcommittee of the American Academy of Neurology, in association with the American Epilepsy Society and the American Association of Neurological Surgeons. Neurology 60:538–547

6.

Kucukyuruk B, Richardson RM, Wen HT, Fernandez-Miranda JC, Rhoton AL Jr (2012) Microsurgical anatomy of the temporal lobe and its implications on temporal lobe epilepsy surgery. Epilepsy Res Treat 2012:769825

7.

Kwan P, Arzimanoglou A, Berg AT, Brodie MJ, Allen Hauser W, Mathern G, Moshe SL, Perucca E, Wiebe S, French J (2010) Definition of drug resistant epilepsy: consensus proposal by the ad hoc task force of the ILAE commission on therapeutic strategies. Epilepsia 51:1069–1077

8.

Kwan P, Sperling MR (2009) Refractory seizures: try additional antiepileptic drugs (after two have failed) or go directly to early surgery evaluation? Epilepsia 50(Suppl 8):57–62

9.

Rathore C, Panda S, Sarma PS, Radhakrishnan K (2011) How safe is it to withdraw antiepileptic drugs following successful surgery for mesial temporal lobe epilepsy? Epilepsia 52:627–635

10.

Wiebe S, Blume WT, Girvin JP, Eliasziw M, Effectiveness, Efficiency of Surgery for Temporal Lobe Epilepsy Study G (2001) A randomized, controlled trial of surgery for temporal-lobe epilepsy. N Engl J Med 345:311–318
Ethics declarations
Conflicts of interest
All authors certify that they have NO affiliations with or involvement in any organization or entity with any financial interest (such as honoraria; educational grants; participation in speakers' bureaus; membership, employment, consultancies, stock ownership, or other equity interest; and expert testimony or patent-licensing arrangements), or non-financial interest (such as personal or professional relationships, affiliations, knowledge or beliefs) in the subject matter or materials discussed in this manuscript.
Additional information
10 key points
- Positioning: Horizontal
- Craniotomy: Strictly temporal with clear exposure of the Sylvian fissure
- Clear demarcation of the resection zone
- Lateral neocortical en bloc temporal resection
- Stop medial dissection after opening of the temporal horn to preserve mesial structures
- Identification of mesial structures as relevant anatomical landmarks
- Resection of the amygdala and uncus
- Hippocampal isolation by transection of the collateral eminence down to the arachnoid level and resection of the parahippocampal gyrus
- Resection of the fimbria
- Hippocampal resection by disconnection from its mesentery
Electronic supplementary material
Below is the link to the electronic supplementary material.
A right temporal craniotomy is performed exposing the floor of the middle fossa and Sylvian fissure, and the posterior limit of resection is determined at 5.5 cm from the temporal pole. Using ultrasonic aspiration, resection of the lateral temporal neocortical block is performed after identification of the temporal ventricular horn, followed by the resection of the uncus, fimbria, hippocampus and parahippocampal gyrus. (M4V 80277 kb)
A right temporal craniotomy is performed exposing the floor of the middle fossa and Sylvian fissure, and the posterior limit of resection is determined at 5.5 cm from the temporal pole. Using ultrasonic aspiration, resection of the lateral temporal neocortical block is performed after identification of the temporal ventricular horn, followed by the resection of the uncus, fimbria, hippocampus and parahippocampal gyrus. (M4V 80277 kb)
About this article
Cite this article
Schaller, K., Cabrilo, I. Anterior temporal lobectomy. Acta Neurochir 158, 161–166 (2016). https://doi.org/10.1007/s00701-015-2640-0
Received:

Accepted:

Published:

Issue Date:
Keywords
Anterior temporal lobectomy

Technique

Epilepsy surgery