Abstract
Background
Corpus callosotomy is an effective, relatively low-risk, palliative procedure for a selected population of patients with medically intractable epilepsy. Here we describe this technique.
Method
An interhemispheric microsurgical approach is performed. Neuronavigation facilitates orientation. The callosal body is transected through to the roof of the ipsilateral ventricle using an ultrasonic aspirator; the genu and rostrum are then identified and also split. If a total callosotomy is performed, transection of the splenium is performed with care given to preserve the crus of the fornix.
Conclusions
Meticulous microsurgical technique and knowledge of the limbic system's anatomy is essential to keeping this procedure safe and effective.
This is a preview of subscription content, log in to check access.
Access options
Buy single article
Instant unlimited access to the full article PDF.
US$ 39.95
Price includes VAT for USA
Subscribe to journal
Immediate online access to all issues from 2019. Subscription will auto renew annually.
US$ 199
This is the net price. Taxes to be calculated in checkout.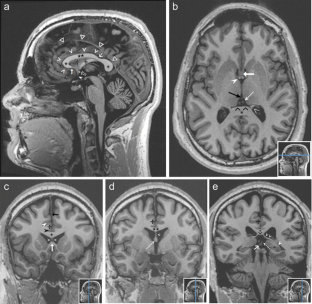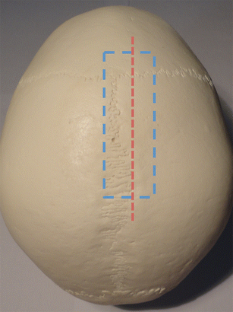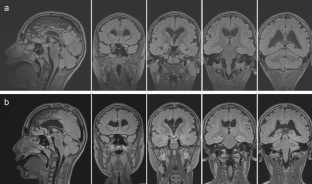 References
1.

Aboitiz F, Scheibel AB, Fisher RS, Zaidel E (1992) Fiber composition of the human corpus callosum. Brain Res 598:143–153

2.

Asadi-Pooya AA, Sharan A, Nei M, Sperling MR (2008) Corpus callosotomy. Epilepsy Behav 13:271–278

3.

Di Ieva A, Fathalla H, Cusimano MD, Tschabitscher M (2015) The indusium griseum and the longitudinal striae of the corpus callosum. Cortex 62:34–40

4.

Kasasbeh AS, Smyth MD, Steger-May K, Jalilian L, Bertrand M, Limbrick DD (2014) Outcomes after anterior or complete corpus callosotomy in children. Neurosurgery 74:17–28, discussion 28

5.

Lovblad KO, Schaller K (2009) Surgical anatomy and functional connectivity of the limbic system. Neurosurg Focus 27:E3

6.

Malmgren K, Rydenhag B, Hallbook T (2015) Reappraisal of corpus callosotomy. Curr Opin Neurol 28:175–181

7.

Raybaud C (2010) The corpus callosum, the other great forebrain commissures, and the septum pellucidum: anatomy, development, and malformation. Neuroradiology 52:447–477

8.

Shimizu H (2005) Our experience with pediatric epilepsy surgery focusing on corpus callosotomy and hemispherotomy. Epilepsia 46(Suppl 1):30–31

9.

Tubbs RS, Bosmia AN, Gupta T, Chawla K, Loukas M, Sahni D, Cohen-Gadol AA (2015) The enigmatic psalterium: a review and anatomic study with relevance to callosotomy procedures. Neurosurgery 11(Suppl 1):322–328

10.

Ture U, Yasargil MG, Krisht AF (1996) The arteries of the corpus callosum: a microsurgical anatomic study. Neurosurgery 39:1075–1084, discussion 1084–1075
Conflicts of interest
The authors declare that they have no conflict of interest.
Additional information
10 key points
- Best indicated in medically intractable tonic and atonic seizures with drop attacks
- Use neuronavigation and ultrasonic aspirator
- Consider the venous anatomy (bridging veins)
- Start anteriorly
- Avoid traction on the central region and on the cingulate gyri
- Clearly identify the pericallosal cistern
- Enter the ipsilateral lateral ventricle and identify the rostrum (navigate!)
- Coagulate ependymal veins
- Identify splenium and do not stop resection until full visualisation of arachnoid of deep venous angle
- Connect with the posterior border of anterior callosotomy
Electronic supplementary material
Below is the link to the electronic supplementary material.
A right-sided interhemispheric microsurgical approach is performed through a midline craniotomy along the long axis of the corpus callosum. Neuronavigation is used to help in orientation. The callosal body is transected through to the roof of the ipsilateral ventricle, followed by the transection of the genu and rostrum, the posterior callosal body and, finally, the splenium, which is split down to the velum interpositum, with care given to preserving the crus of the fornix. (M4V 82594 kb)
A right-sided interhemispheric microsurgical approach is performed through a midline craniotomy along the long axis of the corpus callosum. Neuronavigation is used to help in orientation. The callosal body is transected through to the roof of the ipsilateral ventricle, followed by the transection of the genu and rostrum, the posterior callosal body and, finally, the splenium, which is split down to the velum interpositum, with care given to preserving the crus of the fornix. (M4V 82594 kb)
About this article
Cite this article
Schaller, K., Cabrilo, I. Corpus callosotomy. Acta Neurochir 158, 155–160 (2016) doi:10.1007/s00701-015-2619-x
Received:

Accepted:

Published:

Issue Date:
Keywords
Corpus callosotomy

Technique

Epilepsy surgery