Abstract
Background
Skull base reconstruction after extended transsphenoidal surgery is essential to prevent postoperative cerebrospinal fluid leakage.
Methods
A novel and simple technique for skull base reconstruction termed "shoelace dural closure" was devised. The dura mater was closed with a fat graft using a continuous running suture with both ends of a double-armed suture.
Conclusions
The shoelace dural closure is an effective method for achieving watertight closure of the anterior skull base without the use of lumbar drains, fascia lata grafts, or nasoseptal flaps.
This is a preview of subscription content, log in to check access.
Access options
Buy single article
Instant unlimited access to the full article PDF.
US$ 39.95
Price includes VAT for USA
Subscribe to journal
Immediate online access to all issues from 2019. Subscription will auto renew annually.
US$ 199
This is the net price. Taxes to be calculated in checkout.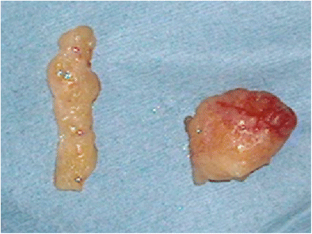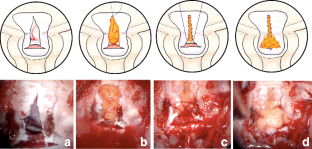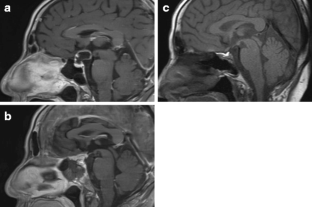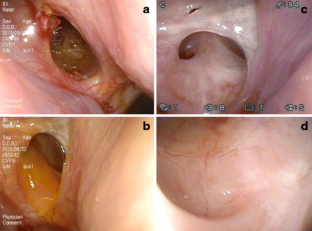 References
1.

Ahn JY, Kim SH (2009) A new technique for dural suturing with fascia graft for cerebrospinal fluid leakage in transsphenoidal surgery. Neurosurgery 65(6 Suppl):65–71, discussion 71–72

2.

Alobid I, Enseñat J, Mariño-Sánchez F, Rioja E, de Notaris M, Mullol J, Bernal-Sprekelsen M (2013) Expanded endonasal approach using vascularized septal flap reconstruction for skull base tumors has a negative impact on sinonasal symptoms and quality of life. Am J Rhinol Allergy 27:426–431

3.

Hadad G, Bassagasteguy L, Carrau RL, Mataza JC, Kassam A, Snyderman CH, Mintz A (2006) A novel reconstructive technique after endoscopic expanded endonasal approaches: vascular pedicle nasoseptal flap. Laryngoscope 116:1882–1886

4.

Laufer I, Anand VK, Schwartz TH (2007) Endoscopic, endonasal extended transsphenoidal, transplanum transtuberculum approach for resection of suprasellar lesions. J Neurosurg 106:400–406

5.

Leng LZ, Brown S, Anand VK, Schwartz TH (2008) "Gasket-seal" watertight closure in minimal-access endoscopic cranial base surgery. Neurosurg 62(5 Suppl 2):ONSE342-3; discussion ONSE343

6.

Mascarenhas L, Moshel YA, Bayad F, Szentirmai O, Salek AA, Leng LZ, Hofstetter CP, Placantonakis DG, Tsiouris AJ, Anand VK, Schwartz TH (2014) The transplanum transtuberculum approaches for suprasellar and sellar-suprasellar lesions: avoidance of cerebrospinal fluid leak and lessons learned. World Neurosurg 82:186–195

7.

Rotenberg BW, Saunders S, Duggal N (2011) Olfactory outcomes after endoscopic transsphenoidal pituitary surgery. Laryngoscope 121:1611–1613

8.

Robinson B (1983) Intrasellar abscess after transsphenoidal pituitary adenomectomy. Neurosurgery 12:684–686

9.

Tabaee A, Anand VK, Brown SM, Lin JW, Schwartz TH (2007) Algorithm for reconstruction after endoscopic pituitary and skull base surgery. Laryngoscope 117:1133–1137

10.

Wormald PJ, McDonogh M (2003) The bath-plug closure of anterior skull base cerebrospinal fluid leaks. Am J Rhinol 17(5):299–305
Ethics declarations
Conflict of interest
All authors certify that they have no affiliations with or involvement in any organization or entity with any financial interest, or non-financial interest in the subject matter or materials discussed in this manuscript.
Funding
None.
Additional information
Key points
1. Shoelace dural closure technique is simple and effective for skull base reconstruction after extended transsphenoidal surgery.
2. Fat graft can eliminate the dead space after tumor removal and the gap between the open ends of dura mater.
3. Both sides of dura mater and fat graft are threaded to each other with a running suture.
4. After suturing the dura mater, we confirmed that there was no CSF leakage by performing a Valsalva maneuver.
5. Nasoseptal flap and fascia lata are not used in this technique, and this can avoid the potential risks of postoperative olfactory disturbance and discomfort of surgical site.
6. Spinal drains are not used intra- and postoperatively.
7. The patients are allowed to walk around in their room on postoperative day 1 and freely after postoperative day 2.
8. Nasal endoscopy should be performed to confirm no postoperative CSF leakage after surgery.
9. A paraseptal approach without building a nasoseptal flap is recommended to build the flap immediately and easily if it is required, just in case the shoelace dural closure fails.
10. Shoelace dural closure technique can be adopted to almost all suprasellar lesions but should not be employed in patients with large dural defects.
Electronic supplementary material
Below is the link to the electronic supplementary material.
Both sides of dura are sutured in running fashion. Fat graft is also sutured to both sides of the dural incision to fill in any gap between the dura. After suturing the dura, Valsalva maneuver is performed to confirm a watertight closure. (MP4 45641 kb)
Both sides of dura are sutured in running fashion. Fat graft is also sutured to both sides of the dural incision to fill in any gap between the dura. After suturing the dura, Valsalva maneuver is performed to confirm a watertight closure. (MP4 45641 kb)
About this article
Cite this article
Takeuchi, K., Nagatani, T. & Wakabayashi, T. How I do it: shoelace watertight dural closure in extended transsphenoidal surgery. Acta Neurochir 157, 2089–2092 (2015). https://doi.org/10.1007/s00701-015-2612-4
Received:

Accepted:

Published:

Issue Date:
Keywords
Extended transsphenoidal surgery

CSF leakage

Planum sphenoidale

Skull base

Tuberculum sella

Craniopharyngioma