Abstract
Background
Percutaneous radiofrequency trigeminal rhizotomy (RF-TR) has been an effective treatment modality for medically refractory trigeminal neuralgia. Our group has established a protocol for this procedure that includes intraoperative computed tomography (iCT) navigation. The depth of the puncture needle in our protocol was based on cadaveric studies, and anatomical localization was mainly by electric stimulation test. The limitation of the invisibility of the trigeminal cistern on CT imaging and bias from the patient's subjective expression during neurophysiologic stimulation might affect the accuracy of the needle tip and the treatment effect.This study aimed to evaluate the feasibility and preliminary results of the application of magnetic resonance imaging (MRI) and iCT fusion imaging in RF-TR.
Method
The study included 13 patients who received RF-TR with iCT navigation and with recurrence within 3 years. Repeated RF-TR was performed with real-time guidance by MRI and iCT fusion imaging.
Results
A pain-free or partial satisfactory response was reported with 12 patients (92 %). There was a statistically significant difference in the depth of the needle tip before and after application of MRI and iCT fusion imaging.
Conclusions
This preliminary study demonstrated that the application of MRI and iCT fusion could help with anatomical localization of the trigeminal cistern intraoperatively. The improvement in neuronavigation provides a choice in the treatment of recurrent or persistent trigeminal neuralgia after previous intervention. Long-term follow-up of the result is necessary to evaluate the benefit in terms of durability of therapeutic efficacy.
This is a preview of subscription content, log in to check access.
Access options
Buy single article
Instant unlimited access to the full article PDF.
US$ 39.95
Price includes VAT for USA
Subscribe to journal
Immediate online access to all issues from 2019. Subscription will auto renew annually.
US$ 199
This is the net price. Taxes to be calculated in checkout.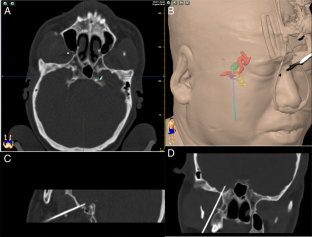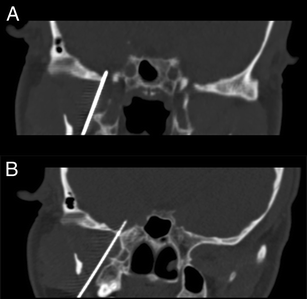 References
1.

Ali FM, Prasant M, Pai D, Aher VA, Kar S, Safiya T (2012) Peripheral neurectomies: a treatment option for trigeminal neuralgia in rural practice. J Neurosci Rural Pract 3:152

2.

Arslan M, Deda H, Avci E, Elhan A, Tekdemir I, Tubbs RS, Silav G, Yilmaz E, Baskaya MK (2012) Anatomy of Meckel's cave and the trigeminal ganglion: anatomical landmarks for a safer approach to them. Turk Neurosurg 22:317–323

3.

Barker FG 2nd, Jannetta PJ, Bissonette DJ, Larkins MV, Jho HD (1996) The long-term outcome of microvascular decompression for trigeminal neuralgia. N Engl J Med 334:1077–1083

4.

Bendersky M, Hem S, Landriel F, Muntadas J, Kitroser M, Ciralo C, Agosta G (2012) Identifying the trigeminal nerve branches for transovale radiofrequency thermolesion: "no pain, no stress". Neurosurgery 70:259–263

5.

Cho D-Y, Chang CG-S, Wang Y-C, Wang F-H, Shen C-C, Yang D-Y (1994) Repeat operations in failed microvascular decompression for trigeminal neuralgia. Neurosurgery 35:665–670

6.

Henderson WR (1965) The anatomy of the gasserian ganglion and the distribution of pain in relation to injections and operations for trigeminal neuralgia. Ann R Coll Surg Engl 37:346–373

7.

Kanpolat Y, Savas A, Bekar A, Berk C (2001) Percutaneous controlled radiofrequency trigeminal rhizotomy for the treatment of idiopathic trigeminal neuralgia: 25-year experience with 1600 patients. Neurosurgery 48:524–534

8.

Kaplan M, Erol FS, Ozveren MF, Topsakal C, Sam B, Tekdemir I (2007) Review of complications due to foramen ovale puncture. J Clin Neurosci 14:563–568

9.

Karol EA, Karol MN (2009) A multiarray electrode mapping method for percutaneous thermocoagulation as treatment of trigeminal neuralgia. Technical note on a series of 178 consecutive procedures. Surg Neurol 71:11–17

10.

Lin MH, Lee MH, Wang TC, Cheng YK, Su CH, Chang CM, Yang JT (2011) Foramen ovale cannulation guided by intra-operative computed tomography with integrated neuronavigation for the treatment of trigeminal neuralgia. Acta Neurochir (Wien) 153:1593–1599

11.

Maesawa S, Salame C, Flickinger JC, Pirris S, Kondziolka D, Lunsford LD (2001) Clinical outcomes after stereotactic radiosurgery for idiopathic trigeminal neuralgia. J Neurosurg 94:14–20

12.

Mandat T, Brozyna B, Krzymanski G, Podgorski JK (2009) An image-guided, noninvasive method of cannulation of the foramen ovale for awake, percutaneous radiofrequency rhizotomy. J Neurosurg 111:1223–1225

13.

Rath SA, Klein HJ, Richter H-P (1996) Findings and long-term results of subsequent operations after failed microvascular decompression for trigeminal neuralgia. Neurosurgery 39:933–940

14.

Taha JM, Tew JM Jr (1996) Comparison of surgical treatments for trigeminal neuralgia: reevaluation of radiofrequency rhizotomy. Neurosurgery 38:865–871

15.

Taha JM, Tew JM Jr, Buncher CR (1995) A prospective 15-year follow up of 154 consecutive patients with trigeminal neuralgia treated by percutaneous stereotactic radiofrequency thermal rhizotomy. J Neurosurg 83:989–993

16.

Tang YZ, Jin D, Li XY, Lai GH, Li N, Ni JX (2014) Repeated CT-guided percutaneous radiofrequency thermocoagulation for recurrent trigeminal neuralgia. Eur Neurol 72:54–59

17.

Tronnier VM, Rasche D, Hamer J, Kienle A-L, Kunze S (2001) Treatment of idiopathic trigeminal neuralgia: comparison of long-term outcome after radiofrequency rhizotomy and microvascular decompression. Neurosurgery 48:1261–1268

18.

Yamaki T, Hashi K, Niwa J, Tanabe S, Nakagawa T, Nakamura T, Uede T, Tsuruno T (1992) Results of reoperation for failed microvascular decompression. Acta Neurochir (Wien) 115:1–7

19.

Yang JT, Lin M, Lee MH, Weng HH, Liao HH (2010) Percutaneous trigeminal nerve radiofrequency rhizotomy guided by computerized tomography with three-dimensional image reconstruction. Chang Gung Med J 33:679–683

20.

Zhang L-w, Liu Y-u, Wu C-y, Xu S-j, Zhu S-g (2011) Radiofrequency thermocoagulation rhizotomy for recurrent trigeminal neuralgia after microvascular decompression. Chin Med J (Engl) 124:3726–3730
Financial support for this research was provided by Chang Gung Medical Institute (CMRPG6C0201). There is no personal or institutional financial interest in any drugs, materials, or devices described in the study.
Conflict of interest
None.
Additional information
Comments
The authors of this interesting article report their experience with MRI/iCT fusion in percutaneous radiofrequency (RF) lesion for trigeminal neuralgia (TGN). Direct puncture of the foramen ovale (FO) is a relatively simple procedure but there are at times anatomical difficulties and potential complications [1, 2] which have been extensively reported in the literature.
Neuronavigation (CT based) is currently used for direct puncture of the FO in several centres and there have been reports in the literature of an accuracy which is variable between 70 to 80 % and a cannulation time of 16 min [3].
The disadvantage of CT based neuronavigation is the lack of real-time image feed-back easily obtained with fluoroscopy. Both fluoroscopy and CT-based neuronavigation lack the capability to visualize the cisternal part of the nerve and correlate the needle position with the anatomy of the trigeminal ganglion.
The technique described by the authors is particularly attractive because it allows an anatomical planning based on MRI (visualization of the ganglion and cisternal part of the nerve) with added real-time navigation with iCT scan. This approach should minimize procedural complication and maximize clinical response targeting a selective area of the foramen ovale (v1 lateral third, v2 middle third and v3 medial third). Real-time neuronavigation with MRI/CT alongside functional imaging of the trigeminal ganglion (anatomical topography based on fMRI/DTI) will be possibly the future of percutaneous procedure, allowing better targeting and good long-term results.
Jibril Osman Farah
Liverpool, UK
References
1. Spaziante R, Cappabianca P, Peca C, de Divitiis E (1988) Subarachnoid hemorrhage and "normal pressure hydrocephalus": fatal complication of percutaneous microcompression of the gasserian ganglion. Case report Neurosurgery 22:148–151
2. Peris-Celda M, Graziano F, Russo V, Mericle RA, Ulm AJ (2013) Foramen ovale puncture, lesioning accuracy, and avoiding complications: microsurgical anatomy study with clinical implications. J Neurosurg 119:1176–1193
3. Lin MH, Lee MH, Wang TC, Cheng YK, Su CH, Chang CM, Yang JT (2011) Foramen ovale cannulation guided by intra-operative computed tomography with integrated neuronavigation for the treatment of trigeminal neuralgia. Acta Neurochir (Wien) 53:1593–1599
Electronic supplementary material
Below is the link to the electronic supplementary material.
This video shows the workflow of the procedure with neuronavigation based on MRI and iCT fusion image. We marked the trigeminal cistern on MRI and then the MRI and iCT fusion image was performed by BrainLab iPlan software. After image fusion, we could see the green mark on the intraoperative CT image. The foramen ovale and pterygoid plate were marked on image. After complete preoperative plan, the images were then sent to neuronavigation system to enable operator to perform the procedure with precise anatomical localization. (MPG 45410 kb)
This video shows the workflow of the procedure with neuronavigation based on MRI and iCT fusion image. We marked the trigeminal cistern on MRI and then the MRI and iCT fusion image was performed by BrainLab iPlan software. After image fusion, we could see the green mark on the intraoperative CT image. The foramen ovale and pterygoid plate were marked on image. After complete preoperative plan, the images were then sent to neuronavigation system to enable operator to perform the procedure with precise anatomical localization. (MPG 45410 kb)
About this article
Cite this article
Chen, K., Lin, M.H., Tsai, Y. et al. Application of MRI and intraoperative CT fusion images with integrated neuronavigation in percutaneous radiofrequency trigeminal rhizotomy. Acta Neurochir 157, 1443–1448 (2015). https://doi.org/10.1007/s00701-015-2459-8
Received:

Accepted:

Published:

Issue Date:
Keywords
Trigeminal neuralgia

Percutaneous trigeminal rhizotomy

Neuronavigation

Computed tomography

Magnetic resonance image