Abstract
Background
Intraoperative vessel visualization is highly desirable, especially when the target is related to or close to main vessels, such as in the skull base and vascular surgery. Contrast-enhanced ultrasound (CEUS) is an imaging technique that allows visualization of tissue perfusion and vascularization through the infusion of purely intravascular ultrasound contrast agents (UCA).
Methods
After cerebral scanning with B-mode ultrasound (US) CEUS is performed, UCA are injected and insonated with low mechanical index US. A UCA-specific harmonic signal is transduced using a contrast-specific algorithm to obtain real-time angiosonography (ASG).
Conclusions
Real-time intraoperative ASG is a rapid, reliable, repeatable method for vessel visualization and evaluation of tissue perfusion.
Key points
• ASG permits to assess vessel position, dimension, and relationships; it also allows a qualitative evaluation of flow entity and direction.
• ASG shows vessels in depth without the need of their direct exposure, as for fluorescence-guided surgery.
• ASG permits to study the entire vascular tree without the necessity to set gain or pulse repetition frequency as in Doppler imaging.
• Vessels of interest can be visualized following their entire length across the surgical field, along the arterial, capillary, and venous districts.
• ASG scan is repeatable multiple times throughout the operation, and each exam could be recorded as a clip to be visualized at a later stage.
• In case of neoplastic lesion, ASG characterizes the perfusion pattern in three phases: arterial, venous, and parenchymal, permitting to visualize afferent and efferent vessels, facilitating the surgical strategy.
• During tumor debulking, ASG shows the remaining distance to major vessels, providing information to avoid direct vessel damage.
• In tumor and AVM surgery, ASG shows nidus or tumoral remnants that might be covered by healthy tissue, thus not visible on the surface.
• In case of aneurysm surgery, post-clipping angiosonographic control confirms proper aneurysm exclusion and distal vessels flow.
This is a preview of subscription content, log in to check access.
Access options
Buy single article
Instant unlimited access to the full article PDF.
US$ 39.95
Price includes VAT for USA
Subscribe to journal
Immediate online access to all issues from 2019. Subscription will auto renew annually.
US$ 199
This is the net price. Taxes to be calculated in checkout.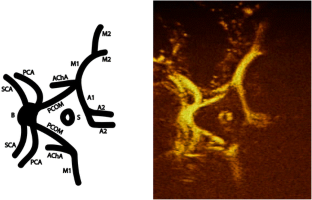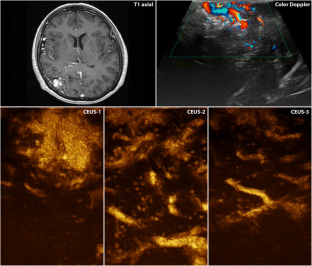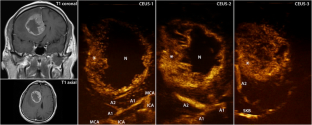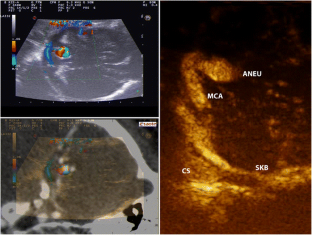 References
1.

Holscher T, Ozgur B, Singel S, Wilkening WG, Mattrey RF, Sang H (2007) Intraoperative ultrasound using phase inversion harmonic imaging: first experiences. Neurosurgery 60:382–386, discussion 386–387

2.

Piscaglia F, Nolsoe C, Dietrich CF, Cosgrove DO, Gilja OH, Bachmann Nielsen M, Albrecht T, Barozzi L, Bertolotto M, Catalano O, Claudon M, Clevert DA, Correas JM, D'Onofrio M, Drudi FM, Eyding J, Giovannini M, Hocke M, Ignee A, Jung EM, Klauser AS, Lassau N, Leen E, Mathis G, Saftoiu A, Seidel G, Sidhu PS, ter Haar G, Timmerman D, Weskott HP (2012) The EFSUMB guidelines and recommendations on the clinical practice of contrast enhanced ultrasound (CEUS): update 2011 on non-hepatic applications. Ultraschall Med 33:33–59, Stuttgart, Germany : 1980

3.

Prada F, Perin A, Martegani A, Aiani L, Solbiati L, Lamperti M, Casali C, Legnani F, Mattei L, Saladino A, Saini M, DiMeco F (2014) Intraoperative contrast-enhanced ultrasound for brain tumor surgery. Neurosurgery 74:542–552, discussion 552

4.

Prada F, Del Bene M, Mattei L, Lodigiani L, DeBeni S, Kolev V, Vetrano I, Solbiati L, Sakas G, DiMeco F (2014) Preoperative magnetic resonance and intraoperative ultrasound fusion imaging for real-time neuronavigation in brain tumor surgery. Ultraschall Med (Stuttgart, Germany: 1980)

5.

van Leyen K, Klotzsch C, Harrer JU (2011) Brain tumor imaging with transcranial sonography: state of the art and review of the literature. Ultraschall Med 32:572–581, Stuttgart, Germany: 1980

6.

Gibbs V, Cole D, Sassano A (2009) Ultrasound physics and technology. Churchill Livingstone Elsevier, London

7.

EMA (2014) SonoVue -EMEA/H/C/000303 -II/0025

8.

Raabe A, Beck J, Seifert V (2005) Technique and image quality of intraoperative indocyanine green angiography during aneurysm surgery using surgical microscope integrated near-infrared video technology. Zentralbl Neurochir 66:1–6, discussion 7–8

9.

Roessler K, Krawagna M, Dörfler A, Buchfelder M, Ganslandt O (2014) Essentials in intraoperative indocyanine green videoangiography assessment for intracranial aneurysm surgery: conclusions from 295 consecutively clipped aneurysms and review of the literature. Neurosurg Focus 36:E7
Acknowledgments
The authors would like to thank Mrs. Caroline King, DipArch, for her kind advice in revising the manuscript, and Luigi Solbiati M.D. and Alberto Martegani M.D. for their technical support.
The research leading to these results has received funding from the European Union Seventh Framework Programme FP7/2007–2013 under grant agreement n. 602 923.
Conflict of interest
None.
Electronic supplementary material
Below is the link to the electronic supplementary material.
ASG application in a case of right frontal metastasis, showing relationships between the lesion and anterior circulation arteries (MP4 46166 kb)
ASG application in a case of right frontal metastasis, showing relationships between the lesion and anterior circulation arteries (MP4 46166 kb)
About this article
Cite this article
Prada, F., Del Bene, M., Saini, M. et al. Intraoperative cerebral angiosonography with ultrasound contrast agents: how I do it. Acta Neurochir 157, 1025–1029 (2015) doi:10.1007/s00701-015-2412-x
Received:

Accepted:

Published:

Issue Date:
Keywords
Intraoperative imaging

Ultrasound

Contrast-enhanced ultrasound

Angiography

Angiosonography

Vascular surgery

Skull base