Abstract
We report microvascular decompression (MVD) under neuroendoscopic view in hemifacial spasm (HFS) patients with rostral- and perforator-type compression of the root exit zone (REZ) of the facial nerve. Using either a wireless iPad Mini as a monitor on the microscope or a high-resolution monitor, microscopic and endoscopic views enabled MVD for complete cure of HFS with rostral-type compression (the offender compressing the REZ on the opposite rostral side to the operative approach) or perforator-type compression (the offender tethered to the REZ by the perforator). MVD under neuroendoscopic view may offer more accurate MVD and complete resolution of HFS.
This is a preview of subscription content, log in to check access.
Access options
Buy single article
Instant unlimited access to the full article PDF.
US$ 39.95
Price includes VAT for USA
Subscribe to journal
Immediate online access to all issues from 2019. Subscription will auto renew annually.
US$ 199
This is the net price. Taxes to be calculated in checkout.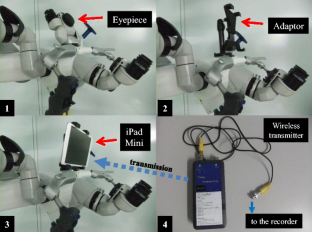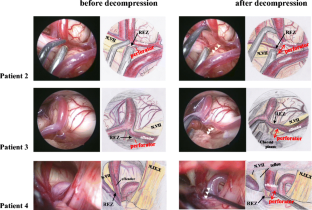 References
1.

Badr-El-Dine M, El-Garem HF, Talaat AM, Magnan J (2002) Endoscopically assisted minimally invasive microvascular decompression of hemifacial spasm. Otol Neurotol 23:122–128

2.

Charalampaki P, Kafadar AM, Grunert P, Ayyad A, Perneczky A (2008) Vascular decompression of trigeminal and facial nerves in the posterior fossa under endoscope-assisted keyhole conditions. Skull Base 18:117–128

3.

Ishikawa M, Ohira T, Namiki J, Ajimi Y, Takase M, Toya S (1996) Abnormal muscle response (lateral spread) and F-wave in patients with hemifacial spasm. J Neurol Sci 137:109–116

4.

King WA, Wackym PA, Sen C, Meyer GA, Shiau J, Deutsch H (2001) Adjunctive use of endoscopy during posterior fossa surgery to treat cranial neuropathies. Neurosurgery 49:108–116

5.

Li J, Zhang Y, Zhu H, Li Y (2012) Prognostic value of intra-operative abnormal muscle response monitoring during microvascular decompression for long-term outcome of hemifacial spasm. J Clin Neurosci 19:44–48

6.

Miyazaki H, Deveze A, Magnan J (2005) Neuro-otologic surgery through minimally invasive retrosigmoid approach: endoscope-assisted microvascular decompression, vestibular neurotomy and tumor removal. Laryngoscope 115:1612–1617

7.

Mooij JJA, Mustafa MK, van Weerden TW (2001) Hemifacial spasm: intraoperative electromyographic monitoring as a guide for microvascular decompression. Neurosurgery 49:1365–1371

8.

Park JS, Kong DS, Lee JA, Park K (2008) Hemifacial spasm: neurovascular compressive patterns and surgical significance. Acta Neurochir (Wien) 150:235–241

9.

Rak R, Sekhar LN, Stimac D, Hechl P (2004) Endoscope-assisted microsurgery for microvascular compression syndromes. Neurosurgery 54:876–883
Conflict of interest
None.
Additional information
Comment
The role of endoscopy in microvascular decompression (MVD) is currently not well defined. Visualization of neurovascular conflicts at the level of the CPA is a key factor for a satisfactory outcome of the procedure whether the procedure is done for HFS, TGN, or other conditions.
Traditional approaches are based on a standard exposure of the CPA with CFS release and visualization of the upper, middle, or lower CPA complex (depending on the indication for the MVD).
At times, the compression is "around the corner" and endoscopic instruments allow a better visualization of the conflict, as the authors have clearly described in this article. There are still limitations of the technique, mainly in relation to the limited anatomical space and the complexity of the surgical anatomy. Endoscopy is a useful adjunction to the surgical "armamentarium" of neurosurgeons performing MVD.
Jibril Osman Farah
Liverpool, UK
Sandell T, Ringstad GA, Eide PK (2014)Usefulness of the endoscope in microvascular decompression for trigeminal neuralgia and MRI-based prediction of the need for endoscopy. Acta Neurochir (Wien) 156(10):1901-9
Setty P, Volkov AA, D'Andrea KP, Pieper DR (2014) Endoscopic vascular decompression for the treatment of trigeminal neuralgia: clinical outcomes and technical note. World Neurosurg 81(3-4):603-8.
The authors have no personal or institutional interest in any of the drugs, materials, or devices described in this article.
Electronic supplementary material
Below is the link to the electronic supplementary material.
The author performing the operation under microscopic and neuroendoscopic views with the wireless iPad Mini monitor on the microscope. (video) (WMV 14.2 MB)
Microscopic and neuroendoscopic views during MVD in the patient with HFS caused by rostral-type compression (patient 1, Fig. 1b) (MPG 7246 kb)
The author performing the operation under microscopic and neuroendoscopic views with the wireless iPad Mini monitor on the microscope. (video) (WMV 14.2 MB)
About this article
Cite this article
Ishikawa, M., Tanaka, Y. & Watanabe, E. Microvascular decompression under neuroendoscopic view in hemifacial spasm: rostral-type compression and perforator-type compression. Acta Neurochir 157, 329–332 (2015). https://doi.org/10.1007/s00701-014-2294-3
Received:

Accepted:

Published:

Issue Date:
Keywords
Hemifacial spasm

Electrophysiology

Endoscope

Microvascular decompression