Abstract
Backgroud
The role of radical resection for nongerminomatous pineal region tumors is still controversial. The purpose of this study was to present the surgical results in a large series and evaluate the feasibility of radical surgical strategy.
Methods
We retrospectively reviewed the records of 143 patients with nongerminomatous pineal region tumors surgically treated via an occipital transtentorial approach between 2000 and 2011. The tumor was small (<2 cm) in 14.7 % of patients, medium (2–4 cm) in 52.4 %, and large (>4 cm) in 32.9 %.
Results
Gross total tumor removal was achieved in 91.6 % of patients, subtotal in 7.0 %, and partial in 1.4 %. Histological diagnosis was nongerminomatous germ cell tumor in 41.3 %, pineal parenchymal tumor in 14.7 %, glial tumors in 28.7 %, and miscellaneous in 15.4 %. The overall complication and mortality rate was 18.2 % and 0.7 %, respectively. Permanent morbidity occurred in 5.6 % of patients, including hemianopsia in 3.5 % and Parinaud syndrome in 2.1 %. Hydrocephalus was resolved in 82.1 % without surgery for the CSF diversion. Sixty-eight patients with malignant tumors underwent radiotherapy; 35 also received adjuvant chemotherapy. One hundred thirty patients were successfully followed up with a mean duration of 43 months. Finally, 86.9 % of the patients achieved a favorable functional outcome (mRS ≤ 2), 3.1 % had an mRS score of 3, 1.5 % had an mRS score of 4, and 8.5 % had died (mRS = 6).
Conclusions
Radical surgery was recommended as the optimal treatment for nongerminomatous pineal region tumors. Favorable results could be achieved by experienced neurosurgeons. Hydrocephalus could be cured by radical tumor removal in the majority of cases. The occipital transtentorial approach was indicated for most pineal region tumors, but surgeon's preference and experience should also be considered. New understanding of the arachnoid membranes of this region may be helpful for tumor resection.
This is a preview of subscription content, log in to check access.
Access options
Buy single article
Instant unlimited access to the full article PDF.
US$ 39.95
Price includes VAT for USA
Subscribe to journal
Immediate online access to all issues from 2019. Subscription will auto renew annually.
US$ 199
This is the net price. Taxes to be calculated in checkout.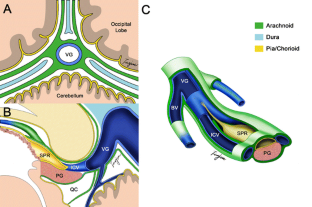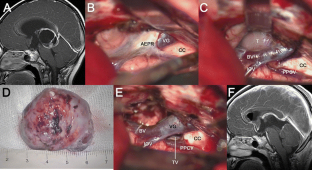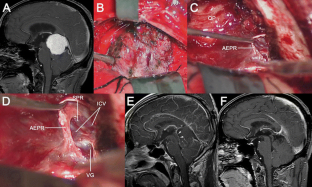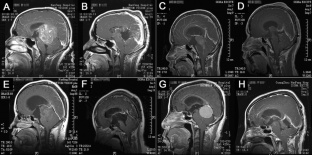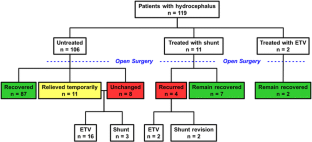 References
1.

Cho BK, Wang KC, Nam DH, Kim DG, Jung HW, Kim HJ, Han DH, Choi KS (1998) Pineal tumors: experience with 48 cases over 10 years. Childs Nerv Syst 14:53–58

2.

Jia W, Ma Z, Liu IY, Zhang Y, Jia G, Wan W (2011) Transcallosal interforniceal approach to pineal region tumors in 150 children. J Neurosurg Pediatr 7:98–103

3.

Nomura K (2001) Epidemiology of germ cell tumors in Asia of pineal region tumor. J Neurooncol 54:211–217

4.

Tomita T (1999) Pineal region tumors. In: Albright AL, Pollack IF, Adelson PD (eds) Priciples and practice of pediatric neurosurgery. Thieme New York, pp 571–589

5.

Bruce JN, Ogden AT (2004) Surgical strategies for treating patients with pineal region tumors. J Neurooncol 69:221–236

6.

Hernesniemi J, Romani R, Albayrak BS, Lehto H, Dashti R, Ramsey C 3rd, Karatas A, Cardia A, Navratil O, Piippo A, Fujiki M, Toninelli S, Niemela M (2008) Microsurgical management of pineal region lesions: personal experience with 119 patients. Surg Neurol 70:576–583

7.

Pendl G (2002) Management of pineal region tumors. Neurosurg Quart:279–298

8.

Bruce JN, Stein BM (1995) Surgical management of pineal region tumors. Acta Neurochir (Wien) 134:130–135

9.

Konovalov AN, Pitskhelauri DI (2003) Principles of treatment of the pineal region tumors. Surg Neurol 59:250–268

10.

Pettorini BL, Al-Mahfoud R, Jenkinson MD, Avula S, Pizer B, Mallucci C (2013) Surgical pathway and management of pineal region tumours in children. Childs Nerv Syst 29:433–439

11.

Davidson L, McComb JG (2013) The safety of the intraoperative sacrifice of the deep cerebral veins. Childs Nerv Syst 29:199–207

12.

Giordano M, Ludemann WO, Stieglitz L, Gerganov VM, Columbano L, Samii A, Samii M (2011) Identification of venous variants in the pineal region with three-dimensional preoperative magnetic resonance imaging navigation in patients harbouring tumors in this area: significance for surgical approach to the lesion. Clin Neurol Neurosurg 113:387–392

13.

Hart MG, Santarius T, Kirollos RW (2013) How I do it—pineal surgery: supracerebellar infratentorial versus occipital transtentorial. Acta Neurochir (Wien) 155:463–467

14.

Hasegawa M, Yamashita J, Yamashima T (1991) Anatomical variations of the straight sinus on magnetic resonance imaging in the infratentorial supracerebellar approach to pineal region tumors. Surg Neurol 36:354–359

15.

Kodera T, Bozinov O, Surucu O, Ulrich NH, Burkhardt JK, Bertalanffy H (2011) Neurosurgical venous considerations for tumors of the pineal region resected using the infratentorial supracerebellar approach. J Clin Neurosci 18:1481–1485

16.

Luo SQ, Li DZ, Zhang MZ, Wang ZC (1989) Occipital transtentorial approach for removal of pineal region tumors: report of 64 consecutive cases. Surg Neurol 32:36–39

17.

Tanaka R, Washiyama K (2003) Occipital transtentorial approach to pineal region tumors. Oper Tech Neurosurg 6:215–221

18.

Yamamoto I (2001) Pineal region tumor: surgical anatomy and approach. J Neurooncol 54:263–275

19.

Qi ST, Fan J, Zhang XA, Pan J (2011) Reinvestigation of the ambient cistern and its related arachnoid membranes: an anatomical study. J Neurosurg 115:171–178

20.

Qi ST, Zhang XA, Fan J, Huang GL, Pan J, Qiu BH (2011) Anatomical study of the arachnoid envelope over the pineal region. Neurosurgery 68:7–14, discussion 14–15

21.

Zhang XA, Qi S, Fan J, Huang G, Peng J, Xu J (2012) The distribution of arachnoid membrane within the velum interpositum. Acta Neurochir (Wien) 154:1711–1715

22.

Habrand JL, De Crevoisier R (2001) Radiation therapy in the management of childhood brain tumors. Childs Nerv Syst 17:121–133

23.

Matsutani M, Sano K, Takakura K, Fujimaki T, Nakamura O (1998) Combined treatment with chemotherapy and radiation therapy for intracranial germ cell tumors. Childs Nerv Syst 14:59–62

24.

Oi S (1998) Recent advances and racial differences in therapeutic strategy to the pineal region tumor. Childs Nerv Syst 14:33–35

25.

Morgenstern PF, Osbun N, Schwartz TH, Greenfield JP, Tsiouris AJ, Souweidane MM (2011) Pineal region tumors: an optimal approach for simultaneous endoscopic third ventriculostomy and biopsy. Neurosurg Focus 30:E3

26.

Morgenstern PF, Souweidane MM (2013) Pineal region tumors: simultaneous endoscopic third ventriculostomy and tumor biopsy. World Neurosurg 79(S18):e19–13

27.

Pople IK, Athanasiou TC, Sandeman DR, Coakham HB (2001) The role of endoscopic biopsy and third ventriculostomy in the management of pineal region tumours. Br J Neurosurg 15:305–311

28.

Regis J, Bouillot P, Rouby-Volot F, Figarella-Branger D, Dufour H, Peragut JC (1996) Pineal region tumors and the role of stereotactic biopsy: review of the mortality, morbidity, and diagnostic rates in 370 cases. Neurosurgery 39:907–912, discussion 912–904

29.

Teo C, Young R 2nd (1999) Endoscopic management of hydrocephalus secondary to tumors of the posterior third ventricle. Neurosurg Focus 7:e2

30.

Zacharia BE, Bruce JN (2011) Stereotactic biopsy considerations for pineal tumors. Neurosurg Clin N Am 22:359–366, viii

31.

Kanamori M, Kumabe T, Tominaga T (2008) Is histological diagnosis necessary to start treatment for germ cell tumours in the pineal region? J Clin Neurosci 15:978–987

32.

Barnett DW, Olson JJ, Thomas WG, Hunter SB (1995) Low-grade astrocytomas arising from the pineal gland. Surg Neurol 43:70–75, discussion 75–76

33.

MacKay CI, Baeesa SS, Ventureyra EC (1999) Epidermoid cysts of the pineal region. Childs Nerv Syst 15:170–178

34.

Vaquero J, Ramiro J, Martinez R, Coca S, Bravo G (1990) Clinicopathological experience with pineocytomas: report of five surgically treated cases. Neurosurgery 27:612–618, discussion 618–619

35.

Lutterbach J, Fauchon F, Schild SE, Chang SM, Pagenstecher A, Volk B, Ostertag C, Momm F, Jouvet A (2002) Malignant pineal parenchymal tumors in adult patients: patterns of care and prognostic factors. Neurosurgery 51:44–55, discussion 55–46

36.

Matsutani M, Sano K, Takakura K, Fujimaki T, Nakamura O, Funata N, Seto T (1997) Primary intracranial germ cell tumors: a clinical analysis of 153 histologically verified cases. J Neurosurg 86:446–455

37.

Reddy AT, Janss AJ, Phillips PC, Weiss HL, Packer RJ (2000) Outcome for children with supratentorial primitive neuroectodermal tumors treated with surgery, radiation, and chemotherapy. Cancer 88:2189–2193

38.

Weiner HL, Finlay JL (1999) Surgery in the management of primary intracranial germ cell tumors. Childs Nerv Syst 15:770–773

39.

Little KM, Friedman AH, Fukushima T (2001) Surgical approaches to pineal region tumors. J Neurooncol 54:287–299

40.

Reid WS, Clark WK (1978) Comparison of the infratentorial and transtentorial approaches to the pineal region. Neurosurgery 3:1–8

41.

Mottolese C, Szathmari A, Ricci-Franchi AC, Beuriat PA, Grassiot B (2014) The sub-occipital transtentorial approach revisited base on our own experience. Neurochirurgie. doi:10.1016/j.neuchi.2013.12.005

42.

Oliveira J, Cerejo A, Silva PS, Polonia P, Pereira J, Vaz R (2013) The infratentorial supracerebellar approach in surgery of lesions of the pineal region. Surg Neurol Int 4:154

43.

Pluchino F, Broggi G, Fornari M, Franzini A, Solero CL, Allegranza A (1989) Surgical approach to pineal tumours. Acta Neurochir (Wien) 96:26–31

44.

Sajko T, Kudelic N, Lupret V, Lupret V Jr, Nola IA (2009) Treatment of pineal region lesions: our experience in 39 patients. Coll Anthropol 33:1259–1263

45.

Vaquero J, Ramiro J, Martinez R, Bravo G (1992) Neurosurgical experience with tumours of the pineal region at Clinica Puerta de Hierro. Acta Neurochir (Wien) 116:23–32

46.

Deshmukh VR, Smith KA, Rekate HL, Coons S, Spetzler RF (2004) Diagnosis and management of pineocytomas. Neurosurgery 55:349–355, discussion 355–347
Acknowledgments
We are grateful to Xiaoyu Qiu and Yiping Mo (Medical Secretary, Department of Neurosurgery, Nanfang Hospital, Southern Medical University, Guangzhou, China) for their help with the data collection.
Disclosure
The authors have no personal financial or institutional interest in any of the drugs, materials, or devices described in this article.
Conflicts of interest
None.
Additional information
Drs. Songtao Qi, Jun Fan, and Xi-an Zhang contributed equally to this work.
Electronic supplementary material
Below is the link to the electronic supplementary material.
Surgical case illustration. An occipital transtentorial approach was performed in a patient with a mixed germ cell tumor in pineal region. As shown by the preoperative MRI, the tumor arose within the arachnoid envelope wrapping the vein of Galen and its tributaries. Therefore, the envelope was dissected carefully prior to the tumor resection. After the deep veins had been totally released, a satisfactory exposure of the tumor could be achieved, and the retraction of veins could be reduced to minimize the risk of injury. During the procedure, the pineal vein was identified, coagulated, and separated from the tumor. Once all tumor-brain interfaces had been dissected, the tumor was removed en bloc. The adjacent neurovascular structures remained intact after tumor resection. Early postoperative MRI showed total removal of the tumor. Histology-specific adjuvant therapy was then performed as planned. A 5-year follow-up postoperative MRI presented no tumor recurrence. (WMV 16,185 kb)
Surgical case illustration. An occipital transtentorial approach was performed in a patient with a mixed germ cell tumor in pineal region. As shown by the preoperative MRI, the tumor arose within the arachnoid envelope wrapping the vein of Galen and its tributaries. Therefore, the envelope was dissected carefully prior to the tumor resection. After the deep veins had been totally released, a satisfactory exposure of the tumor could be achieved, and the retraction of veins could be reduced to minimize the risk of injury. During the procedure, the pineal vein was identified, coagulated, and separated from the tumor. Once all tumor-brain interfaces had been dissected, the tumor was removed en bloc. The adjacent neurovascular structures remained intact after tumor resection. Early postoperative MRI showed total removal of the tumor. Histology-specific adjuvant therapy was then performed as planned. A 5-year follow-up postoperative MRI presented no tumor recurrence. (WMV 16,185 kb)
About this article
Cite this article
Qi, S., Fan, J., Zhang, X. et al. Radical resection of nongerminomatous pineal region tumors via the occipital transtentorial approach based on arachnoidal consideration: experience on a series of 143 patients. Acta Neurochir 156, 2253–2262 (2014). https://doi.org/10.1007/s00701-014-2224-4
Received:

Accepted:

Published:

Issue Date:
Keywords
Arachnoid membrane

Occipital transtentorial approach

Pineal region tumors

Surgery