Abstract
Background
Meckel's cave is an anatomically complex region that can be approached surgically via several routes, namely the posterolateral, lateral, anterolateral, and, due to recent advancements, anteromedial routes, with the latter being represented by the expanded endonasal approaches.
Method
We describe in detail the surgical technique of the suprapetrous endonasal approach to Meckel's cave and highlight the main anatomical key elements involved in this approach as well as the technical aspects for avoiding surgical complications.
Conclusion
The suprapetrous endonasal approach to Meckel's cave avoids the brain tissue retraction, and thereby prevents postoperative brain edema.
This is a preview of subscription content, log in to check access.
Access options
Buy single article
Instant unlimited access to the full article PDF.
US$ 39.95
Price includes VAT for USA
Subscribe to journal
Immediate online access to all issues from 2019. Subscription will auto renew annually.
US$ 199
This is the net price. Taxes to be calculated in checkout.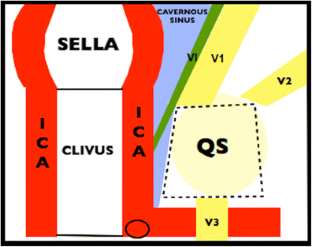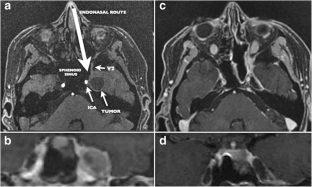 References
1.

Kassam AB, Prevedello DM, Carrau RL, Snyderman CH, Thomas A, Gardner P, Zanation A, Duz B, Stefko ST, Byers K, Horowitz MB (2011) Endoscopic endonasal skull base surgery: analysis of complications in the authors' initial 800 patients. J Neurosurg 114(6):1544–1568

2.

Roche PH, Troude L, Peyriere H, Noudel R (2014) The epidural approach to the Meckel's cave: a how I do it. Acta Neurochir (Wien) 156(1):217–220
Conflicts of interest
None.
Electronic supplementary material
Below is the link to the electronic supplementary material.
About this article
Cite this article
Simal Julián, J.A., Miranda Lloret, P., García Piñero, A. et al. Full endoscopic endonasal suprapetrous approach to Meckel's cave. Acta Neurochir 156, 1623–1626 (2014) doi:10.1007/s00701-014-2113-x
Received:

Accepted:

Published:

Issue Date:
Keywords
Endonasal

Endoscopic

Meckel's cave

Suprapetrous