Abstract
Background
Due to the poor response of primary malignant bone tumors to adjuvant therapies, surgical resection performed in an en bloc fashion with free margins remains the best option for long-term recurrence-free survival of patients harboring such lesions.
Methods
In this article the authors provide a stepwise review of the technical details involved in the performance of en bloc resections of tumoral lesions in the cervical spine.
Conclusions
Due to the anatomical peculiarities of the cervical spine related to the presence of functional nerve roots as well as the vertebral arteries, en bloc resections in this region remains a challenging surgical procedure.
This is a preview of subscription content, log in to check access.
We're sorry, something doesn't seem to be working properly.
Please try refreshing the page. If that doesn't work, please contact support so we can address the problem.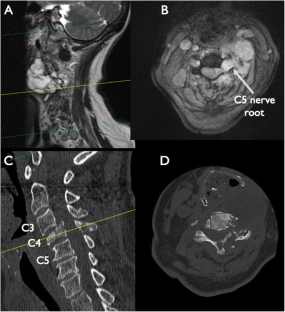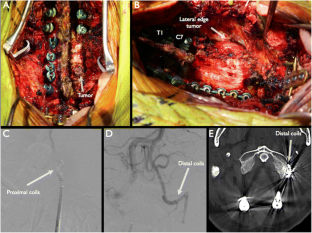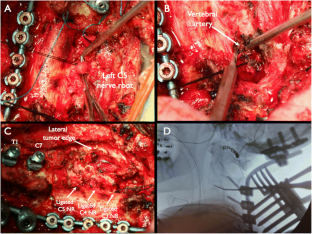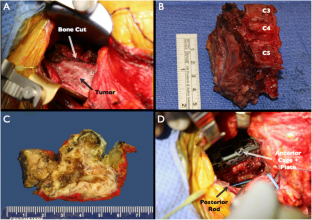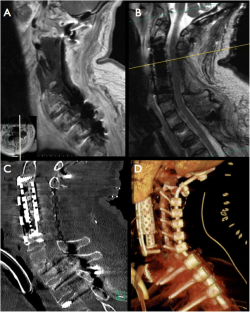 References
1.

Abdu WA, Provencher M (1998) Primary bone and metastatic tumors of the cervical spine. Spine (Phila Pa 1976) 23:2767–2777

2.

Boriani S, Bandiera S, Donthineni R, Amendola L, Cappuccio M, De Iure F, Gasbarrini A (2010) Morbidity of en bloc resections in the spine. Eur Spine J 19:231–241

3.

Boriani S, Saravanja D, Yamada Y, Varga PP, Biagini R, Fisher CG (2009) Challenges of local recurrence and cure in low grade malignant tumors of the spine. Spine (Phila Pa 1976) 34:S48–S57

4.

Dreghorn CR, Newman RJ, Hardy GJ, Dickson RA (1990) Primary tumors of the axial skeleton. Experience of the Leeds regional bone tumor registry. Spine 15:137–140

5.

Jiang L, Liu ZJ, Liu XG, Ma QJ, Wei F, Lv Y, Dang GT (2009) Upper cervical spine chordoma of C2-C3. Eur Spine J 18:293–298

6.

Neo M, Asato R, Honda K, Kataoka K, Fujibayashi S, Nakamura T (2007) Transmaxillary and transmandibular approach to a C1 chordoma. Spine (Phila Pa 1976) 32:E236–E239

7.

Yamazaki T, McLoughlin GS, Patel S, Rhines LD, Fourney DR (2009) Feasibility and safety of en bloc resection for primary spine tumors: a systematic review by the Spine Oncology Study Group. Spine (Phila Pa 1976) 34:S31–S38

8.

Yang X, Wu Z, Xiao J, Feng D, Huang Q, Zheng W, Chen H, Yuan W, Jia L (2012) Chondrosarcomas of the cervical and cervicothoracic spine: surgical management and long-term clinical outcome. J Spinal Disord Tech 25:1–9

9.

Yoshihara H, Passias PG, Errico TJ (2013) Screw-related complications in the subaxial cervical spine with the use of lateral mass versus cervical pedicle screws. J Neurosurg Spine 19:614–623

10.

Zileli M, Kilinçer C, Ersahin Y, Cagli S (2007) Primary tumors of the cervical spine: a retrospective review of 35 surgically managed cases. Spine J 7:165–173
Conflicts of interest
None.
Additional information
Clinical Trial Registration number: not applicable
Electronic supplementary material
Below is the link to the electronic supplementary material.
Video demonstrating the pre, intra, and post-operative images of the patient presented in Figs 1 to 6. She was a 66-year-old female with chronic neck pain in whom an MRi of the cervical spine revealed the presence of a tumoral lesion involving only the left portion of the C4 vertebral body. A CT-guided core needle biopsy revealed the diagnosis of a chondrosarcoma. At that time the patient refused surgery and received radiosurgery elsewhere. Two years later she returned to our clinic presenting significant worsening of the neck pain as well as left deltoid weakness. The new MRi revealed significant growth of the lesion, which, at that point, involved also the C3, C4, and C5 vertebral bodies as well as the left vertebral artery and the left C3, C4, and C5 nerve roots. After a new core needle biopsy confirming the diagnosis of a low-grade chondrosarcoma, a lengthy conversation was conducted with the family in order to discuss the risks and benefits of a possible en bloc resection of the lesion. This procedure was planned to be executed in four different stages: a posterior approach for an occipito-T3 fixation, an endovascular occlusion of the left vertebral artery; a new posterior approach for laminectomy, tumor dissection, ligation of the left C3, C4, and C5 nerve roots as well as the left vertebral artery, initiation of the C2–C3 and C5–C6 discectomies from the back and implantation of a silastic sheet between the spinal cord and the posterior longitudinal ligament, and, finally, an anterior cervical approach for en bloc removal of the lesion and reconstruction of the spinal column with a distractable cage and C2–C6 plating. At the 2-month post-operative follow-up, the patient had normal biceps, triceps, and hand grasp function on the left arm, although, as expected, she still presented complete deltoid paralysis. The tracheostomy and gastrostomy (PEG) tube had already been removed, and there were no respiratory issues or signs of diaphragm paralysis on the left side that could be attributed to the ligation of the C3 and C4 nerve roots. Due to the close margin of resection on the medial aspect of the tumor (as revealed by the immunohistochemical analysis of the specimen), the patient is currently under close follow-up with serial MRis; in the case of recurrence, the team may indicate adjuvant proton-beam radiotherapy. (MP4 21694 kb)
Video demonstrating the pre, intra, and post-operative images of the patient presented in Figs 1 to 6. She was a 66-year-old female with chronic neck pain in whom an MRi of the cervical spine revealed the presence of a tumoral lesion involving only the left portion of the C4 vertebral body. A CT-guided core needle biopsy revealed the diagnosis of a chondrosarcoma. At that time the patient refused surgery and received radiosurgery elsewhere. Two years later she returned to our clinic presenting significant worsening of the neck pain as well as left deltoid weakness. The new MRi revealed significant growth of the lesion, which, at that point, involved also the C3, C4, and C5 vertebral bodies as well as the left vertebral artery and the left C3, C4, and C5 nerve roots. After a new core needle biopsy confirming the diagnosis of a low-grade chondrosarcoma, a lengthy conversation was conducted with the family in order to discuss the risks and benefits of a possible en bloc resection of the lesion. This procedure was planned to be executed in four different stages: a posterior approach for an occipito-T3 fixation, an endovascular occlusion of the left vertebral artery; a new posterior approach for laminectomy, tumor dissection, ligation of the left C3, C4, and C5 nerve roots as well as the left vertebral artery, initiation of the C2–C3 and C5–C6 discectomies from the back and implantation of a silastic sheet between the spinal cord and the posterior longitudinal ligament, and, finally, an anterior cervical approach for en bloc removal of the lesion and reconstruction of the spinal column with a distractable cage and C2–C6 plating. At the 2-month post-operative follow-up, the patient had normal biceps, triceps, and hand grasp function on the left arm, although, as expected, she still presented complete deltoid paralysis. The tracheostomy and gastrostomy (PEG) tube had already been removed, and there were no respiratory issues or signs of diaphragm paralysis on the left side that could be attributed to the ligation of the C3 and C4 nerve roots. Due to the close margin of resection on the medial aspect of the tumor (as revealed by the immunohistochemical analysis of the specimen), the patient is currently under close follow-up with serial MRis; in the case of recurrence, the team may indicate adjuvant proton-beam radiotherapy. (MP4 21694 kb)
About this article
Cite this article
Mattei, T.A., Mendel, E. En bloc resection of primary malignant bone tumors of the cervical spine. Acta Neurochir 156, 2159–2164 (2014). https://doi.org/10.1007/s00701-014-2075-z
Received:

Accepted:

Published:

Issue Date:
Keywords
Primary bone tumors

en bloc resection

Chordoma

Chondrosarcoma

Subaxial cervical spine

Spinal tumors