Abstract
Background
The authors describe their experience with the choice of anterior, posterior and combined approaches for the surgical treatment of spondylotic myelopathy.
Methods
Description of surgical anatomy, surgical technique, indications, limitations, complications, specific perioperative considerations and specific information to give to the patient about surgery and potential risks and a summary of 10 key points is given.
Conclusions
If the disease extends behind the posterior vertebral body and if reestablishing spinal sagittal and coronal balance is an aim, then the anterior approach is the best choice. In cases of predominant posterior spinal cord compression and lordotic configuration the posterior approach should be preferred. Decompression of three or more levels, especially in combination with poor bone quality, requires a combined approach.
This is a preview of subscription content, log in to check access.
Access options
Buy single article
Instant unlimited access to the full article PDF.
US$ 39.95
Price includes VAT for USA
Subscribe to journal
Immediate online access to all issues from 2019. Subscription will auto renew annually.
US$ 199
This is the net price. Taxes to be calculated in checkout.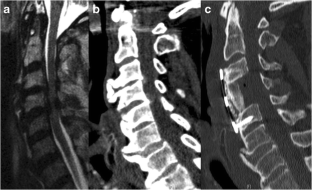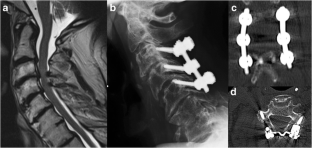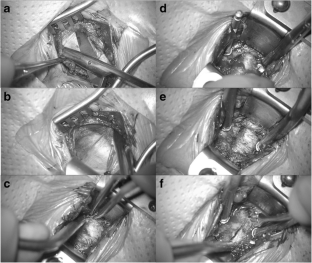 References
1.

Epstein NE (2012) Iliac crest autograft versus alternative constructs for anterior cervical spine surgery: Pros, cons, and costs. Surg Neurol Int 3(Suppl 3):S143–S156

2.

Fehlings MG, Smith JS, Kopjar B, Arnold PM, Yoon ST, Vaccaro AR, Brodke DS, Janssen ME, Chapman JR, Sasso RC, Woodard EJ, Banco RJ, Massicotte EM, Dekutoski MB, Gokaslan ZL, Bono CM, Shaffrey CI (2012) Perioperative and delayed complications associated with the surgical treatment of cervical spondylotic myelopathy based on 302 patients from the AOSpine North America Cervical Spondylotic Myelopathy Study. J Neurosurg Spine 16(5):425–432

3.

Highsmith JM, Dhall SS, Haid RW Jr, Rodts GE Jr, Mummaneni PV (2011) Treatment of cervical stenotic myelopathy: a cost and outcome comparison of laminoplasty versus laminectomy and lateral mass fusion. J Neurosurg Spine 14(5):619–625

4.

Hussain M, Nassr A, Natarajan RN, An HS, Andersson GB (2013) Biomechanics of adjacent segments after a multilevel cervical corpectomy using anterior, posterior, and combined anterior-posterior instrumentation techniques: a finite element model study. Spine J 13(6):689–696

5.

Kim PK, Alexander JT (2006) Indications for circumferential surgery for cervical spondylotic myelopathy. Spine J 6(6 Suppl):299S–307S

6.

Komotar RJ, Mocco J, Kaiser MG (2006) Surgical management of cervical myelopathy: indications and techniques for laminectomy and fusion. Spine J 6(6 Suppl):252S–267S

7.

König SA, Ranguis S, Spetzger U (2013) Management of complex cervical instability. J Neurol Surg A Cent Eur Neurosurg. doi:10.1055/s-0033-1345095

8.

Mayer M, Meier O, Auffarth A, Koller H (2013) Cervical laminectomy and instrumented lateral mass fusion: techniques, pearls and pitfalls. Eur Spine J. doi:10.1007/s00586-013-2838-x

9.

Medow JE, Trost G, Sandin J (2006) Surgical management of cervical myelopathy: indications and techniques for surgical corpectomy. Spine J 6(6 Suppl):233S–241S

10.

Zhu B, Xu Y, Liu X, Liu Z, Dang G (2013) Anterior approach versus posterior approach for the treatment of multilevel cervical spondylotic myelopathy: a systemic review and meta-analysis. Eur Spine J 22(7):1583–1593
Conflicts of interest
None.
Additional information
Comment
The surgical management of spondylotic myelopathy is in the field of our daily practice. Technical steps for surgery are now well established, as raised by the present study. Nevertheless, the modern literature does not conclude to a better benefit/risk ratio of anterior approaches, compared to posterior ones. Moreover, the need for systematic arthrodesis that is recommended by the authors in cases of posterior approaches is debatable since kyphotic deformities can be prevented by a better preservation of the muscular environment during surgery and early postoperative reinforcement. In most cases, spondylotic myelopathy is due to an extensive stenosis that spreads over than two levels and involves elderly people. In this aspect, we do believe that a majority of these patients deserve a quick, simple and safe posterior procedure rather than a more complex one, either anterior or combined approaches. The latter ones should be reserved for very selected cases of underlying pathological condition of the axial skeleton.
Pierre-Hugues Roche
Marseille, France
Electronic supplementary material
Below is the link to the electronic supplementary material.
About this article
Cite this article
König, S.A., Spetzger, U. Surgical management of cervical spondylotic myelopathy – indications for anterior, posterior or combined procedures for decompression and stabilisation. Acta Neurochir 156, 253–258 (2014). https://doi.org/10.1007/s00701-013-1955-y
Received:

Accepted:

Published:

Issue Date:
Keywords
Cervical

Spine

Surgery

Anterior

Posterior

Combined

Approach