Abstract
Background
Noise disturbance arising from the valve is a rare event of ventriculoperitoneal shunts. We queried and investigated shunt patients for occurrence and evaluated the possible factors related to noise development.
Methods
Fifty ambulatory patients with implanted proGAV valve were investigated consecutively. Patients were asked for any noise arising from the shunt. In all cases, the valve was auscultated in sitting and upright position. The position of the gravitational unit (GU) was determined in respect to the Frankfurt horizontal plane (FHP) and in head reclination. Ten valves were perfused in vitro at different settings. One valve was opened for video documentation, and a frequency analysis of the noise was performed in nine valves.
Results
Eight percent (4/50) of the patients reported a noise arising from the valve only in upright position in combination with maximum head reclination, and immediately stopped when performing Vasalva's maneuver. In three out of four of these patients, the noise was also audible for the investigator (FS) with a prepared stethoscope. Patients complaining about a noise had a larger GU deviation from vertical during head reclination (median: −80 vs −43°, p = 0.0007, t-test). A deviations threshold of less than −58.4° excluding audible noise by a negative predictive value of 1 (95 % confidence interval [CI] 0.9 to 1.0). In an experimental setting, the noise came from vibrations of the ball in the cone of the adjustable unit and was restricted to a flow of at least 220 ml/h. The noise frequencies tended to be higher at higher opening pressures.
Conclusions
Valve-related noise development may occur in patients with proGAV valves. This event could be prevented during shunt placement by avoiding posterior tilt of the gravitational unit, especially in patients with a good cervical mobility. The noise might indicate transient peak flows and was not associated with clinical or radiological signs of overdrainage.
This is a preview of subscription content, log in to check access.
Access options
Buy single article
Instant unlimited access to the full article PDF.
US$ 39.95
Price includes VAT for USA
Subscribe to journal
Immediate online access to all issues from 2019. Subscription will auto renew annually.
US$ 199
This is the net price. Taxes to be calculated in checkout.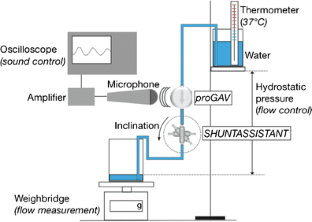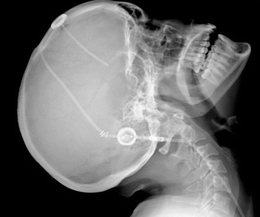 References
1.

Chong CC, van Gelder J, Sheridan M (2002) Clinical experience with the low pressure Novus valve in the treatment of adult hydrocephalus. J Clin Neurosci 9:539–543

2.

Cobb WS, Burns JM, Kercher KW, Matthews BD, James Norton H, Todd Heniford B (2005) Normal intraabdominal pressure in healthy adults. J Surg Res 129:231–235

3.

Hara M, Kadowaki C, Konishi Y, Ogashiwa M, Numoto M, Takeuchi K (1983) A new method for measuring cerebrospinal fluid flow in shunts. J Neurosurg 58:557–561

4.

Hertel F, Zuchner M, Decker C, Schill S, Bosniak I, Bettag M (2008) The Miethke dual switch valve: experience in 169 adult patients with different kinds of hydrocephalus: an open field study. Minim Invasive Neurosurg 51:147–153

5.

Hidaka M, Matsumae M, Ito K, Tsugane R, Suzuki Y (2001) Dynamic measurement of the flow rate in cerebrospinal fluid shunts in hydrocephalic patients. Eur J Nucl Med 28:888–893

6.

Kaestner S, Kruschat T, Nitzsche N, Deinsberger W (2009) Gravitational shunt units may cause under-drainage in bedridden patients. Acta Neurochir (Wien) 151:217–221, discussion 221

7.

Kolenda H, Schoener WF (1995) Shunt-valve noise as an unusual reason for shunt revision. Childs Nerv Syst 11:489–491

8.

Lemcke J, Meier U (2010) Improved outcome in shunted iNPH with a combination of a Codman Hakim programmable valve and an Aesculap-Miethke ShuntAssistant. Cent Eur Neurosurg 71:113–116

9.

Lemcke J, Meier U, Muller C, Fritsch M, Kiefer M, Eymann R, Kehler U, Langer N, Schuhmann MU, Speil A, Weber F, Remenez V, Rohde V, Ludwig HC, Stengel D (2012) On the method of a randomised comparison of programmable valves with and without gravitational units: the SVASONA study. Acta Neurochir Suppl 114:243–246

10.

Lemcke J, Meier U, Muller C, Fritsch MJ, Kehler U, Langer N, Kiefer M, Eymann R, Schuhmann MU, Speil A, Weber F, Remenez V, Rohde V, Ludwig HC, Stengel D (2013) Safety and efficacy of gravitational shunt valves in patients with idiopathic normal pressure hydrocephalus: a pragmatic, randomised, open label, multicentre trial (SVASONA). J Neurol Neurosurg Psychiatry. doi:10.1136/jnnp-2012-303936

11.

MAUDE Manufacturer and User Facility Device Experience. U.S. Food and Drug Administration, http://www.accessdata.fda.gov/scripts/cdrh/cfdocs/cfMAUDE/search.CFM. Accessed January 12, 2013

12.

Mavrocordatos P, Bissonnette B, Ravussin P (2000) Effects of neck position and head elevation on intracranial pressure in anaesthetized neurosurgical patients: preliminary results. J Neurosurg Anesthesiol 12:10–14

13.

Meier U, Lemcke J (2006) First clinical experiences in patients with idiopathic normal-pressure hydrocephalus with the adjustable gravity valve manufactured by Aesculap (proGAV(Aesculap)). Acta Neurochir Suppl 96:368–372

14.

Meier U, Lemcke J, Al-Zain F (2008) Course of disease in patients with idiopathic normal pressure hydrocephalus (iNPH): a follow-up study 3, 4 and 5 years following shunt implantation. Acta Neurochir Suppl 102:125–127

15.

Moser E, Frenzel HU (1976) Qualitative function test of ventriculo-atrial drainage using Cordis-Hakim valves. Zentralbl Neurochir 37:191–195

16.

Ordia JI, Mortara RW, Spatz EL (1987) Audible cerebrospinal fluid flow through a ventriculoperitoneal shunt. Report of two cases. J Neurosurg 67:460–462

17.

Park J, Kim GJ, Hwang SK (2007) Valve inclination influences the performance of gravity-assisted valve. Surg Neurol 68:14–18, discussion 18

18.

Rossi GF, Maira G, Anile C (1987) Intracranial pressure behaviour and its relation to the outcome of surgical CSF shunting in normotensive hydrocephalus. Neurol Res 9:183–187

19.

Sprung C, Schlosser HG, Lemcke J, Meier U, Messing-Junger M, Trost HA, Weber F, Schul C, Rohde V, Ludwig HC, Hopfner J, Sepehrnia A, Mirzayan MJ, Krauss JK (2010) The adjustable proGAV shunt: a prospective safety and reliability multicenter study. Neurosurgery 66:465–474
Acknowledgments
Thank to Florian Freimann for providing additional clinical data.
Conflicts of interest
FS, VR and CS received speaker fees, CM is director and TK is an employee of the Miethke Inc. partner of B.Braun Inc., Melsungen, Germany. None of the authors declares a conflict of interests.
Additional information
Clinical Trial Registration Number
n.d.
Electronic supplementary material
Below is the link to the electronic supplementary material.
ESM 1
Audio_or1.mpg recording from the adusting unit of a female 30-year-old patient. The noise starts in terms of a crescendo after the patient performed a maximum head inclination. (MPG 988 kb)
Video_or2.mpg adjustable unit of a proGAV valve after removal of the titanium lid at 0 cm H2O opening pressure perfused with saline at 220 ml/h. Note the sapphire ball vibrating in the cone from where the saline enters the valve. (MPG 11794 kb)
Audio_or1.mpg recording from the adusting unit of a female 30-year-old patient. The noise starts in terms of a crescendo after the patient performed a maximum head inclination. (MPG 988 kb)
Video_or2.mpg adjustable unit of a proGAV valve after removal of the titanium lid at 0 cm H2O opening pressure perfused with saline at 220 ml/h. Note the sapphire ball vibrating in the cone from where the saline enters the valve. (MPG 11794 kb)
About this article
Cite this article
Stockhammer, F., Miethke, C., Knitter, T. et al. Flow-related noise in patients with ventriculoperitoneal shunt using gravitational adjustable valves. Acta Neurochir 156, 761–765 (2014). https://doi.org/10.1007/s00701-013-1876-9
Received:

Accepted:

Published:

Issue Date:
Keywords
Gravitational valve

Noise

Side effect

Ventriculoperitoneal shunt