Abstract
Background
Painful neuromas are a relatively common complication of hernia and abdominal wall surgery.
Objective
Surgical neurectomy has the potential to to provide durable relief for chronic pain; however, current surgical approaches are not without morbidity or anatomical challenges.We sought a surgical alternative.
Methods
In the treatment of a case of incapacitating inguinal pain, we performed an anterior transperitoneal approach using a surgical robot.
Results
This approach was facile and provided elegant anatomical visualization.
Conclusion
This case describes the first known robot-assisted laparoscopic triple neurectomy and details a simplified, transperitoneal approach.
This is a preview of subscription content, log in to check access.
Access options
Buy single article
Instant unlimited access to the full article PDF.
US$ 39.95
Price includes VAT for USA
Subscribe to journal
Immediate online access to all issues from 2019. Subscription will auto renew annually.
US$ 199
This is the net price. Taxes to be calculated in checkout.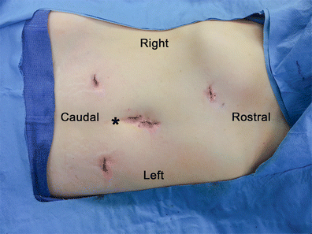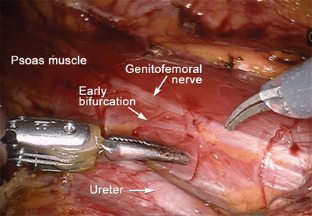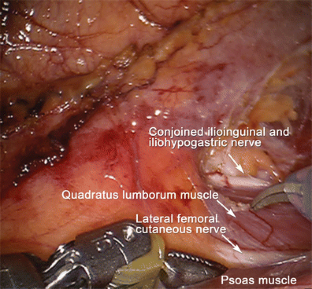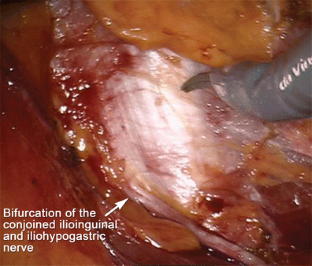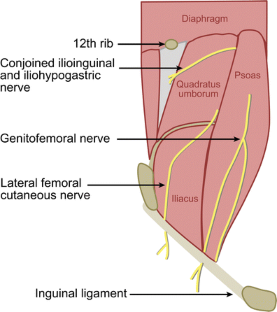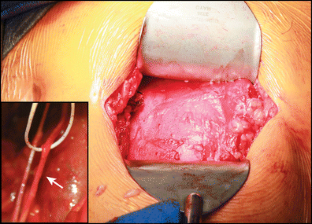 References
1.

Aasvang E, Kehlet H (2005) Chronic postoperative pain: the case of inguinal herniorrhaphy. Br J Anaesth 95:69–76

2.

Aasvang E, Kehlet H (2005) Surgical management of chronic pain after inguinal hernia repair. Br J Surg 92:795–801

3.

Alfieri S, Rotondi F, Di GA, Fumagalli U, Salzano A, Di MD, Ridolfini MP, Sgagari A, Doglietto G (2006) Influence of preservation versus division of ilioinguinal, iliohypogastric, and genital nerves during open mesh herniorrhaphy: prospective multicentric study of chronic pain. Ann Surg 243:553–558

4.

Amid PK (2002) A 1-stage surgical treatment for postherniorrhaphy neuropathic pain: triple neurectomy and proximal end implantation without mobilization of the cord. Arch Surg 137:100–104

5.

Courtney CA, Duffy K, Serpell MG, O'Dwyer PJ (2002) Outcome of patients with severe chronic pain following repair of groin hernia. Br J Surg 89:1310–1314

6.

Dakwar E, Le TV, Baaj AA, Le AX, Smith WD, Akbarnia BA, Uribe JS (2011) Abdominal wall paresis as a complication of minimally invasive lateral transpsoas interbody fusion. Neurosurg Focus 31:E18

7.

Ducic I, Dellon AL (2004) Testicular pain after inguinal hernia repair: an approach to resection of the genital branch of genitofemoral nerve. J Am Coll Surg 198:181–184

8.

Gray H, Standring S, Ellis H, Berkovitz BKB (2005) Gray's anatomy: the anatomical basis of clinical practice. Elsevier Churchill Livingstone, New York

9.

Huang TJ, Hsu RW, Liu HP, Hsu KY, Liao YS, Shih HN, Chen YJ (1997) Video-assisted thoracoscopic treatment of spinal lesions in the thoracolumbar junction. Surg Endosc 11:1189–1193

10.

Kim DH (2008) Kline & Hudson's nerve injuries: operative results for major nerve injuries, entrapments and tumors. WB Saunders

11.

Klaassen Z, Marshall E, Tubbs RS, Louis RG Jr, Wartmann CT, Loukas M (2011) Anatomy of the ilioinguinal and iliohypogastric nerves with observations of their spinal nerve contributions. Clin Anat 24:454–461

12.

Krahenbuhl L, Striffeler H, Baer HU, Buchler MW (1997) Retroperitoneal endoscopic neurectomy for nerve entrapment after hernia repair. Br J Surg 84:216–219

13.

Lee CH, Dellon AL (2000) Surgical management of groin pain of neural origin. J Am Coll Surg 191:137–142

14.

Leibl BJ, Daubler P, Schmedt CG, Kraft K, Bittner R (2000) Long-term results of a randomized clinical trial between laparoscopic hernioplasty and shouldice repair. Br J Surg 87:780–783

15.

Lyon EK (1945) Genitofemoral causalgia. Can Med Assoc J 53:213–216

16.

Magee RK (1942) Genitofemoral causalgia: (a new syndrome). Can Med Assoc J 46:326–329

17.

McAfee PC, Regan JR, Zdeblick T, Zuckerman J, Picetti GD III, Heim S, Geis WP, Fedder IL (1995) The incidence of complications in endoscopic anterior thoracolumbar spinal reconstructive surgery. A prospective multicenter study comprising the first 100 consecutive cases. Spine (Phila Pa 1976) 20:1624–1632

18.

Mikkelsen T, Werner MU, Lassen B, Kehlet H (2004) Pain and sensory dysfunction 6 to 12 months after inguinal herniotomy. Anesth Analg 99:146–151

19.

Murovic JA, Kim DH, Tiel RL, Kline DG (2005) Surgical management of 10 genitofemoral neuralgias at the Louisiana State University Health Sciences Center. Neurosurgery 56:298–303

20.

Muto CM, Pedana N, Scarpelli S, Galardo R, Guida G, Schiavone V (2005) Inguinal neurectomy for nerve entrapment after open/laparoscopic hernia repair using retroperitoneal endoscopic approach. Surg Endosc 19:974–976

21.

Nienhuijs S, Staal E, Strobbe L, Rosman C, Groenewoud H, Bleichrodt R (2007) Chronic pain after mesh repair of inguinal hernia: a systematic review. Am J Surg 194:394–400

22.

Poobalan AS, Bruce J, Smith WC, King PM, Krukowski ZH, Chambers WA (2003) A review of chronic pain after inguinal herniorrhaphy. Clin J Pain 19:48–54

23.

Rab M, Ebmer AJ, Dellon AL (2001) Anatomic variability of the ilioinguinal and genitofemoral nerve: implications for the treatment of groin pain. Plast Reconstr Surg 108:1618–1623

24.

Rozen WM, Tran TM, Ashton MW, Barrington MJ, Ivanusic JJ, Taylor GI (2008) Refining the course of the thoracolumbar nerves: a new understanding of the innervation of the anterior abdominal wall. Clin Anat 21:325–333

25.

Song JW, Wolf JS Jr, McGillicuddy JE, Bhangoo S, Yang LJ (2011) Laparoscopic triple neurectomy for intractable groin pain: technical report of 3 cases. Neurosurgery 68:339–346

26.

Starling JR, Harms BA, Schroeder ME, Eichman PL (1987) Diagnosis and treatment of genitofemoral and ilioinguinal entrapment neuralgia. Surgery 102:581–586

27.

Viswanathan A, Kim DH, Reid N, Kline DG (2009) Surgical management of the pelvic plexus and lower abdominal nerves. Neurosurgery 65:A44–A51

28.

Wright D, Paterson C, Scott N, Hair A, O'Dwyer PJ (2002) Five-year follow-up of patients undergoing laparoscopic or open groin hernia repair: a randomized controlled trial. Ann Surg 235:333–337

29.

Zaluska S (1975) External structure of the ilioinguinal nerve in postfetal life in man. Folia Morphol 34:419–424
Conflicts of interest
None.
Electronic supplementary material
Below is the link to the electronic supplementary material.
Operative video from a robot-assisted laproscopic transperitoneal triple neurectomy. Anatomical identification of the relevant nerves are depicted. Used with permission from Barrow Neurological Institute. (MPEG 86228 kb)
Operative video from a robot-assisted laproscopic transperitoneal triple neurectomy. Anatomical identification of the relevant nerves are depicted. Used with permission from Barrow Neurological Institute. (MPEG 86228 kb)
About this article
Cite this article
Mahan, M.A., Kader, A.K. & Brown, J.M. Robot-assisted triple neurectomy for iatrogenic inguinal pain: a technical note. Acta Neurochir 156, 171–175 (2014) doi:10.1007/s00701-013-1857-z
Received:

Accepted:

Published:

Issue Date:
Keywords
Robotic

Neurectomy

Pain

Ilioinguinal

Iliohypogastric

Genitofemoral