Abstract
Background
Cranioplasty aims to reconstruct skull defects from fractures, decompressive craniectomies, tumors, and congenital anomalies in a cosmetically acceptable manner. We present a technique in methyl methacrylate cranioplasty that gives excellent cosmetic results by maintaining patient's calvarial curvature.
Method
Cranioplasty material is placed into a plastic bag and packed inside the defect. Wire mesh cut larger than the defect is held in position to take the exact skull curvature. Once solid, the implant is fixed in position using titanium plates and mini-screws.
Conclusion
This is a simple, inexpensive method of achieving the most cosmetically desired cranioplasty results.
This is a preview of subscription content, log in to check access.
Access options
Buy single article
Instant unlimited access to the full article PDF.
US$ 39.95
Price includes VAT for USA
Subscribe to journal
Immediate online access to all issues from 2019. Subscription will auto renew annually.
US$ 199
This is the net price. Taxes to be calculated in checkout.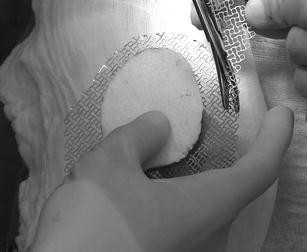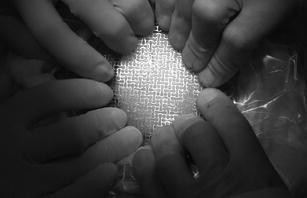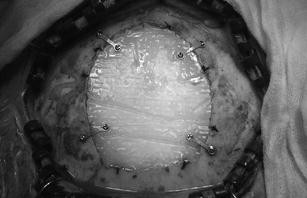 References
1.

Al-Tamimi YZ, Sinha P, Trivedi M, Robson C, Al-Musawi TA, Hossain N, Mumford C, Towns G (2012) Comparison of acrylic and titanium cranioplasty. Br J Neurosurg 26:510–513

2.

Aydin S, Kucukyuruk B, Abuzayed B, Sanus GZ (2011) Cranioplasty: review of materials and techniques. J Neurosci Rural Pract 2:162–167

3.

Blake DP (1994) The use of synthetics in cranioplasty: a clinical review. Mil Med 159:466–469

4.

Chiarini L, Figurelli S, Pollastri G, Torcia E, Ferrari F, Albanese M, Nocini PF (2004) Cranioplasty using acrylic material: a new technical procedure. J Craniomaxillofac Surg 32:5–9

5.

Drosos GI, Babourda E, Magnissalis EA, Giatromanolaki A, Kazakos K, Verettas DA (2012) Mechanical characterization of bone graft substitute ceramic cements. Injury 43:266–271

6.

Gladstone HB, McDermott MW, Cooke DD (1995) Implants for cranioplasty. Otolaryngol Clin N Am 28:381–400

7.

Malis LI (1989) Titanium mesh and acrylic cranioplasty. Neurosurgery 25:351–355

8.

Manson PN, Crawley WA, Hoopes JE (1986) Frontal cranioplasty: risk factors and choice of cranial vault reconstructive material. Plast Reconstr Surg 77:888–904

9.

Marchac D, Greensmith A (2008) Long-term experience with methylmethacrylate cranioplasty in craniofacial surgery. J Plast Reconstr Aesthet Surg 61:744–752, discussion 753

10.

Sanan A, Haines SJ (1997) Repairing holes in the head: a history of cranioplasty. Neurosurgery 40:588–603
Acknowledgments
We thank Kristin Kraus, MSc, and Ramin Eskandari, MD, for editorial assistance with this paper.
Conflicts of interest
None.
Electronic supplementary material
Below is the link to the electronic supplementary material.
Video that demonstrates the cranioplasty technique that yields superior cosmesis through maintenance of the patient's calvarial curvature. 2 minutes, 50 seconds, 775 MB. (MPG 51614 kb)
Video that demonstrates the cranioplasty technique that yields superior cosmesis through maintenance of the patient's calvarial curvature. 2 minutes, 50 seconds, 775 MB. (MPG 51614 kb)
About this article
Cite this article
Sorour, M., Caton, W.L. & Couldwell, W.T. Technique for methyl methacrylate cranioplasty to optimize cosmetic outcome. Acta Neurochir 156, 207–209 (2014). https://doi.org/10.1007/s00701-013-1800-3
Received:

Accepted:

Published:

Issue Date:
Keywords
Cranioplasty

Methyl methacrylate

Cosmesis