Abstract
The binasal fully endoscopic transphenoidal approach in skull base surgery requires a specific learning curve and expertise and, even in the hands of experienced surgeons, can be challenging. Quick and efficient endoscopic access can be impeded by factors like a deviated nasal septum and/or very narrow nasal cavity. For this reason, we developed a simple technique to facilitate rapid maneuvering of the endoscope in and out of the nose in the case of a narrow surgical corridor. Using a canula in situ in one of the nostrils, the endoscope can be maneuvered in and out of the nose to rapidly reach the surgical target without inadvertent mucosal trauma that can cause bleeding. This technique is very simple and is particularly helpful for novice neuroendoscopists who are trying to navigate the confines of a narrow nasal cavity, especially when they are assisting more experienced colleagues.
This is a preview of subscription content, log in to check access.
Access options
Buy single article
Instant unlimited access to the full article PDF.
US$ 39.95
Price includes VAT for USA
Subscribe to journal
Immediate online access to all issues from 2019. Subscription will auto renew annually.
US$ 199
This is the net price. Taxes to be calculated in checkout.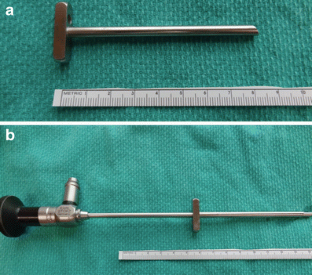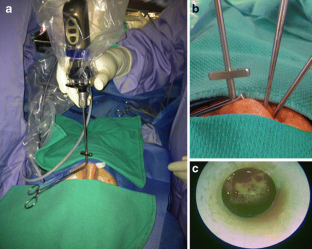 References
1.

Carrau RL, Jho HD, Ko Y (1996) Transnasal-transsphenoidal endoscopic surgery of the pituitary gland. Laryngoscope 106:914–918

2.

Castelnuovo P, Pistochini A, Locatelli D (2006) Different surgical approaches to the sellar region: focusing on the "two nostrils four hands technique". Rhinology 44:2–7

3.

Cavallo LM, Dal Fabbro M, Jalalod'din H, Messina A, Esposito I, Esposito F, de Divitiis E, Cappabianca P (2007) Endoscopic endonasal transsphenoidal surgery. Before scrubbing in: tips and tricks. Surg Neurol 67:342–347

4.

Cusimano MD, Fenton RS (1996) The technique for endoscopic pituitary tumor removal. Neurosurg Focus 1:e1

5.

De Divitiis E, Cappabianca P, Cavallo LM (2002) Endoscopic transsphenoidal approach: adaptability of the procedure to different sellar lesions. Neurosurgery 51:699–705

6.

Jho HD, Carrau RL (1996) Endoscopy assisted transsphenoidal surgery for pituitary adenoma. Technical note. Acta Neurochir (Wien) 138:1416–1425

7.

Kassam A, Synderman CH, Mintz A, Gardner P, Carrau RL (2005) Expanded endonasal approach: the rostrocaudal axis. Part I. Crista galli to the sella turcica. Neurosurg Focus 19:E3

8.

Kassam A, Synderman CH, Mintz A, Gardner P, Carrau RL (2005) Expanded endonasal approach: the rostrocaudal axis. Part II. Posterior clinoids to the foramen magnum. Neurosurg Focus 19:E4

9.

Manes RP, Barnett S, Batra PS (2001) Utility of novel 3-dimensional stereoscopic vision system for endoscopic sinonasal and skull-base surgery. Int Forum Allergy Rhinol 1:191–197

10.

Rodziewicz GS, Kelley RT, Kellman RM, Smith MV (1996) Transnasal endoscopic surgery of the pituitary gland: technical note. Neurosurgery 39:189–192

11.

Shah RN, Leight WD, Patel MR, Surowitz JB, Wong YT, Wheless SA, Germanwala AV, Zanation AM (2011) A controlled laboratory and clinical evaluation of a three-dimensional endoscope for endonasal sinus and skull base surgery. Am J Rhinol Allergy 25:141–144
Disclosure
The authors have no personal financial or institutional interest in the devices described in this article.
Conflicts of interest
None.
Additional information
Michael D. Cusimano and Antonio Di Ieva contributed equally to this work.
Electronic supplementary material
Below is the link to the electronic supplementary material.
About this article
Cite this article
Cusimano, M.D., Di Ieva, A., Lee, J. et al. Canula-assisted endoscopy in bi-portal transphenoidal cranial base surgery: technical note. Acta Neurochir 155, 909–911 (2013). https://doi.org/10.1007/s00701-013-1677-1
Received:

Accepted:

Published:

Issue Date:
Keywords
Canula-assisted endoscopy

Endoscopic bi-portal technique

Binostril technique

Skull base

Skull base tumors

Transphenoidal approach

Extended endoscopic approach