Abstract
Background
Carotid endarterectomy (CEA) is the most effective treatment method of carotid stenosis or occlusion. Surgeons typically check the blood flow in each vessel using Duplex Doppler ultrasonography or radiocontrast angiography in order to prevent postoperative complications. Embolic cerebral infarction on the ipsilateral side has been reported in 4–7% of patients undergoing CEA despite a tolerable blood flow reported by Duplex ultrasonography. This study was designed to evaluate a new intraoperative method for detecting technical errors during CEA using indocyanine green (ICG) angiography.
Methods
Six consecutive patients with severe carotid stenosis or occlusion underwent CEA. Both ICG angiography and Doppler ultrasonography were performed before the carotid arterial incision and after the carotid arterial suture. After injecting ICG dye via an intravenous route, the internal surface, atheroma, and flow defect were visualized with a microscope.
Results
In ICG angiography, stenotic lesions could be identified as regions of relatively dark signal intensity. Magnified real-time images could be created using a microscope with an infrared filter, including three-dimensional images and detailed images of the inner lumen. These images could then be compared with the results of Doppler ultrasonography. In the six cases assessed by both ICG angiography and Doppler ultrasonography, all Doppler results were acceptable. However, one patient underwent revision surgery because a fluttering atheroma was detected by ICG angiography. ICG angiography could assume the extent of severe stenotic area. ICG angiography could also detect mobile lesions such as a fluttering atheroma.
Conclusions
Intraoperative ICG angiography before arteriotomy is useful to determine the precise stenotic area and the shape of the associated plaque. ICG angiography after an arteriotomy site is sutured is also useful for detecting residual stenosis or fluttering atheroma. ICG angiography could be an alternative method to Doppler ultrasonography for ensuring a complete and successful operation and preventing complications.
This is a preview of subscription content, log in to check access.
Access options
Buy single article
Instant unlimited access to the full article PDF.
US$ 39.95
Price includes VAT for USA
Subscribe to journal
Immediate online access to all issues from 2019. Subscription will auto renew annually.
US$ 199
This is the net price. Taxes to be calculated in checkout.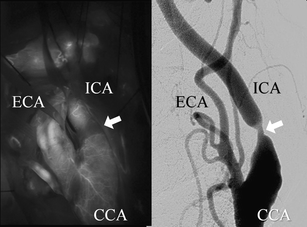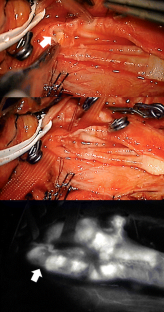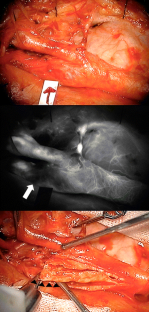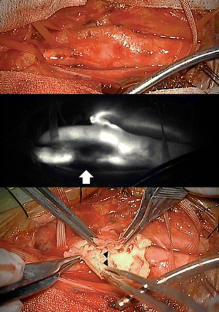 References
1.

Barnes RW, Nix ML, Wingo JP, Nichols BT (1986) Recurrent versus residual carotid stenosis. Incidence detected by Doppler ultrasound. Ann Surg 203:652–660

2.

Blaisdell FW, Lim R Jr, Hall AD (1967) Technical result of carotid endarterectomy. Arteriographic assessment. Am J Surg 114:239–246

3.

Brott TG, Hobson RW 2nd, Howard G, Roubin GS, Clark WM, Brooks W, Mackey A, Hill MD, Leimgruber PP, Sheffet AJ, Howard VJ, Moore WS, Voeks JH, Hopkins LN, Cutlip DE, Cohen DJ, Popma JJ, Ferguson RD, Cohen SN, Blackshear JL, Silver FL, Mohr JP, Lal BK, Meschia JF (2010) Stenting versus endarterectomy for treatment of carotid-artery stenosis. N Engl J Med 363:11–23

4.

Fox IJ, Wood EH (1960) Indocyanine green: physical and physiologic properties. Proc Staff Meet Mayo Clin 35:732–744

5.

Garski TR, Staller BJ, Hepner G, Banka VS, Finney RA Jr (1978) Adverse reactions after administration of indocyanine green. JAMA 240:635

6.

Levi CR, O'Malley HM, Fell G, Roberts AK, Hoare MC, Royle JP, Chan A, Beiles BC, Chambers BR, Bladin CF, Donnan GA (1997) Transcranial Doppler detected cerebral microembolism following carotid endarterectomy. High microembolic signal loads predict postoperative cerebral ischaemia. Brain 120(Pt 4):621–629

7.

Linfante I, Hirsch JA, Selim M, Schlaug G, Caplan LR, Reddy AS (2004) Safety of latest-generation self-expanding stents in patients with NASCET-ineligible severe symptomatic extracranial internal carotid artery stenosis. Arch Neurol 61:39–43

8.

Mays BW, Towne JB, Seabrook GR, Cambria RA, Jean-Claude J (2000) Intraoperative carotid evaluation. Arch Surg 135:525–528, discussion 528–529

9.

Petty GW, Brown RD Jr, Whisnant JP, Sicks JD, O'Fallon WM, Wiebers DO (1999) Ischemic stroke subtypes: a population-based study of incidence and risk factors. Stroke 30:2513–2516

10.

Rockman CB, Halm EA (2007) Intraoperative imaging: does it really improve perioperative outcomes of carotid endarterectomy? Semin Vasc Surg 20:236–243

11.

Roh HG, Byun HS, Ryoo JW, Na DG, Moon WJ, Lee BB, Kim DI (2005) Prospective analysis of cerebral infarction after carotid endarterectomy and carotid artery stent placement by using diffusion-weighted imaging. AJNR Am J Neuroradiol 26:376–384

12.

Silver FL, Mackey A, Clark WM, Brooks W, Timaran CH, Chiu D, Goldstein LB, Meschia JF, Ferguson RD, Moore WS, Howard G, Brott TG (2011) Safety of stenting and endarterectomy by symptomatic status in the Carotid Revascularization Endarterectomy Versus Stenting Trial (CREST). Stroke 42:675–680

13.

Winkler GA, Calligaro KD, Kolakowski S, Doerr KJ, McAffee-Bennett S, Muller K, Dougherty MJ (2006) Comparison of intraoperative completion flowmeter versus duplex ultrasonography and contrast arteriography for carotid endarterectomy. Vasc Endovascular Surg 40:482–486

14.

Zierler RE, Bandyk DF, Thiele BL (1984) Intraoperative assessment of carotid endarterectomy. J Vasc Surg 1:73–83
Disclaimer
The authors have no financial interests in the subject under discussion in this paper.
This study has not yet been presented at any conferences.
Conflicts of interest
None.
Additional information
Comment
This most excellent report from Boramae Hospital in Seoul documents six patients with intraoperative ICG angiography used to guide the extent of arteriotomy and to evaluate potential technical errors in the completed repair. One patient had a residual floating thrombus identified post-closure that was resected, possibly preventing a stroke. The method reliably demonstrated the distal endpoint and patency of repair. From what I can see, no patch grafts were used.
We use ICG angiography to assess all of our carotid arteries now and have an experience of 20–25 cases. What we have found is that with the thick wall of the cervical carotid artery, we need a double dose (two vials) to get adequate imaging. It is difficult to see through the Hemashield patch at the conclusion of the case, but the distal endpoint and robust flow up the distal ICA are easily visualized. I must say that I am unsure how to interpret Fig. 2 radiologically as showing a residual thrombus; I think I might have overlooked this finding and passed it as simple postoperative roughness, but of course the authors have the benefit of having reopened the vessel and confirming their impression with a direct look at the anatomy.
I respect and applaud these authors for their groundbreaking work on this topic. Their report has inspired me to put my own cases together and hopefully publish a similar manuscript soon, as the technique and imaging will be different with our routine use of a Hemashield patch graft.
Christopher M. Loftus
Philadelphia, PA, USA
This is a relatively small series evaluating the possible utility of ICG angiography in carotid endarterectomy surgery. The small size of the series makes any statistical conclusions impossible. Nonetheless, the practical demonstration of the utility of this technique merits continued attention. Given that the pre-arteriotomy evaluation of plaque extent has already been published by others, the main contribution of this paper is to raise the possiblity that post-endarterectomy ICG angiography may provide valuable information (e.g., about intimal flaps) that might affect management. The authors are encouraged to pursue this in a more comprehensive study.
Michael Tymianski
Ontario, Canada
Electronic supplementary material
Below is the link to the electronic supplementary material.
About this article
Cite this article
Lee, C., Jung, Y.S., Yang, H. et al. An innovative method for detecting surgical errors using indocyanine green angiography during carotid endarterectomy: a preliminary investigation. Acta Neurochir 154, 67–73 (2012) doi:10.1007/s00701-011-1212-1
Received:

Accepted:

Published:

Issue Date:
Keywords
Indocyanine green

Carotid stenosis

Carotid endarterectomy

Doppler

Angiography