Abstract
Background
The management of complex paraclinoid aneurysms is still challenging. In this article we describe our approach to paraclinoid aneurysms, which has evolved over several years, using an exclusively intradural approach.
Method
All procedures are done under continuous electrophysiological monitoring. A standard pterional approach is used to access the paraclinoid region exclusively intraduraly. After optic nerve unroofing and tailored clinoidectomy, the aneurysm neck is visualized and clipped using the tandem clipping technique and suction decompression if necessary. Aneurysm occlusion is verified using intraoperative ICG angiography and postoperative 3D DSA.
Conclusion
The exclusively intradural approach to complex paraclinoid aneurysms with tailored clinoidectomy offers an excellent surgical corridor for the treatment of these challenging lesions.
This is a preview of subscription content, log in to check access.
Access options
Buy single article
Instant unlimited access to the full article PDF.
US$ 39.95
Price includes VAT for USA
Subscribe to journal
Immediate online access to all issues from 2019. Subscription will auto renew annually.
US$ 199
This is the net price. Taxes to be calculated in checkout.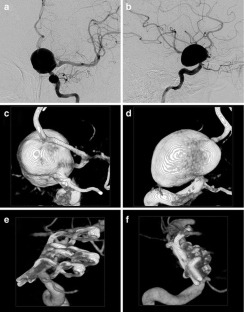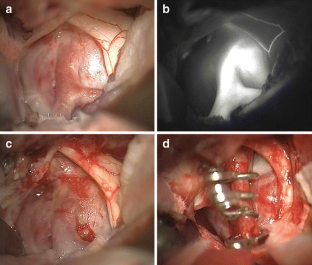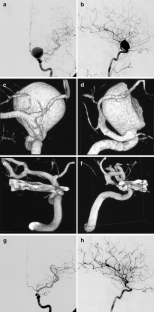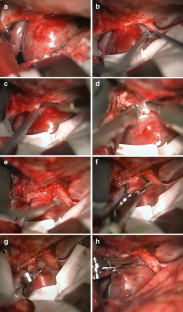 References
1.

Dolenc VV (1985) A combined epi- and subdural direct approach to carotid-ophthalmic artery aneurysms. J Neurosurg 62:667–672

2.

Drake CG, Vanderlinden RG, Amacher AL (1968) Carotid-ophthalmic aneurysms. J Neurosurg 29:24–31

3.

Figueiredo EG, Tavares WM, Rhoton AL Jr, De OE (2010) Surgical nuances of giant paraclinoid aneurysms. Neurosurg Rev 33:27–36

4.

Heros RC, Nelson PB, Ojemann RG, Crowell RM, DeBrun G (1983) Large and giant paraclinoid aneurysms: surgical techniques, complications, and results. Neurosurgery 12:153–163

5.

Huynh-Le P, Natori Y, Sasaki T (2005) Surgical anatomy of the ophthalmic artery: its origin and proximal course. Neurosurgery 57:236–241

6.

Sugita K, Kobayashi S, Kyoshima K, Nakagawa F (1982) Fenestrated clips for unusual aneurysms of the carotid artery. J Neurosurg 57:240–246
Conflicts of interest
None.
Additional information
Comment
The authors of this excellent and well-illustrated paper developed a technique of intradural tailored resection of the anterior clinoid process (ACP). Basically the main advantage of the radical extradural resection is to offer an optimal early decompression of the optic canal and optic nerve. The extradural resection of this small canine-like bony volume can be achieved safely and in a short time using reliable landmarks. Despite the fact that one can be reluctant to drill against the hidden wall of an aneurysm, there is little risk to damage it if care is taken to check the ACP anatomy and rule out potential bony erosion on the preoperative bony CT. However, there is little matter showing that ACP resection should be carried out in an intra- or extradural way; the issue is to be trained and confident with one of these techniques and achieve an entire visualization of the aneurysm neck and origin of the ophthalmic artery while decompressing the optic nerve.
Pierre-Hugues Roche
Marseille, France
Electronic supplementary material
Below is the link to the electronic supplementary material.
About this article
Cite this article
Seifert, V., Güresir, E. & Vatter, H. Exclusively intradural exposure and clip reconstruction in complex paraclinoid aneurysms. Acta Neurochir 153, 2103 (2011) doi:10.1007/s00701-011-1171-6
Received:

Accepted:

Published:
Keywords
Intracranial aneurysm

Subarachnoid hemorrhage

Clipping

Paraclinoid aneurysm

Coiling