Abstract
Background
The purely endoscopic eyebrow supraorbital approach is an alternative to both the endoscopic endonasal and eyebrow microsurgical routes to the anterior and middle cranial base. It combines an enhanced visualization provided by the endoscope and the absence of cerebrospinal fluid (CSF) leaks and nasal complications.
Methods
A trans-eyebrow 2-cm craniotomy is designed to allow the placement of a straight endoscope and visualize the skull base from the cribriform plate to the mesiotemporal lobe.
Result
Visualization is considerably improved, while the keyhole mini-invasive concept is respected.
Conclusion
The purely endoscopic eyebrow supraorbital keyhole approach is a valuable and alternative minimally invasive route to anterior and middle skull base lesions.
This is a preview of subscription content, log in to check access.
Access options
Buy single article
Instant unlimited access to the full article PDF.
US$ 39.95
Price includes VAT for USA
Subscribe to journal
Immediate online access to all issues from 2019. Subscription will auto renew annually.
US$ 199
This is the net price. Taxes to be calculated in checkout.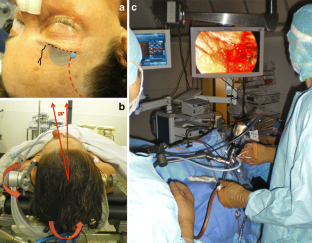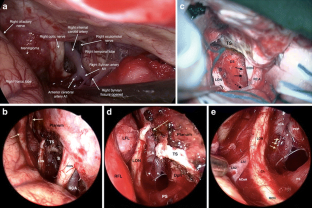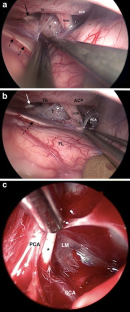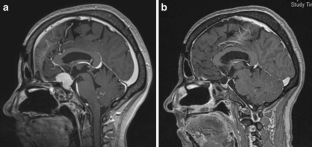 References
1.

Czirják S, Szeifert GT (2001) Surgical experience with frontolateral keyhole craniotomy through a superciliary skin incision. Neurosurgery 48:145–149

2.

Fries G, Reisch R (1996) Biportal neuroendoscopic microsurgical approaches to the subarachnoid cisterns. A cadaver study. Minim Invasive Neurosurg 39:99–104

3.

Jane JA, Park TS, Pobereskin LH, Winn HR, Butler AB (1982) The supraorbital approach: technical note. Neurosurgery 11:537–542

4.

Kabil MS, Shahinian HK (2005) Application of the supraorbital endoscopic approach to tumors of the anterior cranial base. J Craniofac Surg 16:1070–1074

5.

Kabil MS, Shahinian HK (2006) The endoscopic supraorbital approach to tumors of the middle cranial base. Surg Neurol 66:396–401

6.

Kabil MS, Shahinian HK (2007) Fully endoscopic supraorbital resection of congenital middle cranial fossa arachnoid cysts: report of 2 cases. Pediatr Neurosurg 43:316–322

7.

Menovsky T, Grotenhuis JA, de Vries J, Bartels RH (1999) Endoscope-assisted supraorbital craniotomy for lesions of the interpeduncular fossa. Neurosurgery 44:106–110

8.

Perneczky A, Fries G (1998) Endoscope-assisted brain surgery: part 1–evolution, basic concept, and current technique. Neurosurgery 42:219–224

9.

Reisch R, Perneczky A (2005) Ten-year experience with the supraorbital subfrontal approach through an eyebrow skin incision. Neurosurgery 57:242–255

10.

van Lindert E, Perneczky A, Fries G, Pierangeli E (1998) The supraorbital keyhole approach to supratentorial aneurysms: concept and technique. Surg Neurol 49:481–489
Conflicts of interest
None.
Electronic supplementary material
Below is the link to the electronic supplementary material.
About this article
Cite this article
Berhouma, M., Jacquesson, T. & Jouanneau, E. The fully endoscopic supraorbital trans-eyebrow keyhole approach to the anterior and middle skull base. Acta Neurochir 153, 1949 (2011) doi:10.1007/s00701-011-1089-z
Received:

Accepted:

Published:
Keywords
Skull base surgery

Minimally invasive neurosurgery

Keyhole surgery

Anterior cranial fossa

Middle cranial fossa

Eyebrow

Supraorbital craniotomy

Endoscopy

Skull base tumors