Abstract
Background
Among the potential approaches to access the petroclival area, epidural anterior petrosectomy (EAP) appears to be the most direct and conservative transpetrous route. In this article, we aim to detail the relevant surgical steps necessary to perform EAP in a reproducible and safe manner.
Method
The temporo-pterional bone flap is tailored to access the floor of the middle fossa and expose the foramen ovale and foramen spinosum. Elevation of the dura covering the upper surface of the petrous apex is conducted medially toward the level of the petrous ridge. Identification of the landmarks of the rhomboid fossa delineates the limits of the drilling zone (necessary for removal of the petrous apex)—beneath Meckel's cave and just anterior to the anterior margin of the internal auditory meatus. The tentorium is divided at its free edge and is followed by opening of the posterior fossa dura.
Conclusion
Epidural anterior petrosectomy is a conservative trans-petrous approach that offers an excellent direct surgical corridor for exposure of disease processes involving Meckel's cave, the petroclival area and the ventrolateral pons.
This is a preview of subscription content, log in to check access.
Access options
Buy single article
Instant unlimited access to the full article PDF.
US$ 39.95
Price includes VAT for USA
Subscribe to journal
Immediate online access to all issues from 2019. Subscription will auto renew annually.
US$ 199
This is the net price. Taxes to be calculated in checkout.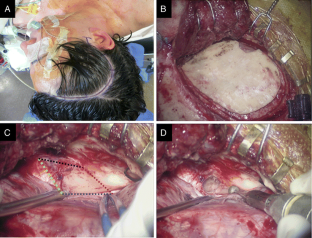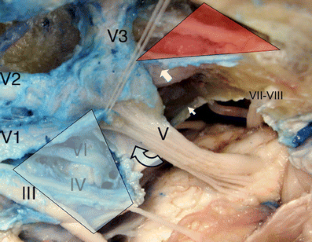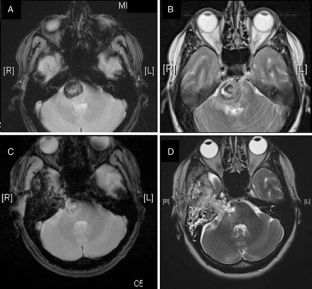 Abbreviations
CSF:

Cerebrospinal fluid

EAP:

epidural anterior petrosectomy

GG:

geniculate ganglion

GSPN:

great superficial petrosal nerve

IPS:

inferior petrosal sinus

IAC:

internal auditory canal

SOF:

superior orbital fissure

SPS:

superior petrosal sinus
References
1.

Day JD, Fukushima T, Giannotta SL (1994) Microanatomical study of the extradural middle fossa approach to the petroclival and posterior cavernous sinus region: description of the rhomboid construct. Neurosurgery 34:1009–1016

2.

Destrieux C, Velut S, Kakou MK, Lefrancq T, Arbeille B, Santini JJ (1997) A new concept of Dorello's canal microanatomy: the petroclival venous confluence. J Neurosurg 87:67–72

3.

Dolenc V, Skrap M, Sustersic J (1987) A transcavernous-transsellar approach to the basilar tip aneurysms. Br J Neurosurg 1:251–259

4.

Fukushima T, Day JD, Hiraha K (1996) Extradural total petrous apex resection with trigeminal translocation for improved exposure of the posterior cavernous sinus and petroclival region. Skull Base Surg 6:95–103

5.

Hakuba A, Nishimura S, Inoue Y (1985) Transpetrosal-transtentorial approach and its application in the therapy of retrochiasmatic craniopharyngiomas. Surg Neurol 24:405–415

6.

House WF, Hitselberger WE, Horn KL (1986) The middle fossa transpetrous approach to the anterior-superior cerebellopontine angle. Am J Otol 7:1–4

7.

Kawase T, Toya S, Shiobara R, Mine T (1985) Transpetrosal approach for aneurysms of the lower basilar artery. J Neurosurg 63:857–861

8.

Kawase T, Shiobara R, Toya S (1991) Anterior transpetrosal transtentorial approach for sphenopetroclival meningiomas: surgical method and results in 10 patients. Neurosurgery 28:869–876

9.

Ozveren MF, Uchida K, Aiso S, Kawase T (2002) Meningovenous structures of the petroclival region: Clinical importance for surgery and intravascular surgery. Neurosurgery 50:829–837

10.

Spetzler RF, Daspit CP, Pappas CTE (1992) The combined supra- and infratentorial approach for lesions of the petrous and clival regions: experience with 46 cases. J Neurosurg 76:588–599
Conflicts of interest
None.
Electronic supplementary material
Below is the link to the electronic supplementary material.
About this article
Cite this article
Roche, P., Lubrano, V.F. & Noudel, R. How I do it: epidural anterior petrosectomy. Acta Neurochir 153, 1161–1167 (2011). https://doi.org/10.1007/s00701-011-1010-9
Received:

Accepted:

Published:

Issue Date:
Keywords
Petrous bone

Meningioma

Skull base neoplasms

Trigeminal ganglion

Pons

Clivus