Abstract
The genus Aspidistra with almost 100 species is the most diverse in southern China and northern Vietnam. We describe a new species Aspidistra phanluongii N.Vislobokov from southern Vietnam. Species of Aspidistra are herbs characteristic of Southeast Asian forests. Flowering of these plants can be considered cryptic. There are no recorded field observations on phenology, biology of flowering or pollination of Aspidistra. Previously proposed pollinators of Aspidistra include collembolans, amphipods, fungus gnats (Diptera: Mycetophilidae, Sciaridae) and even slugs. We present observation data on the flowering of A. phanluongii in the wild. Flowers were visited by flies of Megaselia (Phoridae) and ants. Megaselia flies, well-known pollinators of numerous tropical plant species, are shown to be likely pollinators of Aspidistra phanluongii. The present study does not provide evidence of pollination by fungus gnats.
This is a preview of subscription content, log in to check access.
Access options
Buy single article
Instant unlimited access to the full article PDF.
US$ 39.95
Price includes VAT for USA
Subscribe to journal
Immediate online access to all issues from 2019. Subscription will auto renew annually.
US$ 199
This is the net price. Taxes to be calculated in checkout.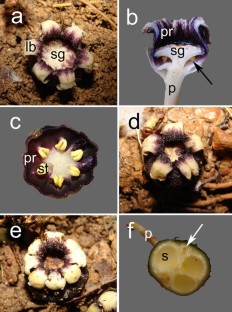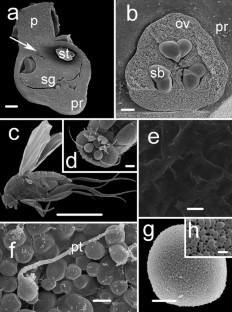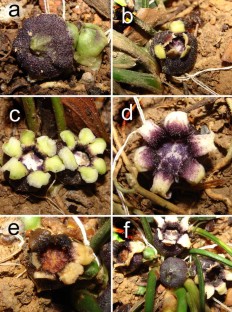 References
Averyanov LV, Tillich H-J (2012) New taxa of Aspidistra (Asparagaceae) from central Vietnam. Turczaninowia 15(1):5–10

Averyanov LV, Hiep NT, Loc PK (2012) Flora and vegetation of areas allied to Phong Nha—Ke Bang. Lambert Academic, Saarbrücken

Bell PR, Hemsley AR (2000) Green plants, their origin and diversity, 2nd edn. Cambridge University Press, Cambridge

Bogner J (2005) Aspidistra locii (Convallariaceae), eine ungewöhnliche Art aus Vietnam. Der Palmengarten 69:43–45

Bogner J, Arnautov N (2004) Aspidistra locii (Convallariaceae), an unusual new species from Vietnam. Willdenowia 34:203–208

Borba EL, Semir JO (2001) Pollinator specificity and convergence in fly-pollinated Pleurothallis (Orchidaceae) species: a multiple population approach. Ann Bot 88:75–88

Bräuchler C, Ngoc LH (2005) Aspidistra renatae (Ruscaceae)—a new species from central Vietnam. Blumea 50:527–529

Chase M, Reveal J, Fay M (2009) A subfamilial classification for the expanded asparagalean families Amaryllidaceae, Asparagaceae and Xanthorrhoeaceae. Bot J Linn Soc 161:132–136

Conran G, Bradbury JH (2007) Aspidistras, amphipods and Oz: niche opportunism between strangers in a strange land. Plant Species Biol 22:41–48

Conran JG, Tamura MN (1998) Convallariaceae. In: Kubitzki K (ed) The families and genera of vascular plants. Flowering plants. Monocotyledons. Lilianae (except Orchidaceae), vol 3. Springer, Berlin, pp 186–198

De Wilde WJJO, Vogel A (2006) A new species of Aspidistra (Convallariaceae) from Perak, Peninsular Malaysia. Folia Malaysiana 6:125–130

Gao Q, Liu Y (2011) Aspidistra hezhouensis (Ruscaceae s.l.), a new species from Guangxi, China. J Syst Evol 49(5):506

Hall DW, Brown BV (1993) Pollination of Aristolochia littoralis (Aristolochiales: Aristolochiaceae) by males of Megaselia spp. (Diptera: Phoridae). Ann Entomol Soc Am 86:609–613

He S-Z, Xu W-F, Wang Y–Y, Sun Q-W (2011) A new species of Aspidistra (Ruscaceae) from Guizhou, China. Novon 21(2):187–189

Kato M (1995) The Aspidistra and the amphipod. Nature 377:293

Kim J-H, Kim D-K, Forest F, Fay MF, Chase MW (2010) Molecular phylogenetics of Ruscaceae sensu lato and related families (Asparagales) based on plastid and nuclear DNA sequences. Ann Bot 106:775–790

Kuznetsov AN (2003) Tropical dipterocarp forest. GEOS, Moscow (in Russian)

Liang S, Tamura MN (2000) Aspidistra Ker Gawler. In: Wu Z, Raven P (eds) Flora of China, vol 24. Missouri Botanical Garden Press, Beijing and St. Louis, pp 240–250

Lin C-R, Liang Y–Y, Liu Y (2009) Aspidistra bamaensis (Ruscaceae), a new species from Guanxi. China Ann Bot Fennici 46:416–418

Lin C-R, Xu W-B, Liu Y (2011) Aspidistra albiflora sp. nov. (Asparagaceae) from southwestern Guangxi. China Nordic J Bot 29:443–446

Ollerton J, Masinde S, Meve U, Picker M, Whittington A (2009) Fly pollination in Ceropegia (Apocynaceae: Asclepiadoideae): biogeographic and phylogenetic perspectives. Ann Bot 103:1501–1514

Phonsena P, De Wilde WJJO (2010) The genus Aspidistra Ker Gawl. (Asparagaceae/Ruscaceae) in Thailand. Thai For Bull (Bot) 38:48–58

Remizowa MV, Sokoloff DD, Rudall PJ (2010) Evolutionary history of the monocot flower. Ann Missouri Bot Gard 97:617–645

Richards AJ (1986) Plant breeding systems. Allen and Unwin, London

Rudall PJ, Campbell G (1999) Flower and pollen structure of Ruscaceae in relation to Aspidistreae and other Convallariaceae. Flora 194:201–214

Rudall PJ, Conran JG, Chase MW (2000) Systematics of Ruscaceae/Convallariaceae: a combined morphological and molecular investigation. Bot J Linn Soc 134:73–92

Sakai S (2002a) Aristolochia spp. (Aristolochiaceae) pollinated by flies breeding on decomposing flowers in Panama. Am J Bot 89:527–534

Sakai S (2002b) A review of brood-site pollination mutualism: plants providing breeding sites for their pollinators. J Plant Res 115:161–168

Takhtajan A (2009) Flowering Plants. Springer, New York

Tillich H-J (2005) A key for Aspidistra (Ruscaceae), including fifteen new species from Vietnam. Feddes Repert 116:313–338

Tillich H-J (2008) An updated and improved determination key for Aspidistra Ker-Gawl. (Ruscaceae, Monocotyledons). Feddes Repert 119:449–462

Tillich H-J, Averyanov LV (2008) Two new species and one new subspecies of Aspidistra Ker-Gawl. (Ruscaceae) from Vietnam. Feddes Repert 119:37–41

Tillich H-J, Averyanov LV, Dzu NV (2007) Six new species of Aspidistra (Ruscaceae) from Northern Vietnam. Blumea 52:335–344

Vogel S (1978) Pilzmückenblumen und Pilzmimeten. Flora 167:329–398

Wilson J (1889) On the fertilisation of Aspidistra elatior by slugs. Trans Bot Soc Edinb 18:495–497

Xu W-F, He S-Z, Yang L (2010) Aspidistra chishuensis (Ruscaceae) a new species from Guizhou, China. Ann Bot Fennici 47:118–120

Young AM (1984) Mechanism of pollination by Phoridae (Diptera) in some Herania species (Sterculiaceae) in Costa Rica. Proc Entomol Soc Wash 86:503–518
Acknowledgments
We are indebted to Tatiana Galinskaya (Department of Entomology, Biological Faculty, Moscow State University) for identification of flies visiting Aspidistra flowers, and Gennady Dlussky (Department of Biological Evolution, Biological Faculty, Moscow State University) for identification of ants. We are grateful to Maxim Nuraliev for extensive contribution to field work in February 2011 and helpful discussion, to Anna Vasilieva for collecting additional fixed material and field observations and to Alexander Anichkin for generous help and many important suggestions during field work in November–December 2011. We are grateful to Alexei Polilov, Margarita Remizowa and Vadim Mokievsky for helpful discussion, to Leonid Averyanov for copies of his publications, to two anonymous reviewers for important comments and to Maria Vorontsova for helpful comments and linguistic corrections. Field work was supported by the Joint Russian–Vietnamese Tropical Research and Technological Centre (JRVTRTC). We are grateful to Trinh Quoc Khanh (General Director of Vietnamese part of JRVTRTC) and Nguyen Dang Hoi (Deputy Director of Vietnamese part of JRVTRTC) for their support of this research and help in organization of field work, and to our colleagues from JRVTRTC Vu Manh and Nguyen Vu for their direct help during field work. We are grateful to the staff of the Department of Electron Microscopy at Moscow University for their kind assistance and providing SEM facilities. Funding from the Russian Foundation for Basic Research is gratefully acknowledged (project 12-04-31073).
Electronic supplementary material
Below is the link to the electronic supplementary material.
Supplementary material 1 (MPG 23984 kb)
About this article
Cite this article
Vislobokov, N.A., Kuznetsov, A.N. & Sokoloff, D.D. A new species of Aspidistra (Ruscaceae s.l., Asparagales) from southern Vietnam, field observations on its flowering and possible pollination by flies (Phoridae). Plant Syst Evol 299, 347–355 (2013). https://doi.org/10.1007/s00606-012-0725-2
Received:

Accepted:

Published:

Issue Date:
Keywords
Aspidistra

Flies

Taxonomy

Flower biology

Pollination

Phoridae

Southern Vietnam