Abstract
Carbon nanoparticles (NPs) from the incomplete combustion of a candle were used as matrix for surface-assisted laser desorption/ionization mass spectrometry (SALDI-MS). The washed carbon soot NPs (WCS NPs, ~48 nm) exhibit higher laser desorption/ionization efficiency and less background compared with other common metal and carbon matrices. WCS NPs present good reproducibility and high sensitivity in analyzing a wide range of molecules in both positive and negative ionization mode in SALDI-MS. The detection limit of glucose is 1 pmol with WCS NPs as matrix. WCS NPs can be used to quantitatively determine urine glucose, visualize latent fingerprint and image it with SALDI-MS. The UV absorption of WCS NPs and MS spectra analyzed with WCS NPs matrix remain the same after 10 months storage, indicating the good stability of WCS NPs as matrix.

This is a preview of subscription content, log in to check access.
Access options
Buy single article
Instant access to the full article PDF.
US$ 39.95
Price includes VAT for USA
Subscribe to journal
Immediate online access to all issues from 2019. Subscription will auto renew annually.
US$ 199
This is the net price. Taxes to be calculated in checkout.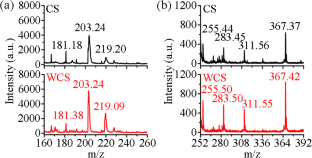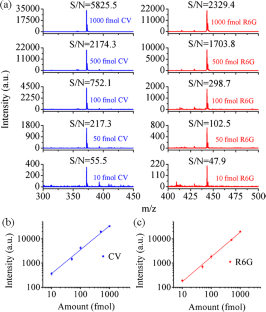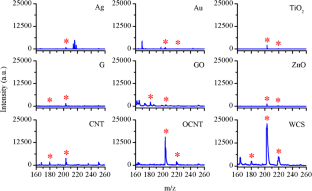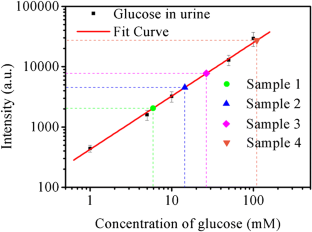 Acknowledgements
This work was supported by the National Natural Science Foundation of China (No. 21673096).
Ethics declarations
Conflict of interest
The authors declare no competing financial interest.
Additional information
Publisher's note
Springer Nature remains neutral with regard to jurisdictional claims in published maps and institutional affiliations.
Electronic supplementary material
About this article
Cite this article
Wang, X., Dou, S., Wang, Z. et al. Carbon nanoparticles derived from carbon soot as a matrix for SALDI-MS analysis. Microchim Acta 187, 161 (2020). https://doi.org/10.1007/s00604-020-4142-x
Received:

Accepted:

Published:
Keywords
Washed carbon soot

Carbohydrate

Quantitation

Fingerprint imaging

Stability