Abstract
A plasmonic hot electron transfer-induced multicolor chromogenic system is described for label-free visual colorimetric determination of silver(I). The chromogenic system consists of plasmonic MoO3-x nanosheets with oxygen vacancies and Ag(I). Under white light-emitting diode (LED) excitation, energetic hot hole-electron pairs are formed on the surface of the blue MoO3-x nanosheets. The resulting hot electrons are transferred to Ag(I) upon which it becomes reduced. This results in the generation of yellow silver nanoparticles. Simultaneously, the hot holes lead to the oxidation of the MoO3-x nanosheets to yield colorless MoO3 nanosheets. Similarly, energetic hot hole-electron pairs can also be generated on the surface of AgNPs under white LED irradiation, which contributes to the reduction of Ag(I) and the oxidation of MoO3-x. Overall, a colorful transition from blue to green and finally to yellow can be observed. This multicolor chromogenic system was applied to the colorimetric determination of Ag(I) in the 33–200 μM concentration range and a 0.66 μM limit of detection, at analytical wavelengths of 430 and 760 nm. The method also is amenable to semi-quantitative visual determination of Ag(I).

This is a preview of subscription content, log in to check access.
Access options
Buy single article
Instant unlimited access to the full article PDF.
US$ 39.95
Price includes VAT for USA
Subscribe to journal
Immediate online access to all issues from 2019. Subscription will auto renew annually.
US$ 199
This is the net price. Taxes to be calculated in checkout.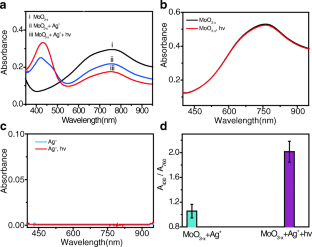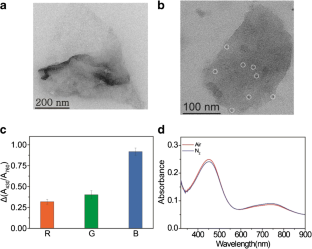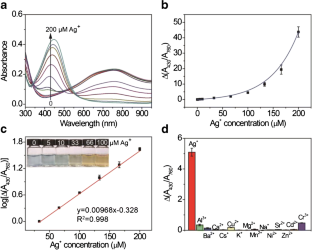 Acknowledgements
The support of this research by the NSFC (21705134), Longshan Scholars Programme of Southwest University of Science and Technology (Grant No. 17LZX449 and 18LZX204), and China Aerodynamics Research and Development Center Foundation (Grant No. JPD20170142) is gratefully acknowledged.
Additional information
Publisher's note
Springer Nature remains neutral with regard to jurisdictional claims in published maps and institutional affiliations.
Electronic supplementary material
About this article
Cite this article
Du, J., Wang, J., Deng, Y. et al. Plasmonic hot electron transfer-induced multicolor MoO3-x-based chromogenic system for visual and colorimetric determination of silver(I). Microchim Acta 187, 120 (2020) doi:10.1007/s00604-020-4108-z
Received:

Accepted:

Published:
Keywords
Colorimetry

Water sample

Photo-oxidation

Nanosheet