Graphitic carbon nitride as sorbent for the emulsification-enhanced disposable pipette extraction of eight organochlorine pesticides prior to GC-MS analysis
Abstract
Graphitic carbon nitride (g-C3N4) was explored as a sorbent for the emulsification-enhanced (EE) disposable pipette extraction (DPX) of eight organochlorine pesticides (OCPs) from environmental waters. The OCPs, including α-hexachlorocyclohexane, Aldrin, α-Chlordane, Dieldrin, 4,4′-dichlorodiphenyldichloroethylene, 4,4′-dichlorodiphenyldichloroethane, Heptachlor and Heptachlor epoxide (Isomer A), were analyzed by gas chromatography-mass spectrometry. The sorbent g-C3N4 was characterized by elemental analysis, X-ray diffraction, scanning electron microscopy, Fourier-transform infrared and Raman spectroscopy. As a C-N analogue of graphite, g-C3N4 exhibits good water dispersibility and allows easy analyte recovery – a characteristic not commonly observed in carbon-based materials. When applied to DPX, g-C3N4 rapidly establishes strong interactions with the OCPs. Consequently, g-C3N4 displays superior extraction capability in comparison to six other commercial sorbents. An emulsification step prior to DPX was found to enhance the overall extraction efficiency by pre-concentrating the OCPs into the microdroplets of an organic solvent. The microdroplets were then adsorbed onto g-C3N4. Under the most favorable conditions, wide linear responses spanning over two to four orders of magnitudes are established. The limits of detection range between 2.4 ng·L−1 and 46.2 ng·L−1. The method is reproducible (relative standard deviations ≤ 7.4%) and enrichment factors are between 42 and 57. When applied to the analysis of lake and river water samples, EE-DPX-gas chromatography-mass spectrometry exhibits good resilience against matrix interferences. The relative recoveries range between 77.7% and 106.3%. In comparison to other sorbent-based extraction techniques reported for the analysis of OCPs in aqueous samples, EE-DPX utilizes the minimal amount of sample and solvent, and requires the shortest sample preparation time.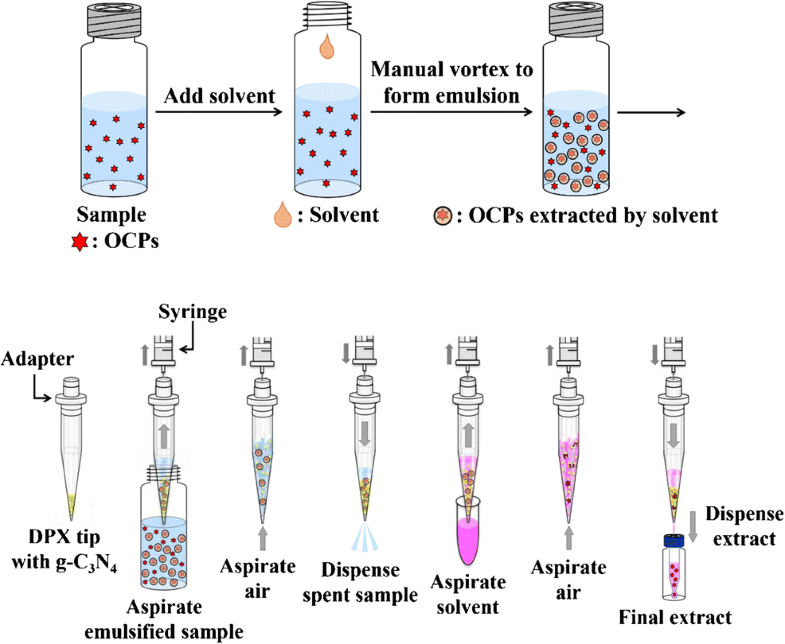 Keywords
Bulk material 
g-C3N4 
Sample preparation 
Microextraction 
Sorbent-based extraction 
Large volume injection 
Gas chromatography-mass spectrometry 
Halogenated compounds 
Environmental water analysis 
Notes
Acknowledgements
The authors thankfully acknowledge the National University of Singapore (NUS) for the support provided throughout the duration of this research (Grant No. 143-000-023-001). S.C. Tan is grateful to the NUS Graduate School for Integrative Sciences and Engineering for a scholarship award.
Compliance with ethical standards
Conflict of interest
The author(s) declare that they have no competing interests.
Copyright information
© Springer-Verlag GmbH Austria, part of Springer Nature 2020