Ultra-sensitive amperometric determination of quercetin by using a glassy carbon electrode modified with a nanocomposite prepared from aminated graphene quantum dots, thiolated β-cyclodextrin and gold nanoparticles
Abstract
Thiolated β-cyclodextrin functionalized gold nanoparticles (Au-β-CDs) with layered wrinkled flower structure were prepared. Au-β-CDs were electrostatically combined with protonated aminated graphene quantum dots (NH2-GQDs) to form a nanocomposite with better supramolecular recognition, conductivity, catalysis and dispersion properties. For constructing a quercetin (QU) sensor, the nanocomposites were one-step electrodeposited by a cyclic voltammetry (CV) method onto a glassy carbon electrode to form a stable film. Under optimized conditions, the sensor showed a wide linear response range of 1–210 nM, with a lower detection limit of 285 pM. At the same time, flavonoids with similar structures hardly interfere with the determination of QU. The sensor has been used to determine QU in honey, tea, honeysuckle and human serum with satisfactory results.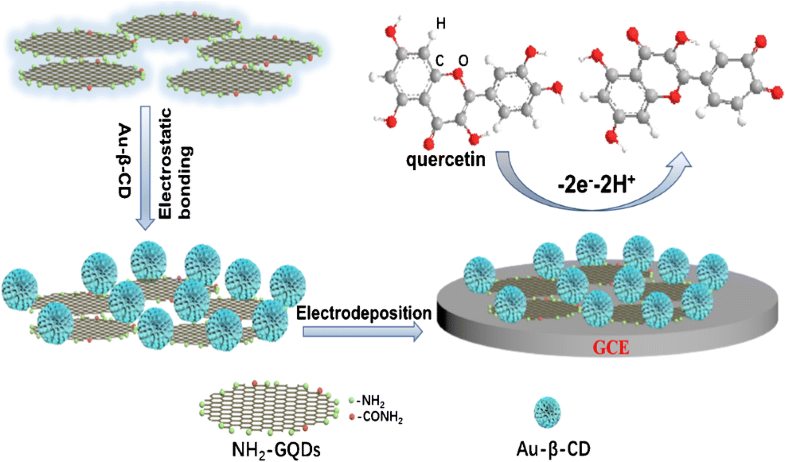 Keywords
Electrodeposition 
Differential pulse voltammetry 
Aminated graphene quantum dots 
Thiolated β-cyclodextrin 
AuNPs 
Quercetin 
Supramolecular recognition 
Electrochemical sensor 
Notes
Acknowledgments
This research is supported by the National Natural Science Foundation of China (31701613, 21874114, 21475114).
Copyright information
© Springer-Verlag GmbH Austria, part of Springer Nature 2020