Hemin@carbon dot hybrid nanozymes with peroxidase mimicking properties for dual (colorimetric and fluorometric) sensing of hydrogen peroxide, glucose and xanthine
Abstract
The multifunctional hemin@carbon dot hybrid nanozymes (hemin@CD) with simultaneous peroxidase-like activity and fluorescence signalling property was prepared for the first time. Based on these properties, hemin@CD was applied to develop a dual-channel fluorescent probe for H2O2 and H2O2-based biocatalytic systems. By virtue of the peroxidase-like activity, hemin@CD can catalyze the oxidative coupling of 4-aminoantipyrine with phenol in the presence of H2O2 to form a pink-red quinoneimine dye with a maximum absorbance at 505 nm. Under the excitation wavelength of 480 nm, the green fluorescence of hemin@CD peaks at 540 nm and is quenched by the generated quinoneimine dye due to an inner filter effect, and also by H2O2 because of dynamic quenching. Thus, a colorimetric and fluorimetric dual-channel optical probe for H2O2 is obtained. Due to the glucose/xanthine transformations under formation of H2O2 by the relevant oxidase catalysis, the probe can be applied for detection of glucose and xanthine. The colorimetric detection limits for H2O2, glucose and xanthine are 0.11, 0.15, 0.11 μM, and the and fluorimetric detection limits are 0.15, 0.15, 0.12 μM, respectively.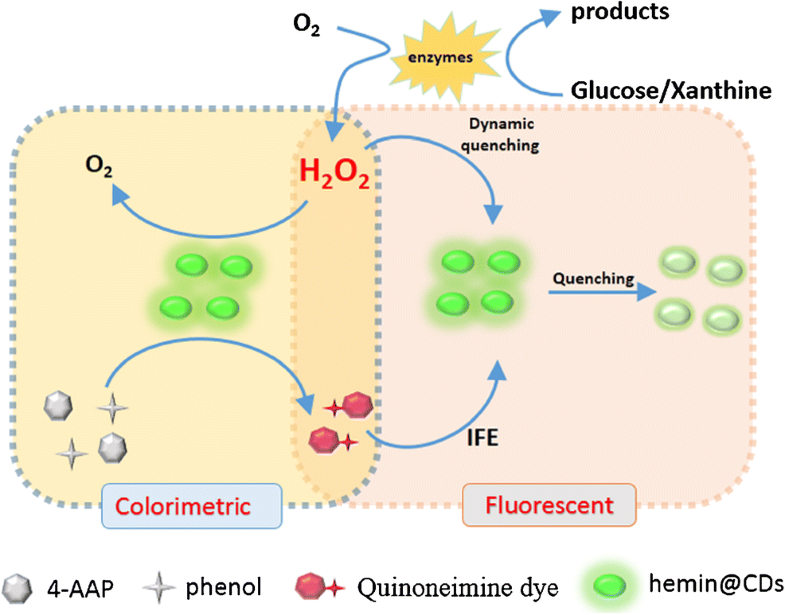 Keywords
Hemin 
Carbon dots 
Hybrid nanomaterial 
Multifunctional nanozymes 
Peroxidase mimic 
Fluorescence signalling 
H2O2-related biomolecules 
Inner filter effect 
Dynamic quenching 
Notes
Acknowledgments
This work was financially supported by National Natural Science Foundation of China (21405034, 21722501, 21976052). Key Project of Science and Technology of Henan Province (192102210041). Program for Science Technology Innovation Talents in Universities of Henan Province (18HASTIT001). Dr. start-up project funding of Henan Normal University (qd18014).
Copyright information
© Springer-Verlag GmbH Austria, part of Springer Nature 2020