Microwave-assisted synthesis of carbon dots as reductant and stabilizer for silver nanoparticles with enhanced-peroxidase like activity for colorimetric determination of hydrogen peroxide and glucose
Abstract
A carbon silver nano-assembly was prepared from silver nanoparticles and carbon dots (AgNP@CD). It was used to quantify hydrogen peroxide and glucose by UV-visible spectroscopy. Banana peels were used to prepare the CDs by a microwave-assisted method. The CDs can be prepared within 5 min at 700 W. They act as (a) substrate, (b) stabilizer, and (c) reductant to convert silver ions to AgNPs. The nano-assembly was characterized by UV-visible spectroscopy, Fourier-transform infrared spectroscopy, atomic force microscopy, and transmission electron microscopy. The CDs have a particle size of 1.4 nm. Photoexcitation of the CDs with a UV lamp of 365 nm results in blue fluorescence. The absorption spectra of the CDs show a peak at 205 nm along the wide shoulder absorption band. On incorporation of the Ag nanoparticles into the CDs matrix, the color of the CDs turns into yellow and an additional absorbance peak at 408 nm appears. FTIR spectroscopy shows that different functional groups are present on the CDs. They are responsible for the stabilization of the AgNPs. On exposure to H2O2, the color of the nano-assembly disappears gradually. Hence, the assembly can be used as a colorimetric indicator probe for H2O2 with a linear response in the 0.1-100 μM concentration range. It can also be applied to the determination of glucose by using glucose oxidase which causes the formation of H2O2 from glucose. The linear response ranges from 1- 600 μM. The detection limits for H2O2 and glucose are 9 nM and 10 nM, respectively. In our perception, this is the lowest detection limit reported so far. The AgNP@CD nano-assembly does not respond to saccharides, maltose, fructose, and lactose. It can be used to quantify glucose in diluted blood plasma.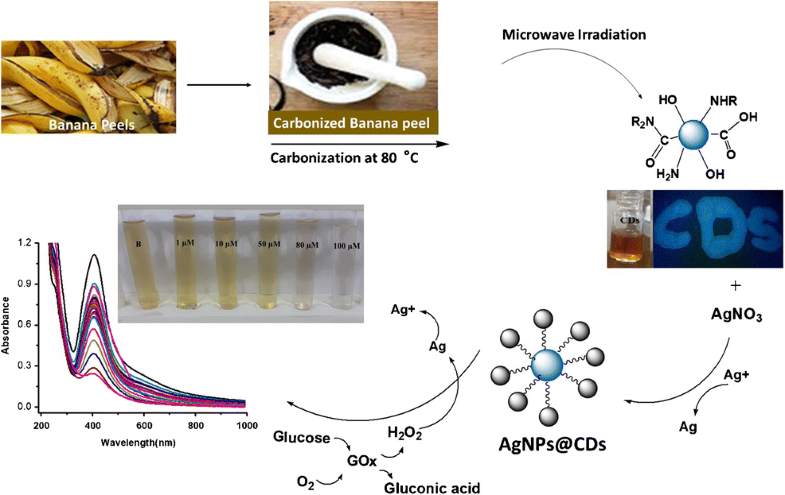 Keywords
Peroxidase mimetic 
AgNPs 
Colorimetric probe 
Localized surface plasmon resonance 
Green synthesis 
LSPR 
Notes
Acknowledgments
The authors gratefully acknowledge H.E.J. Research Institute of Chemistry, International Centre for Chemical and Biological Sciences, University of Karachi, Karachi-75270. Pakistan for financial support.
Copyright information
© Springer-Verlag GmbH Austria, part of Springer Nature 2020