Colorimetric determination of the activity of alkaline phosphatase by exploiting the oxidase-like activity of palladium cube@CeO2 core-shell nanoparticles
Abstract
Core-shell palladium cube@CeO2 (Pd cube@CeO2) nanoparticles are shown to display oxidase-like activity. This is exploited in a method for determination of the activity of alkaline phosphatase (ALP). The Pd cube@CeO2 nanoparticles were thermally synthesized from Ce(NO3)3, L-arginine and preformed Pd cube seeds in water. The Pd cube@CeO2 nanoparticles catalyze the oxidation of 3,3′,5,5′-tetramethylbenzidine (TMB) by oxygen. This results in the formation of oxidized TMB (oxTMB) with an absorption peak at 652 nm. Ascorbic acid (AA) is generated from the hydrolysis of L-ascorbic acid 2-phosphate (AAP) catalyzed by ALP. It can reduce oxTMB to TMB, and this results in a decrease of the absorbance. The method allows for quantitative determination of the activity of ALP in the range from 0.1 to 4.0 U·L−1 and with a detection limit down to 0.07 U·L−1. Endowed with high sensitivity and selectivity, the assay can quantify ALP activity in biological system with satisfactory results.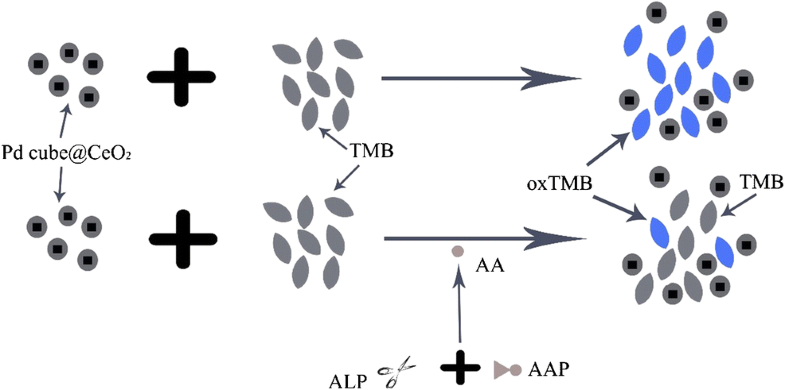 Keywords
Alkaline phosphatase 
Ascorbic acid 
Cerium oxide 
Pd cube 
3,3′,5,5′-tetramethylbenzidine 
Oxidase mimic 
Colorimetric assay 
Ascorbic acid 2-phosphate 
Nanozyme 
Notes
Acknowledgments
This work was financially supported by the National Natural Science Foundation of China (21705056, 21904048, 21902061 and 21902062), the Young Taishan Scholars Program (tsqn201812080), the Natural Science Foundation of Shandong Province (ZR2019YQ10, ZR2017MB022, ZR2018BB057 and ZR2018PB009) and the Doctoral Funds of University of Jinan (160100445).
Copyright information
© Springer-Verlag GmbH Austria, part of Springer Nature 2020