Electrochemiluminescent immunoassay for neuron specific enolase by using amino-modified reduced graphene oxide loaded with N-doped carbon quantum dots
Abstract
An ultrasensitive electrochemiluminescence based sandwich immunoassay is presented for determination of neuron specific enolase. The method uses silver-cysteine nanowires as the capture probe and a composite made of amino-modified reduced graphene oxide and nitrogen-doped carbon quantum dots as the signal probe. It was synthesized by covalent coupling of amino-modified reduced graphene oxide to the carboxy groups of nitrogen-doped carbon quantum dots. The nanowires possess a large specific surface and abundant functional groups which facilitate immobilizing the primary antibody (Ab1). The amino-modified reduced graphene oxide is employed as a carrier for loading a large number of the quantum dots and secondary antibody (Ab2). This increases the electrochemiluminescence intensity of quantum dots. Response to neuron specific enolase is linear in the 0.55 fg·mL−1 to 5.5 ng·mL−1 concentration range. It has a detection limit of 0.18 fg·mL−1 (at S/N = 3). The relative standard deviation (for n = 6) is less than 2.9%. The assay is highly sensitive, reproducible, selective and stable.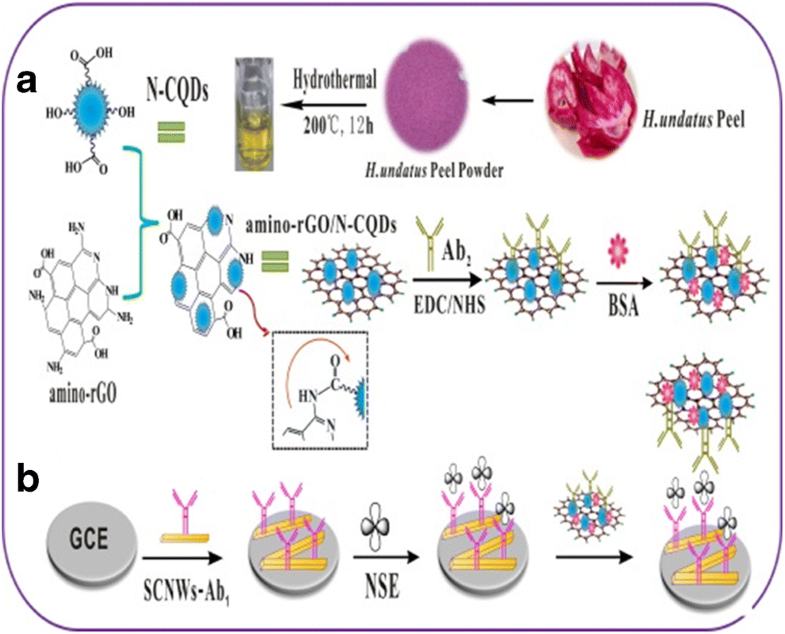 Keywords
Sensor 
Carbon quantum dots 
Graphene oxide 
Silver-cysteine nanowires 
Neuron specific enolase 
Notes
Acknowledgements
This work was financially supported by the National Natural Science Foundation of China (No. 21765004). Support from Research Fund of State Key Laboratory for Chemistry and Molecular Engineering of Medicinal Resources (Guangxi Normal University) (CMEMR2017-A5, CMEMR2018-C18) is gratefully acknowledged.
Compliance with ethical standards
Competing interests
The author(s) declare that they have no competing interests.
Copyright information
© Springer-Verlag GmbH Austria, part of Springer Nature 2019