Cysteamine-capped gold-copper nanoclusters for fluorometric determination and imaging of chromium(VI) and dopamine
Abstract
Highly emissive cysteamine-capped gold-copper bimetallic nanoclusters (CA-AuCu NCs) with a quantum yield of 18% were synthesized via one-pot anti-galvanic reduction. The CA-AuCu NCs were characterized by HR-TEM, XPS, FTIR, MALDI-TOF mass spectrometry, DLS, and zeta potential analyses. The NCs are shown to be viable fluorescent probes for Cr(VI) ions and dopamine (DA) via quenching of the blue fluorescence, typically measured at excitation/emission wavelengths of 350/436 nm. During DA recognition, a dark brown color appears, which is distinguishable from that of Cr(VI) detection. The aggregation induced quenching due to electron transfer was demonstrated by photoluminescence, HR-TEM, FTIR, DLS, and zeta potential interrogations. In buffer of pH 7, response is linear in the 0.2 ~ 100 μM for Cr(VI) and from 0.4 ~ 250 μM for DA. The respective detection limits are 80 and 135 nM. The method was applied to the determination of both Cr(VI) and DA in (spiked) tap, lake and sea water, and in human urine samples. The low toxicity of CA-AuCu NCs was validated by the MTT assay, and their responses to Cr(VI) ions and DA was also proven by Raw 264.7 cell imaging.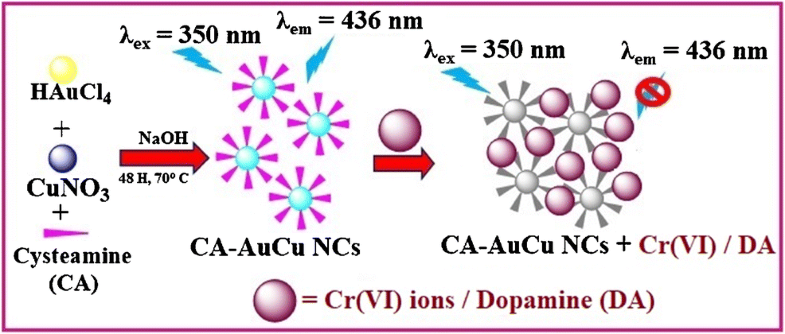 Keywords
Au-cu alloy 
Neurotransmitter 
Cr(VI) detection 
Colorimetric sensor 
Particle aggregation 
Static quenching 
Nanomolar detection 
Cell imaging 
Spiked urine investigation 
Real analysis 
Notes
Acknowledgements
The authors are grateful to the Ministry of Science and Technology of Taiwan for financially supporting this research under the contract MOST 107-2811-M-009-015 and MOST 105-2112-M-009-005-MY3.
Compliance with ethical standards
Conflicts of interest
Diluted spiked urine samples used in this study are remnants of our earlier reports and not clinical/collected from any volunteer. The cell lines were provided by the Food Industry Research and Development Institute (Taiwan). The author(s) declare that they have no competing interests.
Copyright information
© Springer-Verlag GmbH Austria, part of Springer Nature 2019