Titanium(IV)-functionalized zirconium-organic frameworks as dual-metal affinity probe for recognition of endogenous phosphopeptides prior to mass spectrometric quantification
Abstract
A zirconium-organic framework was modified with titanium(IV) ions to obtain a modified framework that is shown to be a viable sorbent for selective capture of phosphopeptides. This dual-metal affinity probe exhibits 0.1 fM limits of detection and excellent size-exclusion effect (the mass ratio of β-casein digests/BSA/intact β-casein is 1:1000:1000). This is attributed to abundant Ti(IV) and Zr(IV) coordination sites and high porosity. The performance of the sorbent for extracting endogenous phosphopeptides from human serum and saliva was investigated. Especially, 105 endogenous phosphopeptides from saliva were captured specifically. In addition, the amino acid frequency of the enriched phosphopeptides was analyzed. Conservation of sequence around the identified phosphorylated sites from saliva confirmed that phosphorylation took place in the proline-directed motifs.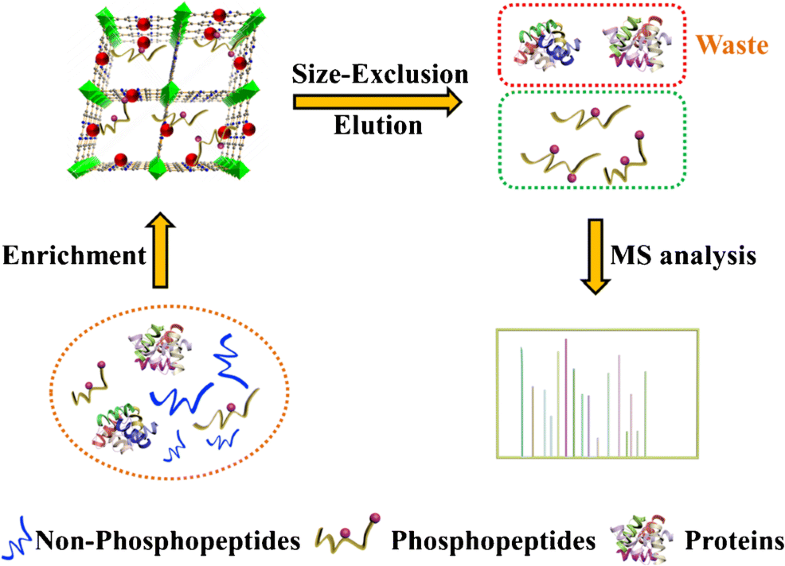 Keywords
Metal-organic frameworks 
Nanomaterials 
Post-functionalization 
Dual-metal ions 
Size-exclusion 
Human saliva 
Phosphoproteome 
MALDI-TOF MS 
Immobilized metal ion affinity chromatography 
Post-translational modification 
Notes
Acknowledgements
This work was supported by the National Key Research and Development Program of China (Project 2016YFA0501401, 2016YFA0501402 and 2017YFA0505003) and the National Natural Science Foundation of China (Project:21974023 and 21475027).
Compliance with ethical standards
Conflict of interest
All the experiments in this work were carried out in compliance with the ethical standards, and conducted according to the Declaration of Helsinki and approved by the Ethics Committee of Fudan University.
Copyright information
© Springer-Verlag GmbH Austria, part of Springer Nature 2019