Bio–barcode triggered isothermal amplification in a fluorometric competitive immunoassay for the phytotoxin abrin
Abstract
Abrin is one of the most toxic phytotoxins to date, and is a potential biological warfare agent. A bio–barcode triggered isothermal amplification for fluorometric determination of abrin is described. Free abrin competes with abrin–coated magnetic microparticles (MMP) probes to bind to gold nanoparticle (AuNP) probes modified with abrin antibody and bio–barcoded DNA. Abundant barcodes are released from the MMP–AuNP complex via dithiothreitol treatment. This triggers an exponential amplification reaction (EXPAR) that is monitored by real–time fluorometry, at typical excitation/emission wavelengths of 495/520 nm. The EXPAR assay is easily operated, highly sensitive and specific. It was used to quantify abrin in spiked commercial samples. The detection limit (at S/N = 3; for n = 6) is 5.6 pg·mL−1 which is considerably lower than previous reports. This assay provides a universal sensing platform and has great potential for determination of various analytes, including small molecules, proteins, DNA, and cells.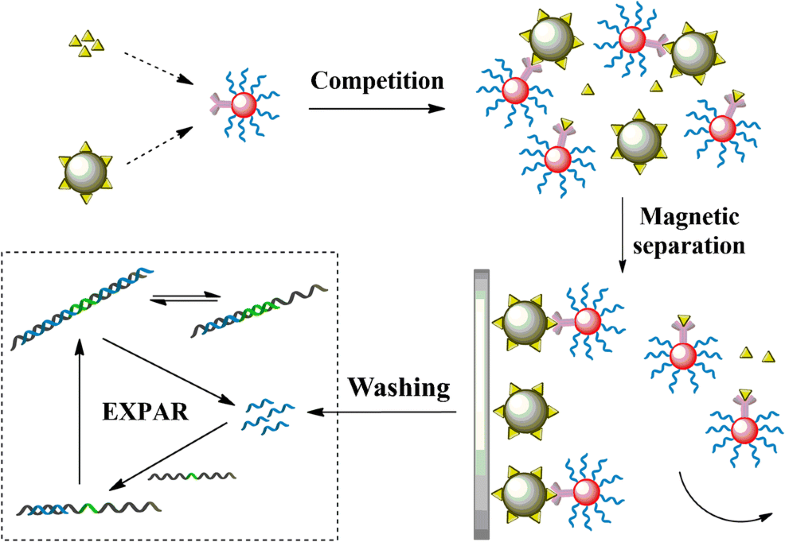 Keywords
Bio–barcode DNA 
Exponential amplification reaction 
Gold nanoparticles 
Magnetic microparticles 
Antibody 
Immunoreaction 
Real–time fluorometry 
Notes
Acknowledgments
This work was supported by the National Key Research and Development Program of China (No. 2017YFC1200903), the Key Research and Development Program of Tianjin (No. 18YFZCNC01260).
Compliance with ethical standards
The author(s) declare no financial and personal relationships with other people or organizations that can inappropriately influence our work. No professional or other personal interest of any nature or kind in any product, service and/or company can be construed as influencing the position presented in or the review of the manuscript.
Copyright information
© Springer-Verlag GmbH Austria, part of Springer Nature 2020