Preconcentration and SERS-based determination of infliximab in blood by using a TNF-α-modified gold-coated copper oxide nanomaterial
Abstract
Infliximab (INF) is a chimeric monoclonal immunoglobulin acting against tumor necrosis factor-alpha (TNF-α). The drug is used for the treatment of chronic autoimmune and inflammatory diseases. A target-specific nanomaterial is presented for the extraction of INF from human plasma along with a label-free surface enhanced Raman spectroscopy (SERS) method for its determination using a handheld device. A gold-coated copper oxide chip was functionalized with TNF-α and used to extract the drug from plasma. INF was recovered from the extractor by lowering the pH value to 2.5. The disulfide bond structure of the drug was then reduced and used for its oriented chemisorption onto a gold-coated copper oxide substrate for SERS measurements using the INF-specific band at 936 cm−1. The working range of the SERS method was between 10−7 and 10−14 M of reduced INF. The relative standard deviation (RSD), between three different measurements was 4.2% (intra-day) and 7.1% (inter-day). The quantification and detection limits of the assay (LOQ, LOD) were 0.01 pM and 1.4 fM respectively. The SERS detection was cross-validated against ELISA where 99% agreement was found between the two methods.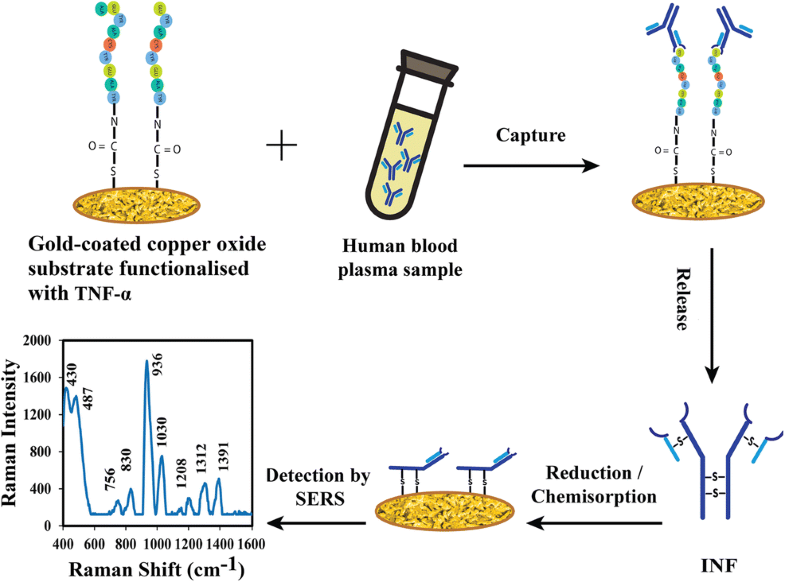 Keywords
Functionalised nanomaterial 
Tumor necrosis factor 
Disulfide bond structure 
TNF inhibitor 
Therapeutic drug monitoring 
Notes
Acknowledgements
We thank FLEW Solutions Australia for donating gold coated copper oxide substrates for this work.
Copyright information
© Springer-Verlag GmbH Austria, part of Springer Nature 2019