Sensitive and selective fluorometric determination of DNA by using layered hexagonal nanosheets of a covalent organic framework prepared from p-phenylenediamine and benzene-1,3,5-tricarboxaldehyde
Abstract
A modified method is described for the preparation of amino-functionalized covalent organic framework nanosheets (COF-NSs). These consist of hexagonal layered sheets and were prepared from commercially available starting materials (p-phenylenediamine and benzene-1,3,5-tricarboxaldehyde). The interlayer stacking interactions between the ultra-thin COF-NSs became weak because the π stacking is destroyed by sonication. This result in the exfoliation of COF-NSs. As an application, the COF-NSs used for sensitive and selective fluorometric determination of DNA. To reach this goal, H1 and H2 hairpin-like DNA probes were chosen; H1 used Texas Red-labeled dye as a fluorescent probe. The addition of the COF-NSs, the hairpin probes was adsorbed onto the porous surface of the COFNSs. The π stacking and hydrogen-bond interactions between COFNSs and nucleic acid quench the fluorescence of the Texas red-labeled probe. The target DNA enables the recovery of the quenched fluorescence of the Texas red-labelled probe by triggering an inter-chain hybridization within hairpin probes. This results in a weaker interaction of double-stranded DNA (dsDNA) with the COFNSs. Consequently, the dsDNA detaches from the COFNSs, thereby recovering the dye's fluorescence (excitation/emission maxima at 590/612 nm) with increasing target DNA concentration. The findings were applied to design a method for the determination of DNA that has a 2 pM detection limit. This is significantly lower than the limit of detection reported previously for 2D nanomaterial-based fluorometric DNA assays.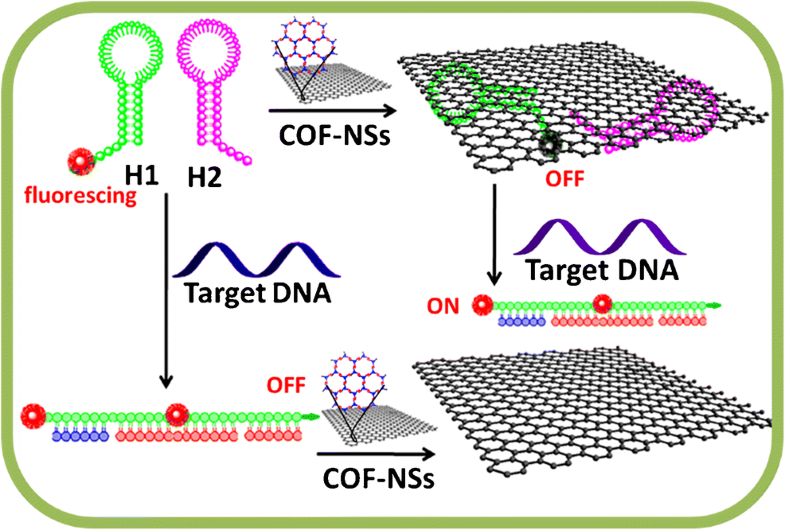 Keywords
Porous nanomaterials 
Bond 
Fluorescence 
Signal 
Target 
Biomolecules 
Biomarker 
Diseases 
Sensor 
Diagnostics 
Notes
Acknowledgements
This work was supported by the National Research Foundation of Korea (NRF) grant funded by the Korea government (MSIT) (2018R1A2B2004432), TKM and NP contributed equally.
Compliance with ethical standards
Conflict of interest
There are no conflicts to declare.
Copyright information
© Springer-Verlag GmbH Austria, part of Springer Nature 2019