Rapid colorimetric determination of dopamine based on the inhibition of the peroxidase mimicking activity of platinum loaded CoSn(OH)6 nanocubes
Abstract
Platinum nanoparticles were loaded on CoSn(OH)6 nanocubes via a co-precipitation method. The material (NCs) is shown to be a viable peroxidase mimic that catalyzes the oxidation of 3,3′,5,5′-tetramethylbenzidine (TMB) by hydrogen peroxide (H2O2) to generate oxidized TMB (oxTMB) with absorption at 652 nm. The formation of the blue color can be observed in <30 s. Thus, a visual and colorimetric assay was worked out for H2O2. It has a detection limit as low as 4.4 μM and works in the 5 to 200 μM concentration range. The method was also used to detect dopamine (DA) which is found to inhibit the enzyme mimicking activity of the NCs. Hence, less blue color is formed in its presence. The respective DA assay has a linear response in the 5.0 to 60 μM concentration range and a 0.76 μM detection limit.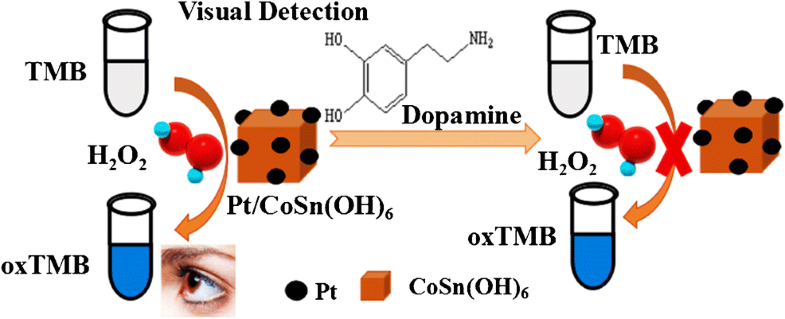 Keywords
Synergistic effect 
Co-precipitation 
Antioxidants 
Inhibition 
Catalytic mechanism 
Serum 
Notes
Acknowledgments
This work was supported by the National Natural Science Foundation of China (Grant No. 21971152), Scientific Research Foundation of Shandong University of Science and Technology for Recruited Talents (Grant No. 2015RCJJ018, 2017RCJJ040 and 2017RCJJ041), Natural Science Foundation of Shandong Province (Grant No. ZR2018MB002, ZR2018MEE003, ZR2018PEE006 and ZR2017BB008), the Science and Technology Projects for Colleges and Universities in Shandong Province (No. J17KA097) and Innovation Fund of Science & Technology of Graduate Students (SDKDYC180239).
Compliance with ethical standards
Conflict of interest
The author(s) declare that they have no competing interests.
Copyright information
© Springer-Verlag GmbH Austria, part of Springer Nature 2019