Synergistic effect of organic-inorganic hybrid monomer and polyhedral oligomeric silsesquioxanes in a boronate affinity monolithic capillary/chip for enrichment of glycoproteins
Abstract
A boronate affinity monolith with improved affinity and selectivity for glycoproteins was prepared starting from two monomers. The first is 3-aminopropyltriethoxysilane-methacrylic acid (APTES-MAA), and the other is a polyhedral oligomeric silsesquioxane (POSS) monomer. In the next step, 3-(acrylamido)benzeneboronic acid was adopted as boronate affinity ligand, and ethylene glycol dimethacrylate as the crosslinker, and iso-propanol and octanol as binary porogens. The synergistic effect of APTES-MAA and POSS warrants good affinity and selectivity for glycoproteins, which results in a number of attractive features including (a) a wide operation pH range (from 5 to 8); (b) higher enrichment factors ranging from 19.3 to 20.6; (c) greater recoveries of glycoproteins between 95.8 and 107.1%; (d) lower relative standard deviations of ≤4.2%. Compared to the corresponding APTES-MAA/POSS-free monolith, the new boronate material had 1.7-fold increased glycoprotein recovery from complex samples. Glycoproteins in 500-fold diluted serum samples can be enriched by the boronate monolith.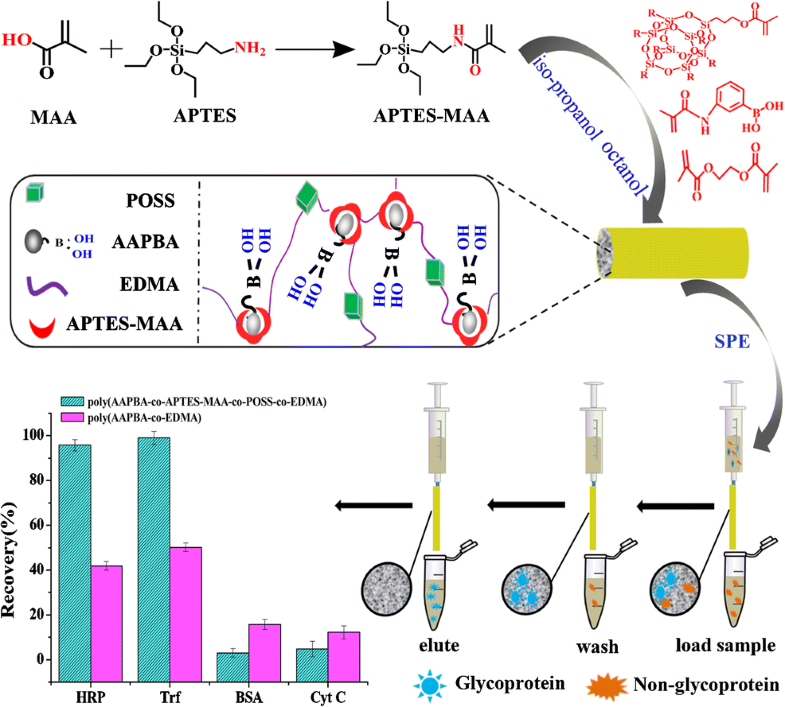 Keywords
3-Aminopropyltriethoxysilane-methacrylic acid 
Bradford 
Ovalbumin 
Horse radish peroxidase 
Transferrin 
Human serum 
Polymer monolith microextraction 
Notes
Acknowledgments
This work was supported by National Natural Science Foundation of China (Grant No. 21775109).
Copyright information
© Springer-Verlag GmbH Austria, part of Springer Nature 2019