Colorimetric and fluorometric aggregation-based heparin assay by using gold nanoclusters and gold nanoparticles
Abstract
An optical nanoprobe consisting of gold nanoclusters (AuNCs) and gold nanoparticles (AuNPs) is described for ultrasensitive detection of heparin (Hep). Polyethyleneimine (PEI) induces the aggregation of AuNPs which results in a color change from wine red (peak at 520 nm) to blue (peak at 610 nm). In parallel, the fluorescence of AuNCs (with excitation/emission maxima at 370/610 nm) is weakened. However, in the presence of Hep (which is strongly negatively charged), it will electrostatically bind to positively charged PEI and then will prevent aggregation. Hence, the color changes from blue (aggregated) to red (non-aggregated). In parallel, fluorescence remains unchanged. Hep can be quantified by using the nanoprobe in the range of 4–220 ng·mL−1, with the detection limits as low as 1.6 (colorimetry) and 3.4 ng·mL−1 (fluorometry). The assay was applied to the detection of Hep in (spiked) human serum with satisfactory results.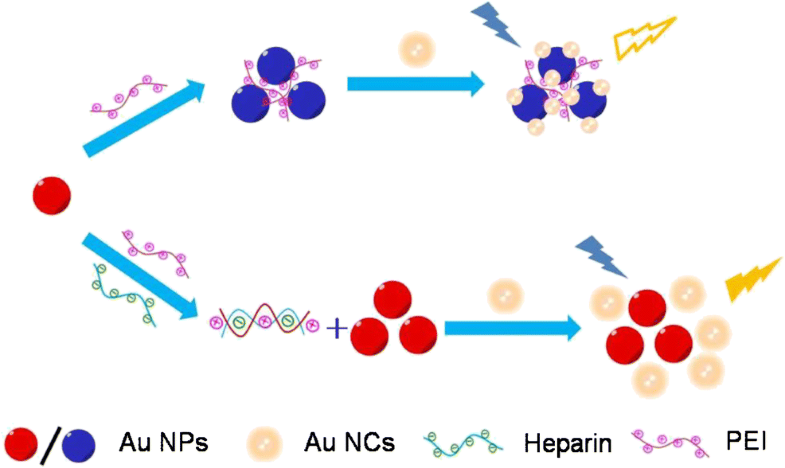 Keywords
Polyethyleneimine 
Inner filter effect 
Nanoprobe 
Surface plasmon resonance 
Color change 
Fluorescence quenching 
Electrostatic interaction 
Transmission electron microscopy 
Human serum 
Notes
Acknowledgments
This work was supported by the National Natural Science Foundation of China (Nos. 21765014 and 21864018); and the Opening Project of Guangzhou Key Laboratory of Analytical Chemistry for Biomedicine (No. 2018001).
Compliance with ethical standards
Competing interests
The authors declare that they have no competing interests.
Copyright information
© Springer-Verlag GmbH Austria, part of Springer Nature 2019