Two-photon excited fluorescent silica nanoparticles loaded with iron(II) as a probe for determination and imaging of hydrogen peroxide in living cells
Abstract
A method is described for determination and optical imaging of hydrogen peroxide (H2O2) by using the two-photon (TP) excited fluorescence of silica (SiO2) nanoparticles containing Fe(II) ions. In the presence of H2O2, hydroxyl radicals (•OH) are produced via the Fenton reaction. This leads to quenching of the green fluorescence of a TP-excitable organic dye loaded into the SiO2NPs. Fluorescence is excited at 370 nm and has an emission peaking at 447 nm. The degree of quenching increases linearly in the 2.5 to 100 μM H2O2 concentration range. The nanoprobe is highly selective and sensitive, with a detection limit of 336 nM. The nanoprobe is biocompatible and was successfully used to image changes in the H2O2 concentration in HeLa cells via TP fluorescence imaging.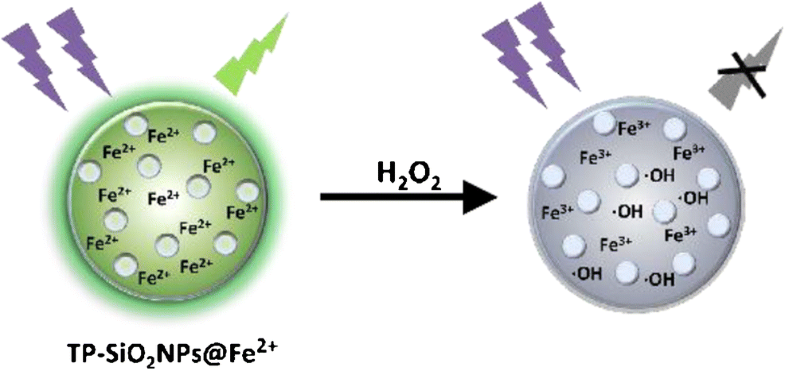 Keywords
Quenching 
Fenton reaction 
Methylene blue 
Fluorescent nanoprobe 
Hydroxyl radical 
HeLa cells 
Two-photon imaging 
Notes
Acknowledgements
This work was supported by National Natural Science Foundation of China (21605038, 21505032), China Postdoctoral Science Foundation (2019 T120623, 2016 M602245), the Key scientific research project of higher education of the Henan province (16A150013).
Compliance with ethical standards
Conflict of interest
There are no conflicts to declare.
Copyright information
© Springer-Verlag GmbH Austria, part of Springer Nature 2019