A "turn off-on" fluorescent nanoprobe consisting of CuInS2 quantum dots for determination of the activity of β-glucosidase and for inhibitor screening
Abstract
A fluorescent "turn off-on" nanoprobe is described for highly sensitive and selective determination of the activity of the enzyme β-glucosidase (β-Glu). Firstly, cysteine modified CuInS2 quantum dots (Cys-CuInS2 QDs) were prepared from indium(III) and copper(II) salts and the presence of thiourea. The red fluorescence of the Cys-CuInS2 QDs, with excitation/emission maxima at 590/656 nm, is quenched by Cu(II). However, in the presence of β-Glu and the cyanogenic glycoside, enzymatic hydrolysis leads to the formation of cyanide. The latter competitively binds to Cu(II) owing to its high affinity for cyanide. This restores the fluorescence of the Cys-CuInS2 QDs. Under the optimum conditions, fluorescence increases linearly in the 0.5–700 U·L−1 β-Glu activity range. The detection limit is 0.2 U·L−1. The nanoprobe was applied to analyze spiked soil samples, and satisfactory results were obtained. The average recoveries of β-Glu were in the range of 96–103%, and the RSD was lower than 4.0%. The fluorescent probe can also be used to screen for β-Glu inhibitors as demonstrated for castanospermine as an example.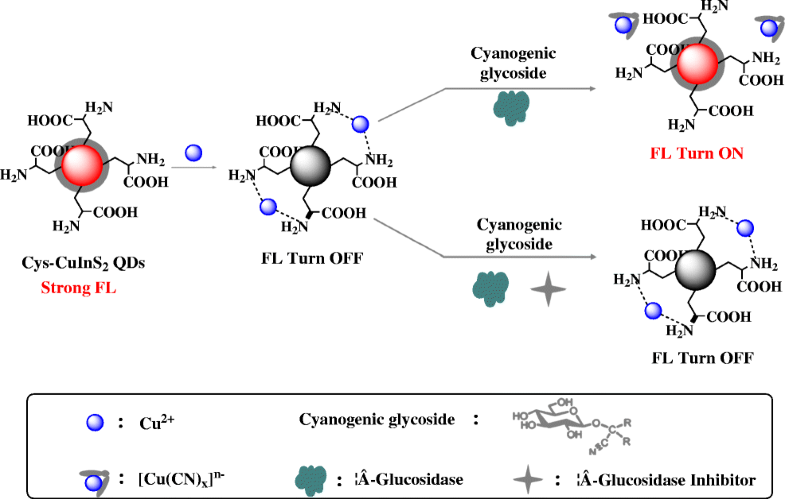 Keywords
Fluorescence 
Cys-CuInS2 QDs 
Cyanogenic glycoside 
Amygdalin 
Cyanide 
Castanospermine 
Enzyme activity 
Soil 
Competitively binds 
Cu(II) 
Notes
Acknowledgements
This work was funded by the China Postdoctoral Science Foundation (No. 2018 M631850), the Fundamental Research Funds for the Central Universities (Nos. 2412018QD019 and 2412018ZD012), the National Natural Science Foundation of China (No. 41301364) and Science and Technology Research Project of Jilin Province (No. JJKH20190283KJ).
Compliance with ethical standards
Conflict of interest
The authors declare that they have no competing interests.
Copyright information
© Springer-Verlag GmbH Austria, part of Springer Nature 2019