Phosphorene nanocomposite with high environmental stability and antifouling capability for simultaneous sensing of clenbuterol and ractopamine
Abstract
A series of phosphorene (BP) nanocomposites was prepared to realize simultaneous electrochemical determination of clenbuterol (CLB) and ractopamine (RAC). CLB and RAC are the most commonly used β-agonists in animal-derived food. The BP nanohybrid was obtained by co-decoration with both mono(6-mercapto-6-deoxy)-β-cyclodextrin and poly(3,4-ethylenedioxythiophene) nanoparticles. It displays high stability, antifouling capability, a large electrochemical active surface and good electrochemical response. The electrochemical assisted antifouling strategy was selected by further eliminating the fouling of the electrode surface using continuous cyclic voltammetry. The electrode was employed for electrochemical sensing of CLB and RAC at typical peak voltages of 0.8 and 1.0 V (vs. SCE). Responses are linear in the 0.3–90 μM concentration range for CLB, and from 0.3 to 9.4 μM for RAC under optimal conditions. The limit of detection are 0.14 and 0.12 μM, respectively. The sensor was employed for simultaneous determination of CLB and RAC in (spiked) beef, feed and bovine serum samples with acceptable recoveries.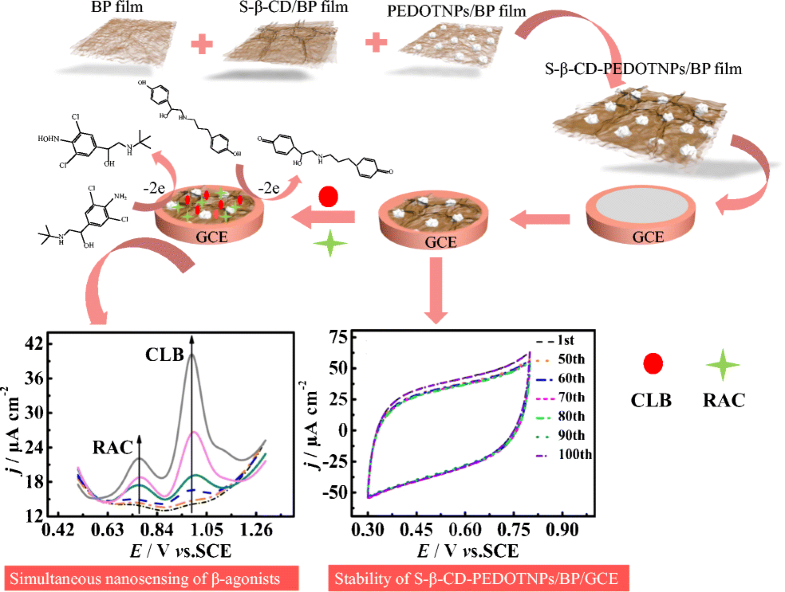 Keywords
Electrochemically assisted antifouling strategy 
Graphene analogue 
β-Agonists 
Animal-derived food 
Continuous cyclic voltammetry 
Notes
Acknowledgements
This study was funded by National Beef Cattle Industry Technology & System (CARS-37), National Natural Science Foundation of China (51662014, 51962007, 31660492), Outstanding Young Talent Program of Jiangxi Province (20171BCB23042), Youth project of Natural Science Foundation of JiangxiProvince (20192ACBL21015, 20192BAB204020), Development and Nutrition of Feed for Beef Cattle in Guangchang County (09005392), Jiangxi Provincial Department of Education (GJJ170260).
Compliance with ethical standards
Conflict of interest
The author(s) declarethat they have no competing interests .
Copyright information
© Springer-Verlag GmbH Austria, part of Springer Nature 2019