Nitrogen-doped carbon frameworks decorated with palladium nanoparticles for simultaneous electrochemical voltammetric determination of uric acid and dopamine in the presence of ascorbic acid
Abstract
A glassy carbon electrode (GCE) was modified with nitrogen-enriched carbon frameworks decorated with palladium nanoparticles (Pd@NCF/GCEs). The modified GCE is shown to be a viable tool for determination of uric acid (UA) and dopamine (DA) in the presence of ascorbic acid (AA). The Pd@NCF was fabricated though one-step pyrolysis and characterized by X-ray photoelectron spectroscopy, X-ray diffraction, scanning electron microscopy and nitrogen-adsorption/desorption analysis. The Pd@NCF/GCE was characterized by differential pulse voltammetry (DPV). Both UA and DA have pronounced oxidation peaks (at 360 mV for UA and 180 mV for DA, all vs. Ag/AgCl) in the presence of AA. Response is linear in the 0.5-100 μM UA concentration range and in the 0.5-230 μM DA concentration range. The detection limits are 76 and 107 nM, respectively (at S/N = 3). This electrode is stable, reproducible and highly selective. It was used for UA and DA determination in spiked serum samples.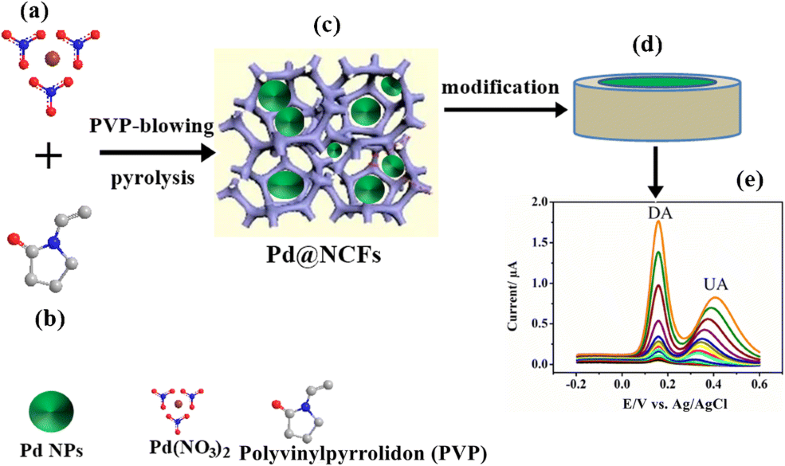 Keywords
Electrochemical sensor 
Simultaneous determination 
Non-enzymatic 
Amperometric response 
Modified electrode 
Biological small molecule 
Notes
Acknowledgments
This work was funded by the Sichuan Agricultural University Research Interest Project (Project No. 2018324).
Compliance with ethical standards
Conflict of interest
The authors declare that they have no competing interests.
Ethical statement
This article does not contain any studies with human participants or animals performed by any of the authors. In this experiment, human serum samples were received from the Sichuan Agricultural University Hospital in China.
Copyright information
© Springer-Verlag GmbH Austria, part of Springer Nature 2019