A poly(3,4-ethylenedioxythiophene):poly(styrenesulfonate)-based electrochemical sensor for tert.-butylhydroquinone
Abstract
Poly(3,4-ethylenedioxythiophene):poly(styrenesulfonate) (PEDOT:PSS) is a readily available copolymer that comes as an aqueous dispersion with good processability. A flexible voltammetric sensor for the widely used food stabilizer tert.-butylhydroquinone (TBHQ) was constructed by using a film of PEDOT:PSS. The electron transfer efficiency of the electrode was enhanced by doping with dimethyl sulfoxide (DMSO), and mass transport at the electrode-electrolyte interface was increased by adding the cationic surfactant cetyltrimethylammonium bromide (CTAB) which acts as a sorbent for TBHQ. SEM, AFM, XPS, UV − vis and electrochemical analysis were conducted to characterize the properties of the electrode. After optimization of the experimental conditions, the electrode operated at a working potential of 0.17 V (vs. SCE) has a linear response in the 0.5–200 μM TBHQ concentration range and a lower detection limit of 0.15 μM (at S/N = 3). It was applied for the determination of TBHQ in spiked real samples, and recoveries ranged between 96.85 and 103.41%.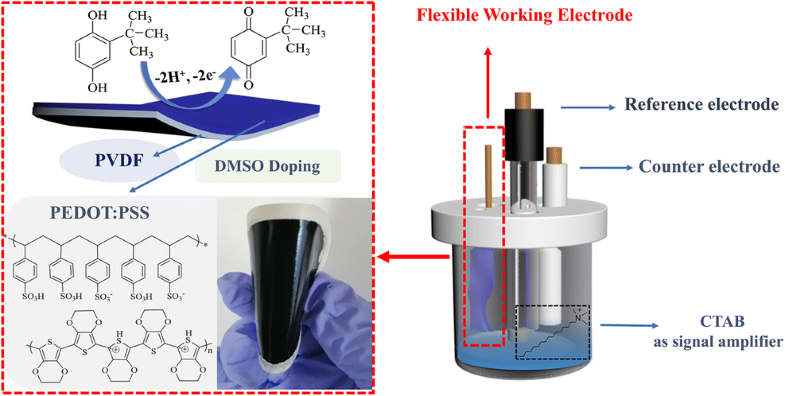 Keywords
Conducting polymer 
Surfactant 
Dimethyl sulfoxide 
Flexible sensors 
PEDOT:PSS 
Linear sweep voltammetry 
Electroanalysis 
Notes
Acknowledgments
We are grateful to the National Natural Science Foundation of China (51762020, 21665010, 51862014 and 31741103), the Natural Science Foundation of Jiangxi Province (20171BAB203015, 20171ACB20026 and 20181BAB206015), Jiangxi Provincial Department of Education (GJJ170662), the Academic and Technical Leader Plan of Jiangxi Provincial Main Disciplines (20182BCB22014), the Open Project of Engineering Center of Jiangxi University for Fine Chemicals (No. KFGJ18018), Collaborative Innovation Center of Jiangxi Typical Trees Cultivation and Utilization (2011), National Students Innovation and Entrepreneurship Training Program (201810410013), One Hundred Person Yuan Hang Project (2015, 2017) and the Jiangxi Provincial Key Laboratory of Drug Design and Evaluation (20171BCD40015) for their financial support of this work.
Compliance with ethical standards
Conflicts of Interest
The authors declare that they have no conflict of interest.
Copyright information
© Springer-Verlag GmbH Austria, part of Springer Nature 2019