A luminescent microRNA nanoprobe based on the target-triggered release of an iridium(III)-solvent complex from mesoporous silica nanoparticles
Abstract
A luminescent microRNA nanoprobe based on the target-triggered Ir(III)-solvent complex release has been fabricated. The complex is initially embedded into mesoporous silica nanoparticles (MSNs), and then is capped by single-stranded (ss) DNA. In the presence of the target microRNA, the ssDNA hybridize with the microRNA forming a rigid DNA/RNA heteroduplexes and leaving the surface of MSN. Thus, the capped Ir(III) solvent complex is released and re-coordinated with histidine (His) to form a new luminescent complex. The luminescence intensity of the nascent complex (with excitation/emission maxima at 340/570 nm) is positively correlated with the concentrations of the target microRNA in the range from 0.05 to 2 nM, and the detection limit of microRNA is estimated as 0.2 pM (S/N = 3). The ability of this nanoprobe to detect microRNA in cell extract further demonstrates its potential in practical application.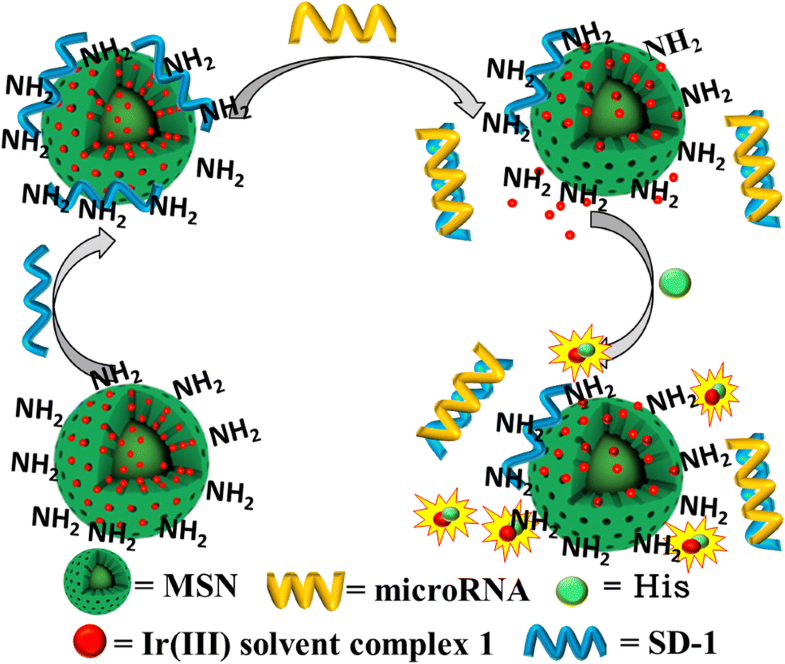 Keywords
MicroRNA-122 
Luminescence lifetime 
MCM-41 
Luminescent assay 
Histidine 
Notes
Acknowledgments
This work was funded by the Natural Science Foundation of Shandong Province (No. ZR2017MB064), the National Natural Science Foundation of China (Nos. 21705089 and 21705087), the Project of Shandong Province Higher Educational Science and Technology Program (J17KA109), Science and Technology Program of Qingdao (No.18-6-1-83-nsh), and the Research Foundation for Distinguished Scholars of Qingdao Agricultural University (No. 663-1116010).
Compliance with ethical standards
Declaration on conflict of interest
The authors declare that they have no known competing financial interests or personal relationships that could have appeared to influence the work reported in this paper.
Copyright information
© Springer-Verlag GmbH Austria, part of Springer Nature 2019