Solid-phase microextraction of triazine herbicides via cellulose paper coated with a metal-organic framework of type MIL-101(Cr), and their quantitation by HPLC-MS
Abstract
Cellulose paper was coated with the metal-organic framework MIL-101(Cr) in a chitosan matrix and utilized for thin-film microextraction (TFME). The coated paper possesses excellent extraction efficiency for the triazine herbicides atraton, desmetryn, secbumeton, prometon, ametryn, dipropetryn, and dimethametryn. High-performance liquid chromatography-tandem mass spectrometry was applied to quantify target analytes. The effects of mass ratio of MIL-101(Cr) to chitosan, sample pH value, time of adsorption and desorption, and type and volume of desorption solvent on extraction efficiency were optimized. Under the optimal conditions, the method has limits of detection between 1.5 and 22 ng·L−1. The recoveries of triazines from spiked tap water, drinking water, lake water and river water range from 77.0 to 125.3%, with relative standard deviations of <17.4%.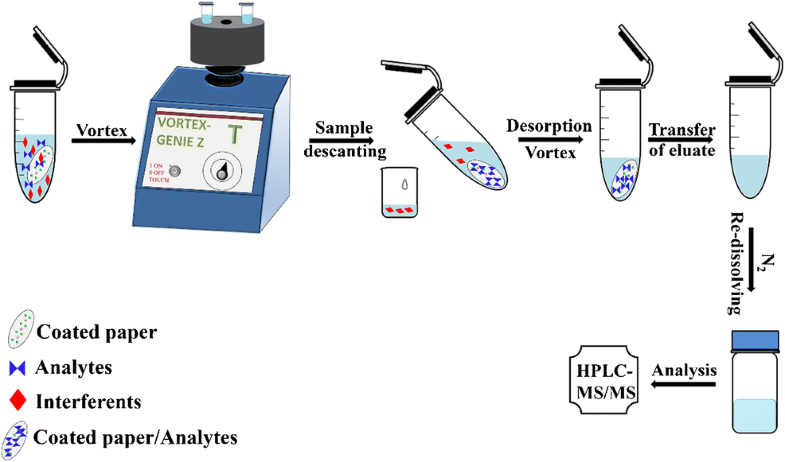 Keywords
Metal organic framework (MOF) 
Thin film microextraction (TFME) 
Coated paper 
Triazine herbicides 
Notes
Acknowledgements
The financial support of Industrial Innovation Funds of Jilin Province of China (No. 2018C034-1) and Science and Technology Developing Foundation of Jilin Province of China (No. 20180201050YY) are greatly appreciated by all authors.
Compliance with ethical standards
Competing interests
The author(s) declare that they have no competing interests.
Copyright information
© Springer-Verlag GmbH Austria, part of Springer Nature 2019