Two-dimensional MXene nanosheets (types Ti3C2Tx and Ti2CTx) as new ion-to-electron transducers in solid-contact calcium ion-selective electrodes
Abstract
Two kinds of two-dimensional MXene (of type Ti3C2Tx and Ti2CTx) nanosheets are described for use in solid-contact ion-selective electrodes (SC-ISEs) where they act as ion-to-electron transducers. Electrochemical characterizations show that the MXene-coated electrodes possess high double layer capacitance and enable rapid electron transport. This demonstrates the enhanced efficiency of MXene-based solid-contact layers to improve ion-electron transduction. Both Ti3C2Tx- and Ti2CTx-based SC-ISEs exhibited a Nernstian response (26.4 and 24.9 mV/decade, respectively) between 10−1 and 10–5.5 M Ca(II) concentrations with rapid response (<10 s) and low limits of detection (0.79 μM and 1.0 μM, respectively). The SC-ISEs display a lower charge impedance compared to ISEs without solid-contact layer. The new SC-ISEs possess outstanding potentiometric performance, extraordinary long-term stability, and insensitivity to light, CO2, O2, and redox couples, thus showing great promising prospect for routine sensing applications.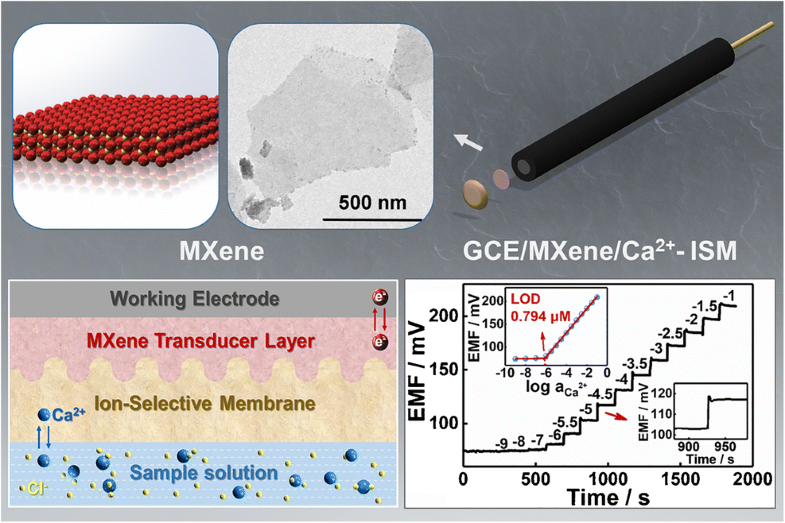 Keywords
All-solid-state potentiometric sensor 
Two-dimensional nanomaterials 
Electrochemical sensors 
Ion-to-electron transduction 
Calcium ion 
Water sample 
Notes
Acknowledgements
This work was supported by the Fundamental Research Funds for the Central Universities (2019FZA6004).
Copyright information
© Springer-Verlag GmbH Austria, part of Springer Nature 2019