Optical aptasensing of mercury(II) by using salt-induced and exonuclease I-induced gold nanoparticle aggregation under dark-field microscope observation
Abstract
An optical method for determination of Hg(II) is described that exploits the aggregation of gold nanoparticles (AuNPs) under dark-field microscope (DFM) observation. This assay is based on the use of a Hg(II)-specific aptamer, AuNPs modified with complementary DNA strands, and exonuclease I (Exo I). In the absence of Hg(II), the added dsDNA prevents salt-induced aggregation of the green-colored AuNPs. If Hg(II) is added, the aptamer will capture it to form T-Hg(II)-T pairs, and the complementary strand is digested by Exo I. On addition of a solution of NaCl, the AuNPs will aggregate. This is accompanied by a color change from green to orange/red) in the dark-field image. By calculating the intensity of the orange/red dots in the dark-field image, concentration of Hg(II) can be accurately determined. The limit of detection is as low as 36 fM, and response is a linear in the 83 fM to 8.3 μM Hg(II) concentration range.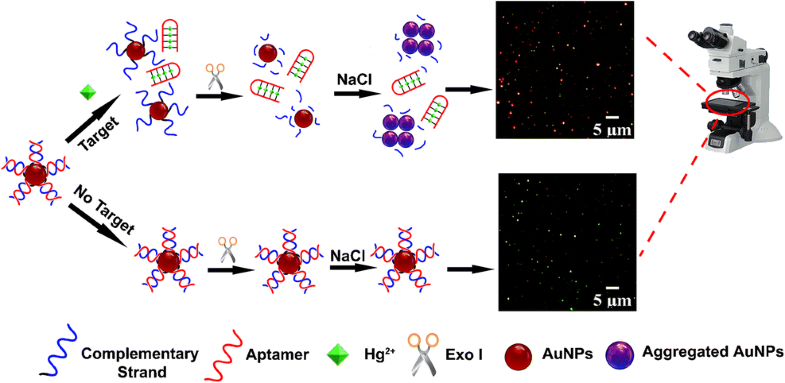 Keywords
Mercury assay 
Gold nanoparticle aggregation 
Dark-field microscope 
Exonuclease I 
Red nanodots 
Green nanodots 
Aptamer 
High sensitivity 
Notes
Acknowledgements
All authors gratefully acknowledge the financial support of Scientific Research Project of Beijing Educational Committee (Grant No. KM201710028009), Youth Innovative Research Team of Capital Normal University, and Capacity Building for Sci-Tech Innovation-Fundamental Scientific Research Funds (Grant No. 19530050179).
Compliance with ethical standards
Conflicts of interest
The authors declare no conflicts of interest.
Copyright information
© Springer-Verlag GmbH Austria, part of Springer Nature 2019