A fluorometric method for mercury(II) detection based on the use of pyrophosphate-modified carbon quantum dots
Abstract
Pyrophosphate-modified carbon quantum dots (PP-CDs) are demonstrated to be a viable fluorescent nanoprobe for mercury(II) (Hg2+) detection. Hg2+ reacts with the pyrophosphate groups on the surface of PP-CDs to form a non-fluorescent complex. This results in quenching of the green fluorescence which has excitation/emission peaks at 400/513 nm. Static quenching is shown to be the dominant mechanism. The probe works in 0.1 μM to 1.4 μM Hg2+ concentration range, and the limit of detection is 2 nM. The PP-CDs were also used to visualize Hg2+ inside human hepatocyte LO2 cells.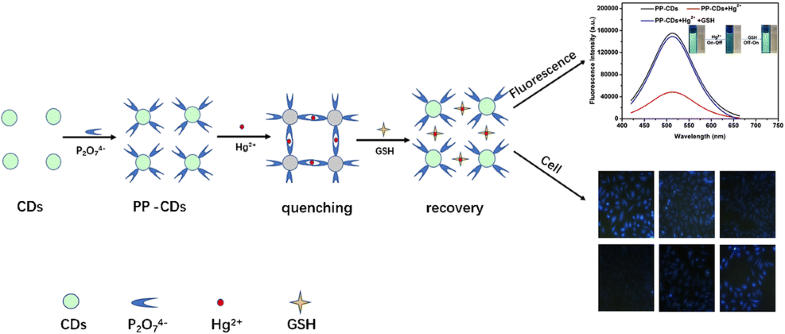 Keywords
Pyrophosphate-modification 
Carbon quantum dots 
Hg2+ detection 
Fluorescent nanoprobe 
Fluorescence quenching 
Cells imaging 
Notes
Acknowledgments
This work was supported by the National Natural Science Foundation of China (Grant No. 51505324, 51622507, 81602506), Basic Research Program of Shanxi for Youths (201701D221111), Scientific and Technologial Innovation Programs of Higher Education Institutions in Shanxi (201802036).
Compliance with ethical standards
Conflict of interest
The authors declare that they have no conflict of interest.
Copyright information
© Springer-Verlag GmbH Austria, part of Springer Nature 2019