Sensor array based on single carbon quantum dot for fluorometric differentiation of all natural amino acids
Abstract
A sensor array is described that consists of a carbon quantum dot (CQD) and metal ions, including Hg2+, Cu2+, Fe3+, Ag+, Cd2+, and Pb2+. The CQDs display blue fluorescence with excitation/emission maxima at 370/440 nm. It is shown that the array can be applied to the determination of all natural amino acids (NAAs). Metal ions can quench the fluorescence of the CQDs, while NAAs can take metal ions away or co-bind to the CQD@metal-ion complex, which enhances or depresses the fluorescence of the CQDs. Based on the differential fluorescence variation, the CQD@metal-ion@NAA array exhibits a unique pattern for NAAs. Principal component analysis (PCA) and hierarchical cluster analysis (HCA) were carried out to generate visualized datagrams for NAA discrimination. The design and construction of the sensor array is convenient and economical. The sensor array can distinguish NAAs at a concentration of as low as 30 μM, and can distinguish NAAs into acidic, neutral and basic NAAs. Semi-quantitative assay of alanine and threonine was also realized. Based on the low limit of detection and multi-NAA detection capability, the array can differentiate healthy cases from acute leukemia, chronic leukemia and lymphoma by analyzing the NAA status of serum samples.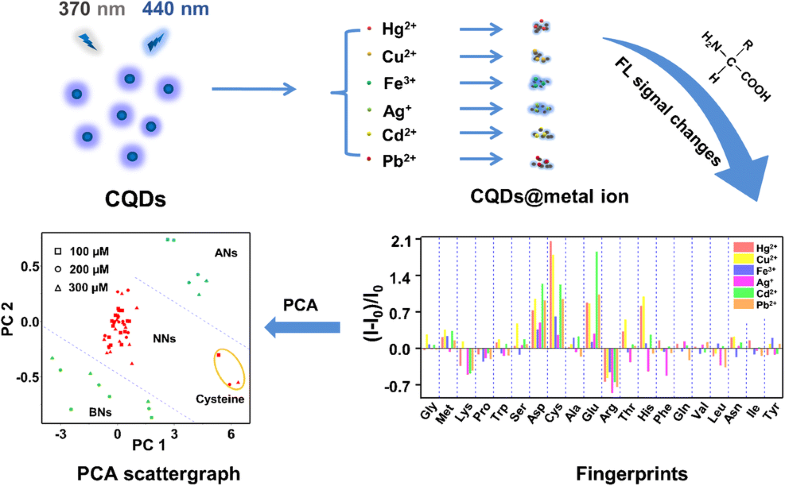 Keywords
Fluorometric detection 
Indicator displacement analysis 
Principle component analysis 
Hierarchical cluster analysis 
Semi-quantitative assay 
Lymphoma diagnosis 
Leukemia diagnosis 
Abbreviations
CQDs

Carbon quantum dots

NAA

Natural amino acids
Notes
Acknowledgements
This work was supported by National Natural Science Foundation of China (51873085), Natural Science Foundation of Liaoning Province of China (20180510023 and 20180550947), Natural Science Foundation for Education Department of Liaoning Province of China (LYB201603) and Shenyang Municipal Program for the Top Young and Middle-aged Innovative Talents of Liaoning Province of China (RC170258).
Compliance with ethical standards
Conflict of interest
We declare that we have no financial and personal relationships with other people or organizations that can inappropriately influence our work, there is no professional or other personal interest of any nature or kind in any product, service and/or company that may be construed as influencing the position presented in, or the review of, the manuscript entitled, "Sensor array based on single carbon quantum dot for differentiating all natural amino acids".
Copyright information
© Springer-Verlag GmbH Austria, part of Springer Nature 2019