A review on recent advancements in electrochemical biosensing using carbonaceous nanomaterials
Abstract
This review, with 201 references, describes the recent advancement in the application of carbonaceous nanomaterials as highly conductive platforms in electrochemical biosensing. The electrochemical biosensing is described in introduction by classifying biosensors into catalytic-based and affinity-based biosensors and statistically demonstrates the most recent published works in each category. The introduction is followed by sections on electrochemical biosensors configurations and common carbonaceous nanomaterials applied in electrochemical biosensing, including graphene and its derivatives, carbon nanotubes, mesoporous carbon, carbon nanofibers and carbon nanospheres. In the following sections, carbonaceous catalytic-based and affinity-based biosensors are discussed in detail. In the category of catalytic-based biosensors, a comparison between enzymatic biosensors and non-enzymatic electrochemical sensors is carried out. Regarding the affinity-based biosensors, scholarly articles related to biological elements such as antibodies, deoxyribonucleic acids (DNAs) and aptamers are discussed in separate sections. The last section discusses recent advancements in carbonaceous screen-printed electrodes as a growing field in electrochemical biosensing. Tables are presented that give an overview on the diversity of analytes, type of materials and the sensors performance. Ultimately, general considerations, challenges and future perspectives in this field of science are discussed. Recent findings suggest that interests towards 2D nanostructured electrodes based on graphene and its derivatives are still growing in the field of electrochemical biosensing. That is because of their exceptional electrical conductivity, active surface area and more convenient production methods compared to carbon nanotubes.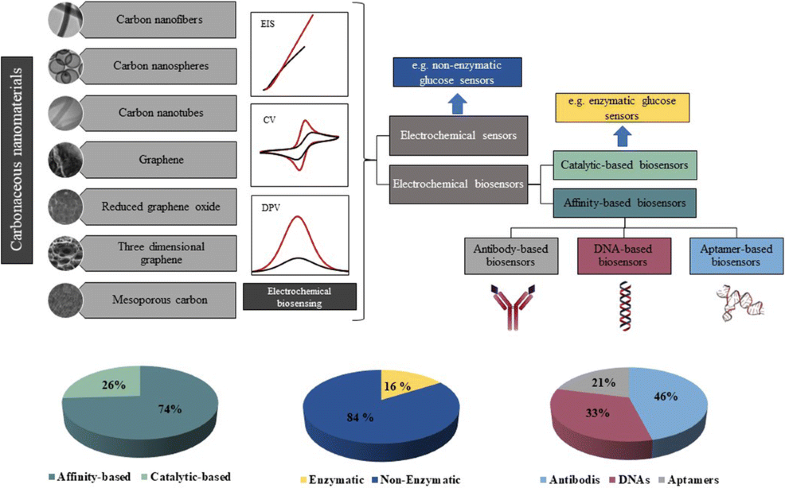 Keywords
Aptasensors 
Carbon nanotubes 
Catalytic biosensors 
DNA based biosensors 
Electrochemical biosensors 
Enzymes 
Graphene 
Immunosensors 
Abbreviations of various carbonaceous nanomaterials
3DCNSs

Three-dimensional carbon nanospheres

3DG

Three-dimensional graphene

3DGF

Three-dimensional graphene foam

3DNG

Three-dimensional nitrogen doped–graphene

3DrGO

Three-dimensional reduced graphene oxide

CQDs

Carbon quantum dots

CMWCNTs

Carboxylated multi-walled carbon nanotubes

CNFs

Carbon nanofibers

CNOs

Carbon nano-onions

CNTs

Carbon nanotubes

CNPs

Carbon nanoparticles

ERGO

Electrochemically reduced graphene oxide

GO

Graphene oxide

GQDs

Graphene quantum dots

Gr

Graphene

GrF

Graphene flakes

GMC

Graphitized mesoporous carbons

rGA

Reduced graphene oxide aerogel

rGO

Reduced graphene oxide

rGONRs

Reduced graphene oxide nanoribbons

MrGO

Magnetic reduced graphene oxide

MWCNTs

Multi-walled carbon nanotubes

NG

Nitrogen–doped graphene

NGQDs

Nitrogen–doped graphene quantum dots

NGNRs

Nitrogen–doped graphene nanoribbons

NSWCNTs

Nitrogen–doped single-walled carbon nanotubes

PCNRs

Porous carbon nanorods

PCNSs

Porous carbon nanospheres
Notes
Acknowledgements
The authors thank Faculty of Engineering at McGill University, Natural Science and Engineering Research Council of Canada (NSERC, G247765 and G248584) and Canada Foundation for Innovation (CFI, G248924) for financial support. M.J. is grateful for MEDA award by the Faculty of Engineering at McGill University. The authors acknowledge Nanotools-Microfab and the Facility for Electron Microscopy Research at McGill University and the research facilities of NanoQAM at the Université du Québec à Montréal.
Compliance with ethical standards
Conflict of interest
The authors declare no conflict of interest.
Copyright information
© Springer-Verlag GmbH Austria, part of Springer Nature 2019