Biosensors and nanobiosensors for rapid detection of autoimmune diseases: a review
Abstract
This review (with 77 refs.) describes the progress that has been made in biosensors for the detection of autoimmune diseases, mainly via detection of autoantibodies. In addition, specific proteins, cytokines and ions have also been introduced as promising diagnostic biomarkers. Following an introduction into the various kinds of autoimmune diseases, we first discuss the state of the art in respective electrochemical biosensors and nanobiosensors (with subsections on amperometric, impedimetric, voltammetric and photoelectrochemical methods). The next large chapter covers optical methods (with subsections on electrochemiluminescence, fluorescence and surface plasmon resonance). We then make a critical comparison between commercially available kits used for detection of autoimmune diseases with the established biosensors. Several Tables are also presented that give an overview on the wealth of methods and nanomaterials. Finally, in the conclusion part, we summarize the current status, addresse present issues, and give an outlook on potential future opportunities.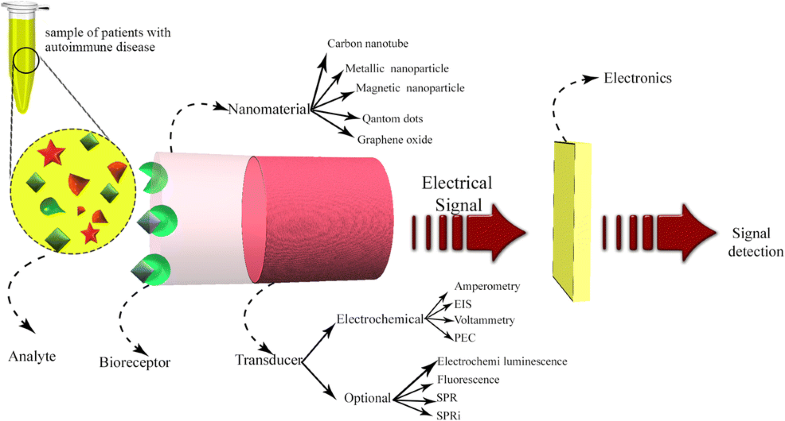 Keywords
Biosensor 
Nanomaterial 
Autoantibodies 
Sensing 
Biomarkers 
Notes
Acknowledgements
The authors acknowledge the Stem Cell Research Center at Tabriz University of Medical Sciences, Tabriz, Iran for their great help.
Compliance with ethical standards
Conflict of interests
The authors declare that they have no competing interests.
Copyright information
© Springer-Verlag GmbH Austria, part of Springer Nature 2019