A coaxial nanocable textured by a cerium oxide shell and carbon core for sensing nitric oxide
Abstract
A corn-like CeO2/C coaxial cable textured by a cerium oxide shell and a carbon core was designed to sense NO. The carbon core possesses high electrical conductivity, and the CeO2 surface delivers excellent electrocatalytic activity. The sensor, typically operated at 0.8 V (vs. Ag/AgCl), exhibits a detection limit of 1.7 nM, which is 4-times lower than that of CeO2 nanotubes based one (at S/N = 3). It also displays wide linear response (up to 83 μM), a sensitivity of 0.81 μA μM−1 cm−2, and fast response (2 s). These values are highly competitive to that of a CeO2 tube (0.92 μA μM−1 cm−2 and 2 s). The sensor was used to quantify NO that is released by Aspergillus flavus.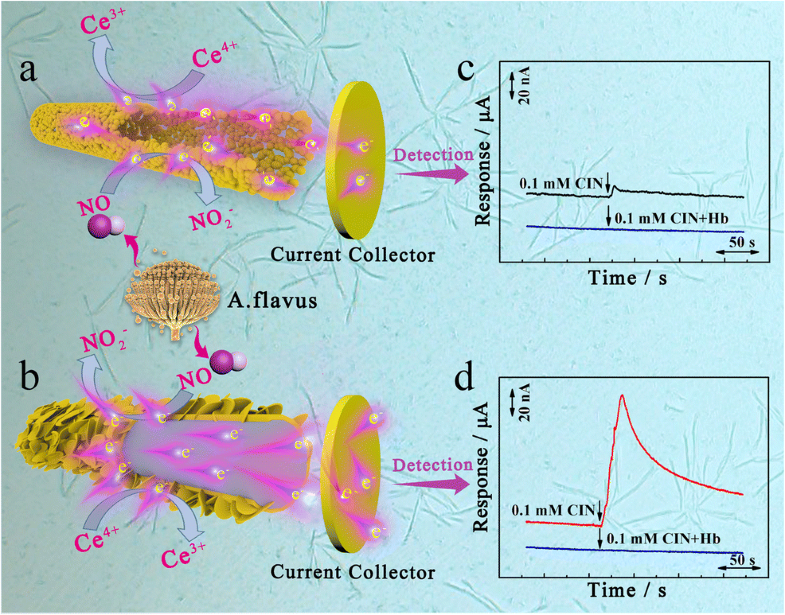 Keywords
Electrospinning 
Voltammetric determination 
Biosensor 
Aspergillus flavus 
Notes
Acknowledgements
This work is financially supported by National Key R&D Program of China (2017YFC1600900), the National Natural Science Foundation of China (21972111, 21773188), Natural Science Foundation of Chongqing (cstc2018jcyjAX0714), Chongqing Engineering Research Center for Micro-Nano Biomedical Materials and Devices, Chongqing Key Laboratory for Advanced Materials and Technologies.
Compliance with ethical standards
Conflict of interest
The authors declare that they have no competing interests. This article does not contain any studies with human or animal subjects. Informed consent was obtained from all individual participants include in the study.
Copyright information
© Springer-Verlag GmbH Austria, part of Springer Nature 2019