A composite prepared from carboxymethyl chitosan and aptamer-modified gold nanoparticles for the colorimetric determination of Salmonella typhimurium
Abstract
An aptamer-based assay is described for the determination of Salmonella typhimurium (S. typh). Carboxymethyl chitosan was loaded with amino-modified aptamer against S. typh, and then adsorbed on gold nanoparticles by electrostatic interaction to form a composite that acts as the molecular recognition element. In the presence of S. typh, it will be bound by the aptamer, and this changes the structure of the recognition element. On addition of salt solution, the gold nanoparticles agglomerate so that the color of the solution changes from red to blue. S. typh can be detected via measurement of the absorbance at 550 nm. Absorbance increases linearly with the logarithm of the S. typh concentration in the range from 100 to 109 cfu·mL−1. The limit of detection is 16 cfu·mL−1. The specificity and practicability of the assay were evaluated. The recoveries of S. typh from spiked milk samples are between 92.4 and 97.2%. The analytical results are basically consistent with those of a plate counting method.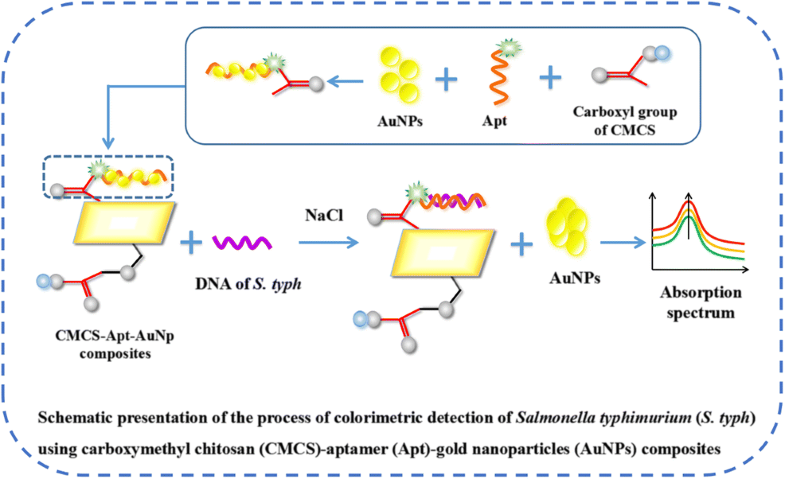 Keywords
Food-borne pathogens 
Nanotechnology 
Aptamer sensor 
Bacterial detection 
Optical characteristics 
Methodological evaluation 
Notes
Acknowledgments
This work was supported by research grants from the National Natural Science Foundation of China (grant number 21676305) and the Fundamental Research Funds for the Central Universities of Central South University (grant number 2019zzts744).
Compliance with ethical standards
The author(s) declare that they have no competing interests.
Copyright information
© Springer-Verlag GmbH Austria, part of Springer Nature 2019